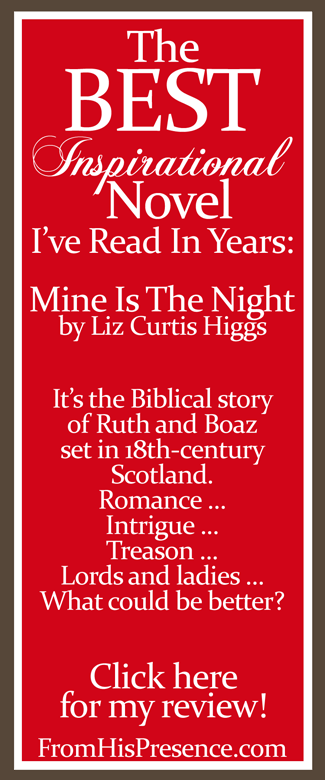 You all know I have a thing for historical, inspirational fiction, right? Well, I went on vacation recently and took along a book or two. And one of them turned out to be the best inspirational novel I've read in years. It's SO good that I'm completely devoting today's blog post to it, which I don't usually do, but I'm telling you: if you like fiction, you MUST READ this book! (!!!!!!!!!)
I began to suspect something might be good when the first chapter opened with a widowed mother, who had lost two sons–ahem–returning to her homeland with ONE of her two daughters-in-law.
Sound familiar?
Enter said daughter-in-law, who serves her mother-in-law and seeks God.
Sound more familiar?
Then enter a rich, good-looking, generous, godly man who has never been married but wants a wife.
Ok, this should sound really familiar now. It's Ruth! Oh wait, it's not… it's:
Mine Is The Night by Liz Curtis Higgs. But yes, it is the book of Ruth. Set in 18th-century Scotland.
Lord and ladies. High treason. Dancing and romancing. Poverty and wealth. Horses and May Day festivals.
I positively adore historical fiction set in England or Scotland. So not only is this book written with the ideal setting for me, but it's the most masterful retelling of the story of Ruth that I've ever seen.
The level of creativity God gave this author blew me away. It's that good.
And if you like to read, you. MUST. GET. THIS. BOOK.
It will inspire you. It will overwhelm you with God's love. You will enjoy it thoroughly. It will help you get rest for your soul. (Because remember, as we talked about last week, sometimes you just need to chill out, because you are important too. So take some time for yourself in your bed with a good book on a rainy weekend. And make it this book.) 🙂
I truly can't say enough about this book. If you enjoy historical, inspirational fiction, run don't walk to get it.
Are you ready? Click here to get Mine Is the Night: A Novel by Liz Curtis Higgs
 on Amazon! (Affiliate link).
You'll get an email when new content is posted. You'll also receive my free, printable blessing cards and my ebook–The Presence Seeker's Creed–for free when you confirm!
The Amazon links above are my affiliate links. That means, if you click on these links to buy the book on Amazon, Amazon will pay me a small commission, at no additional cost to you of course. Thanks in advance for your support! And if you love reading legal mumbo-jumbo, you can delight yourself in my disclosure policy here.