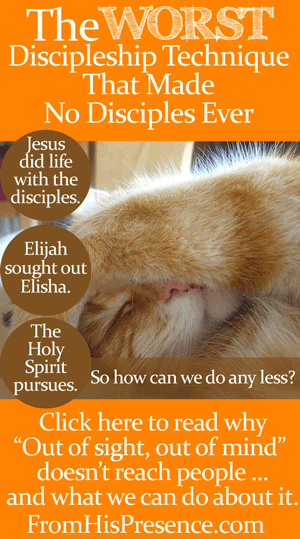 Can I shoot straight with you today? There's a disturbing trend going on among Christians that I want to talk with you about. It's a certain, modern discipleship/"mentoring" technique that Christians seem to have come up with just recently. It's definitely NOT in the Bible, and it wasn't in the early church.
And because of this modern discipleship technique, people are getting hurt.
Because of this modern "mentoring" technique, people are NOT getting reached for Jesus… and disciples are NOT being made.
This is a problem, and frankly, it's time to talk about it.
Now, I admit right away that this may disturb some people's theology. It's definitely going to disturb people's pride and ego. But it really needs to be said anyway.
Are you with me? Ok, here we go… hang on tight!
The worst discipleship technique that made no disciples ever is:
"Call me if you need me."
You could also call it "Out of sight, out of mind." Or "I don't have time to chase you; if you need me, you're going to have to reach out to me."
Yup. You could call it that. I've heard people say (or heard of people saying) all three things, and at different times I might have even said any of them myself. Because, frankly, I'm one of the busiest people I know, and I really don't have a lot of time these days.
And the reasons I've heard for this terrible discipleship method are:
"People have to want to change."
"I don't have time."
"I'm too important/high-level/titled to reach out."
"They know where to find me."
"If they need me, they'll reach out."
"He/she says that because he/she came up under _____ as a spiritual father, and that's what his/her spiritual father does."
And every single one of those reasons are total hogwash. Let's address them in easy, numbered format, corresponding to each reason excuse listed above:
1. No, people don't have to want to change. Not at first, anyway.
I know this from personal experience. The way it really works, according to the Bible, is that you see someone who needs to change and you start praying for them and reaching out to them. THAT's how people change. God uses people to make disciples.
I have seen this principle in action with multiple people that have NOT wanted to change. Repeat, NOT wanted to change. However, God called me to pray for those people and reach out to them, and change they did. Why? Because GOD wanted them to change and the Holy Spirit did the work when I began to intercede AND REACH OUT.
2. Then you have a time-management problem that you need to get right.
You don't have time for the Great Commission? You don't have time for the people God has placed under your influence? Then you're either a bad manager of time, or you're doing other things with your time that God never called you to do. Or both.
#SorryNotSorry
We all have the same 24 hours in a day. If God has placed someone in your sphere of influence or placed them under your authority, then you'd better make time, because you're going to give an account to God for how you shepherded and discipled those people and how you stewarded your influence.
And if God didn't place somebody under your authority that wants to be mentored by you, then you need to point them to where they CAN get the discipleship they need.
Again, here's the list we're comparing to, so you don't have to keep scrolling up:
"People have to want to change."
"I don't have time."
"I'm too important/high-level/titled to reach out."
"They know where to find me."
"If they need me, they'll reach out."
"He/she says that because he/she came up under _____ as a spiritual father, and that's what his/her spiritual father does."
3. This one makes me see red.
Really? You're too important to lower yourself to chase people? That's interesting. Because Jesus was pretty important too, but HE said:
Now there was also a dispute among them, as to which of them should be considered the greatest.

And He said to them, "The kings of the Gentiles exercise lordship over them, and those who exercise authority over them are called 'benefactors.'

But not so among you; on the contrary, he who is greatest among you, let him be as the younger, and he who governs as he who serves.

For who is greater, he who sits at the table, or he who serves? Is it not he who sits at the table? Yet I am among you as the One who serves" (Luke 22:24-27, emphasis mine).
According to Jesus, the more you climb in greatness, in authority, in leadership, in maturity…
… the lower you should make yourself;
… the more insignificant you should consider yourself;
…and the more you should serve.
Those aren't my words. Those are Jesus' words. Take it up with Him. If He put you in authority, the last thing out of your mouth EVER should be anything about how important you are. Sorry. Yes, the people under you should honor you. No doubt about it… but that's up to God to convict them about. It's not up to you to demand your own honor and demand that people make themselves subservient to you.
It IS up to you to make yourself lower than low, the way Jesus did, and serve.
4. Who cares? The Biblical model is for you to chase.
Jesus sought out all 12 of His disciples–even the one who would betray Him–and HE is the One that called THEM.
Elijah sought out Elisha. He is the one that called his spiritual son.
Rinse and repeat. Throughout the Bible, spiritual fathers and mothers have raised up their spiritual sons and daughters. They have sought them out, gotten life-on-life with them, discipled them, and poured their lives into them. The fathers have been the proactive ones.
You don't see Jesus in the Bible saying, "Well, if James and John want to be My disciples, they know where I am. Let them come to me." No; Jesus sought them out; called them away from their occupation; and DID LIFE with them for the next 3+ years.
That means they walked together. They talked together. They ate together. They all knew it when somebody needed a potty break on the road to Jerusalem.
Yes, I put that last point in there on purpose. This was not a romanticized version of discipleship, folks. These guys were together 24/7. They were real, probably sweaty and stinky men that Jesus called and KEPT WITH HIM for years.
Yet we tell people:
that we're glad to see them at church on Sunday (if they show up and we happen to run into them);
to have a nice week and we'll pray for them;
and see you next Sunday.
Related: We ARE Our Brother's Keeper
Leaving them to deal with their problems, and deal with their loneliness, and try to grow (without knowing how), all by themselves.
The "They know where to find me" method ain't all it's cracked up to be, folks. I've seen it hurt a lot of people, but I've never seen it help a single one. I've certainly never seen it make any disciples.
Of course we shouldn't be weird, freaky stalker people. But we should follow up. We should reach out.
Some people benefit from more frequent follow-up than others. I have spiritual sons and daughters that I talk to almost every day, and others that I talk with every few weeks. To each his own; make disciples according to what every son or daughter needs. But "they know where to find me" never met anybody's needs.
Again, here's that list..:
"People have to want to change."
"I don't have time."
"I'm too important/high-level/titled to reach out."
"They know where to find me."
"If they need me, they'll reach out."
"He/she says that because he/she came up under _____ as a spiritual father, and that's what his/her spiritual father does."
5. Not. They do need you, but they won't reach out. Not at the beginning, anyway.
People coming out of the world don't know how to reach out, folks. They don't know how to have relationships. Plus, they are dealing with insecurity, rejection, sometimes pride or ego, and many other things that keep them from admitting they need help.
Do they need to reach out? Yes. But until they're ready emotionally, and until they realize they need help, they're not going to.
So go ahead. Make like Jesus and reach out to them. Eventually, yes, they'll be in a place where they can reach out. But don't expect it at first. Just love them anyway, and God will bring them around.
6. I'm sorry, but I thought you were called to emulate God first and foremost, not your spiritual father first and foremost.
To the extent that our spiritual fathers are like God, then yes, we are to emulate them. Paul wrote that in 1 Corinthians 4:16:
Therefore I urge you, imitate me."
He said it even more clearly in 1 Corinthians 11:1:
Imitate me, just as I also imitate Christ."
To every extent that our spiritual fathers and mothers imitate Christ, then we should absolutely, positively, 100% imitate them also. I'm the biggest believer in spiritual fatherhood there ever was.
Related: How To Find a Spiritual Father (series)
But when we start imitating our spiritual fathers and mothers in things that are NOT Christlike, that's SIN. Anything that is not just like the character of God is sin. And sin is sin is sin, no matter who you learned it from.
The fact of the matter is that we're called to imitate God. We're called to imitate Jesus. We're called to let the Holy Spirit manifest Himself through us in every single aspect of life. And God pursues. Jesus seeks people out. The Holy Spirit–the mighty Hound of Heaven–chases, and chases, and chases some more.
Check out these key Scriptures:
But God demonstrates His own love toward us, in that while we were still sinners, Christ died for us (Romans 5:8).

"…for the Son of Man has come to seek and to save that which was lost" (Luke 19:10).

"No one can come to Me unless the Father who sent Me draws him…" (John 6:44a).

"The hireling flees because he is a hireling and does not care about the sheep. I am the good shepherd; and I know My sheep, and am known by My own. As the Father knows Me, even so I know the Father; and I lay down My life for the sheep" (John 10:13-15).
So I don't really care who you learned what from. If it doesn't lead you to emulate Jesus in every aspect of life, you need to lay that thing down and repent of it.
There's simply no place for arrogance in the Body of Christ, folks. And discipleship is not a hands-off endeavor. "Out of sight, out of mind" doesn't work.
I'm sorry. It breaks my heart to even have to say that. What happened to all of us seeking out, serving, and laying down our lives for others, the way Jesus taught? I don't know what happened to it, but we need to bring it back. We need to make like Jesus in every way:
To seek people out.
To pursue them.
To get life-on-life with people, even when things are rough and dirty.
That's the only true Christian way.
Does this blog post hit home with you? If so, please leave a comment below. I'd love to hear your thoughts.
You'll get an email when new content is posted. You'll also receive my free, printable blessing cards and my ebook–The Presence Seeker's Creed–for free when you confirm!
Image courtesy of RawdonFox on Flickr via Creative Commons license. Image has been cropped and graphics added.