Don't Be Afraid Of Their Threats (Just Keep On Keeping On)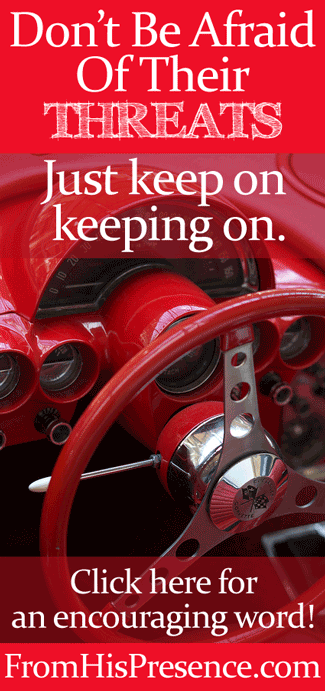 Yesterday, some people tried to inflict significant harm upon me and this blog.
I won't go into all the details, but suffice it to say they didn't like my message because:
I believe and write about the entire Bible, including how we must submit completely to God AND that He will bless us as we obey;
I talk about my personal testimony; and
I talk about how you can have the same personal testimony (in all the good ways, that is). 😉
And these people didn't like that. So they did their thing and what happened happened.
The whole circumstance makes me sad.
But I've been seeking the Lord about this situation. Of course I had the initial, gut-level reaction of "Smite 'em Bless 'em, Jesus" and all of that. The shock, the disbelief, the shaking my head, etc. I know you all have been there with different situations, so nobody's judging. (Right?) 😉 And, I will have to say, I was in a fairly good humor throughout the day. Speechless, but good-humored about it. 🙂
And then I did the thing about praying for those who hate me, and all that jazz.
But I still needed to hear from the Lord, and this morning, I did. And I believe that the word He gave me is going to bless you too, if you're dealing with some threats and attacks as well.
I was studying in the book of 1 Peter, and several verses jumped out at me. Check them out:
In this you greatly rejoice, though now for a little while, if need be, you have been grieved by various trials, that the genuineness of your faith, being much more precious than gold that perishes, though it is tested by fire, may be found to praise, honor, and glory at the revelation of Jesus Christ…" (1 Peter 1:6-7).

"And who is he who will harm you if you become followers of what is good? But even if you should suffer for righteousness' sake, you are blessed. "And do not be afraid of their threats, nor be troubled."

But sanctify the Lord God in your hearts, and always be ready to give a defense to everyone who asks you a reason for the hope that is in you, with meekness and fear; having a good conscience, that when they defame you as evildoers, those who revile your good conduct in Christ may be ashamed" (1 Peter 3:13-16).

And finally…

"Beloved, do not think it strange concerning the fiery trial which is to try you, as though some strange thing happened to you; but rejoice to the extent that you partake of Christ's sufferings, that when His glory is revealed, you may also be glad with exceeding joy. If you are reproached for the name of Christ, blessed are you, for the Spirit of glory and of God rests upon you. On their part He is blasphemed, but on your part He is glorified" (1 Peter 4:12-14).
And basically, I felt like the Lord was using these Scriptures to tell me: "Don't be afraid of their threats."
I shouldn't think this is odd or extraordinary that this should happen to me. Jesus suffered unjustly (I prayed my own prayer to reverse unjust situations, by the way) 😉 and it really shouldn't be a shocker if I do too.
But you know what? God is greater than all of this. He's more important than any outward circumstance, or anybody's opinion, or any trap or trick of the enemy. He's greater; He's stronger; He knows it all; and He's got it all under control.
God did not sit in His heaven and gasp in shock when this situation happened yesterday. He knew it would happen, and He's got the answer. To be more precise, He IS the Answer. To everything.
And since God is in control, and He's got it all figured out, I don't have to figure it out.
But I do have to trust Him. And obey.
I have to obey His commands to love my enemies (help me, Jesus). I have to obey His commands to speak light and life into the situation.
And I also have to stick with the calling He has put on my life.
See, God has called me to write and preach the Word of God. He has called me to edify, encourage, and uplift the Body of Christ. He has called me to share the hope and beauty of the Gospel, and communicate the goodness of God that brings men to repentance.
He has called me to inspire people everywhere–everyone who will read, everyone who will come–to enter a lifelong, magnificent obsession with the beautiful Son of God, Jesus Christ, who loves us and gave His life for us.
Come what may, I have to keep doing that. God will keep me. He will protect and preserve me, and He will work with me to confirm His Word in the hearts of all my precious readers.
And God will get the glory.
What kind of trouble are you enduring? What kind of threats or attacks is the enemy sending your way? YOU don't be afraid of their threats either.
God has called you to do what you do, too. No matter what that looks like. Maybe He's called you…
To be a mommy or a daddy;
To write songs;
To attend seminary;
To preach, or minister to the homeless, or clothe the poor;
To minister to the hurting and broken; or
To disciple the people you work with inside your Fortune 500 company.
Related: Rolling Away The Shame Of Singing
I don't know what your specific call is, but I do know that the enemy will try at some point to derail you from it.
People may come against you.
Situations may come against you.
Discouragement may come against you.
But you know what? Don't be afraid of their threats. Stick with your calling, your message, and your ministry.
Figure out what you're called to to, and stick with it. Don't let a little suffering get in your way. (After all, didn't Jesus say, "Woe to you when all men speak well of you, for so did their fathers to the false prophets" (Luke 6:26)? Yeah. He did.) 😉
No matter what, you just keep on keeping on. Why? Because, beloved reader, YOU ARE IMPORTANT.
No one else on earth can fill the spot God has called you to fill.
No one else can say what you are called to say.
No one else has your testimony, and no one else can release that testimony and see it bring change into other people's lives too.
No one but you.
Regardless of what your specific calling looks like, God has called you. He has set you apart. Did you get that? GOD HIMSELF has separated you unto the work of your ministry.
And what you do is important.
So don't be afraid of their threats. Know who you are, and know who your God is. Trust Him to keep you and your ministry safe and secure. Trust God to work with you and help you as you obey Him.
Trust Him to honor His Word and bless your socks off as you stay in the center of His perfect will for your life.
And He will.
Does this message encourage you today? If so, please leave a comment below. I'd love to hear from you!
Image courtesy of Steffen Zahn on Flickr via Creative Commons license. Graphics have been added to the image. And I do love a nice Corvette. Click here to see the hot little 1981 Corvette God gave me once: A Black Corvette, Receiving God's Love, and Loving Others.