Two Prophetic Words For This Week
I lead prophetic intercession & worship at my church every Sunday morning at 0-dark-hundred, before any of the church services begin. And yesterday during that time, the Lord gave me two prophetic words that were so strong–and then later confirmed–that I wanted to share them with you this morning. Here they are:
1. Come to the River.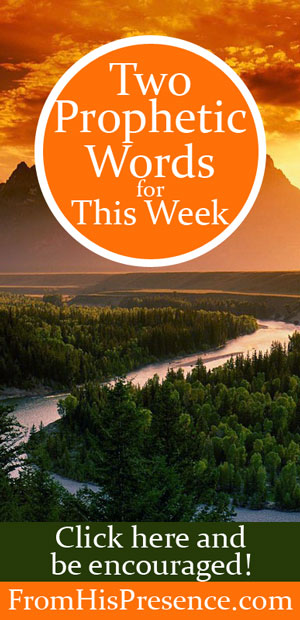 Isaiah 55:1-3 is ringing out like church bells in my spirit. The Lord even told me to teach on this passage in my LifeGroup yesterday. It says:
Ho! Everyone who thirsts, come to the waters; and you who have no money, come, buy and eat.

Yes, come, buy wine and milk without money and without price. Why do you spend money for what is not bread, and your wages for what does not satisfy? Listen carefully to Me, and eat what is good, and let your soul delight itself in abundance.

Incline your ear, and come to Me. Hear, and your soul shall live; and I will make an everlasting covenant with you — the sure mercies of David."
Jesus is the River. It's time to come to Him and let Him flow through you in a mighty, refreshing river. Let Him renew, refresh, and restore your soul.
Listen to this song by Housefires. I woke up yesterday morning hearing the Holy Spirit sing this song over me. It's sooooo powerful, and it's for you too:
2. Strengthen the hands which hang down, and make firm the feeble, tottering knees.
Hebrews 12:12-13 says:
Therefore strengthen the hands which hang down, and the feeble knees, and make straight paths for your feet, so that what is lame may not be dislocated, but rather be healed."
The Holy Spirit just told me:
Your breakthrough is near. Very near. Strengthen yourself in the Lord. Seek His face. Don't let your eyes wander to yourself or your circumstances. Pin your eyes on Jesus, and hope in Him. Remind Him of His promise. This is a crucial hour. It's TIME.
I pray these words will bless you. If one or both of these means something special to you, would you please leave a comment below and let me know? I'd love to hear from you. Thank you, and have a wonderful day!