Urgent, Awesome Prophetic Bulletin & HUGE Blog Update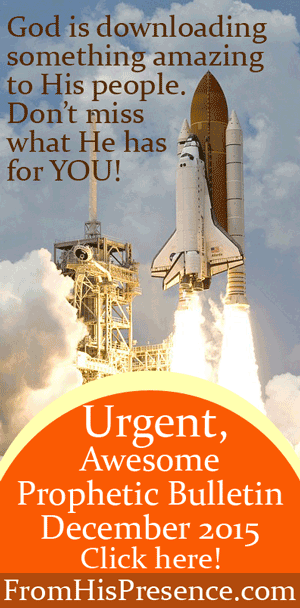 Hey everybody! Happy Friday! I wanted to send you an urgent update about what God is doing in the Spirit realm right now, so you don't miss out on His blessing. And, I have a HUGE, huge, did I say huge? blog update for you today. 🙂
First, the prophetic bulletin:
Beloved friends, there's something huge going on in the spirit realm. There's about to be an unleashing. God is about to unleash people and catapult them into their destinies. It will be a sudden thing, but it will be undergirded by the years of preparation you've been through.
Years of shame are about to be obliterated and replaced by double honor. Years of hiddenness are about to be replaced by inclusion.
And right now, God is downloading instructions and technical know-how that will prepare you to walk in the sudden thing He's going to do.
If you've been feeling like the Lord has been urging you to start something new, something that you've hesitated to start, make sure it's Him but then know that this is the time.
God's been giving me supernatural blueprints for how He wants certain things to look in my life, from specific relationships to this blog and more. He has probably been doing the same thing for you. PAY ATTENTION. The ideas you're having are not just random rumblings of your mind. PAY ATTENTION. Again I say, pay attention.
He's giving you strategies. Test any strategies you have received against the Word of God, wisdom, and wise counsel, and ACT on those that prove to be from Him. He will be there to back you up. Again, I hear in my spirit, PAY ATTENTION.
If you don't follow the Elijah List online and on Facebook (two totally different sets of prophetic words on each), I would strongly encourage you to do so. Go especially on the Elijah List Facebook page and read backwards. Read the prophetic words with the headlines that stick out to you–the ones attached to the photos of each writer. You will hear the prophets talking LOUDLY about this transition right now. And again I say, pay attention!
Also, please read this word for December and the next 90 days from Doug Addison if you haven't already read it.
And now for the HUGE blog update:
I believe God has told me that something big is about to happen for this blog. I've been faithful to write for the last 3 years, and you are amazing. Every comment you send, every time the Holy Spirit touches you, makes it worth it. YOU are worth it.
But the blog is still small. To explain – I'm seeing just over 40,000 pageviews per month. Which is huge; 40,000 is a lot. 40,000 pageviews a month amazes me, and I thank YOU for it. I'm really, really grateful for all of your reading and sharing; social media shares are what bring in new people to read.
However, although 40,000 pageviews per month is awesome, it's nowhere near what technology allows for; we have capacity to reach so many more. Because the world has become so much smaller due to the internet, this blog could easily reach hundreds of thousands of people a month.
And I believe God is about to launch it forward. I don't know how or when, but I sense it's very soon.
And God has been telling me exactly what to do to prepare for sudden growth. So here's what I'm going to do:
1. New look for the website:
I'm going to be installing a new design here on the blog that will modernize it. The theme I have was modern 3 years ago, but websites have changed significantly since then. And my current website design (called a "theme" in web-speak) was discontinued just a few weeks ago, so support is no longer available for it.
The new design is amazing. A few teasers:
It's full-screen-width;
it's extremely mobile-responsive;
it's magazine-style (so the site will look more like an online magazine);
and, for you technical junkies, it has parallax design – the most recent technology that will make the site easy to handle and navigate.
Over the last few days, God has been downloading to me the exact pattern for how to set it up.
It's going to be more reflective of both Him and me than it's ever been before. And the crazy part? He's been downloading the technical knowledge (see above!) that I need to build it out. (This is why I told you above, if God is telling you to do something, DO IT! He'll show you how step by step!)
So anyway, the new blog design is going to look AMAZING. The name will stay the same, but it's going to be oh-so-easy to navigate. Articles will be easy to find. Everything will be easy to find. It's going to be better for you, and I will be able to highlight the things that I am called to most.
I am sooooooooo excited. You're going to love it. I'm working on the behind-the-scenes stuff for it now, and within the next few days, I'll hide the site behind an "under construction" page while I upload the new design.
YAYYYYYYY! (Prayers appreciated!) 🙂 🙂
2. Reader survey:
As soon as I get it ready, I'm going to be sending you a SurveyMonkey survey asking you several questions about how I can serve you better. I'd like to know which of my topics interest you the most, and also if there are any particular topics you'd like me to write or vlog about in 2016.
Some of the ideas I'm considering already are:
The baptism of the Holy Spirit (what is it and how do you receive it; God gave me an amazing teaching on this a few years ago that I plan to record);
Spiritual gifts (one of you lovely readers asked me to write about this earlier this year, and I haven't forgotten about you); 😉
Personal finance Heaven's way;
The Nazarite call (this one is pretty much guaranteed); and
The spirit of Elijah (because, you know, I have that book I'm stiiiiiillll writing about spiritual fatherhood and sonship).
That's in addition to more about God's manifest presence, radical prayers, and teaching on how to live in the supernatural every day. But I'd really like your input, so please stay tuned for the survey to come out soon.
There's more, but I'm not ready to release the rest yet. I will, soon. But I am praying about some radical, life-changing things and, after I brood over them awhile and finish getting wise counsel from my own spiritual fathers, you may hear about those things too.
Thank you SO MUCH, again, for being a part of this community. Together, we are reaching so many people with the good news of Jesus' love. We are in this together, and I want you to know that I appreciate you. 🙂
Do you have questions or comments about the prophetic bulletin above OR the cool website changes? Please leave them below if so! I'd love to hear from you.