When I Told God I Wouldn't Give by Samuel Burger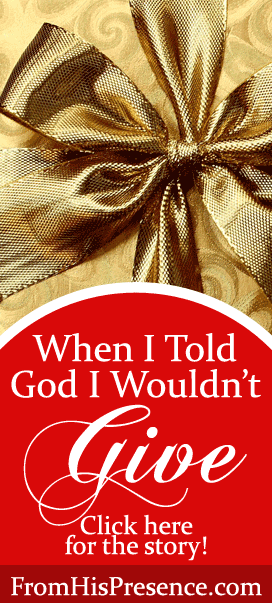 And then there was that day when I asked God to give me a brand new car for free …
I had been teaching on the subject of prayer several nights at church, and I'm still teaching on it! So, to practice what I have been teaching, I was praying on the basis of Mark 11:22-24:
So Jesus answered and said to them, "Have faith in God. For assuredly, I say to you, whoever says to this mountain, 'Be removed and be cast into the sea,' and does not doubt in his heart, but believes that those things he says will be done, he will have whatever he says.

Therefore I say to you, whatever things you ask when you pray, believe that you receive them, and you will have them."
I asked the Lord for this big thing–a brand new car!–because He's a big God! I knew God was ready to answer my really big prayer! Nothing is too hard for God, and I knew He would answer my tremendous prayer of faith!
Then the Lord responded. However, His response was not what I expected.
Instead of delivering my new car to my door. He asked me a question: "Are you willing to give away your car if I asked you?" Sadly, my answer was no. I wasn't ready to give away my car if he asked me to.
God's question began to change my perspective on generosity.
I won't get into details about my giving; but suffice it to say, I started giving more. And I noticed that, after I started giving more, my heart changed more!
I learned this principle:
The more I gave, the more content I became with what I already have.
I think this is true for everyone. The generosity you demonstrate reduces the unhealthy stress of discontentment in your life! This type of stress isn't eliminated with more money or stuff to take care of; it's eliminated with generosity.
So what's the application?
Many times discontent is the result of a stingy heart. What you have only magnifies you. Don't work on getting more; but instead, evaluate the position of generosity in your life.
Generosity is like the human heart. The more you give, the less chance your arteries will harden. Generosity clears any obstruction so there can be a healthy flow of generosity coming back to you in greater measure.
But …
If giving is not a priority, then the arteries will harden and you will get tired of life. Eventually, the heart will quit. Life isn't enjoyable anymore because there's not a healthy flow.
But what happens if you give extravagantly?
What if you give God, not your leftovers, but your very best? What if you give out happiness and not obligation? What if you give over and above at least one time? What if we all begin to operate in a contributor mindset? What if we didn't think in terms of consuming?
I recall a few months ago when a friend and I served some people free coffee and hot chocolate. The response was amazing. We heard questions like, "What's the catch? How much is it? You don't want anything in return? Why are you standing out here in the cold?" I answered that we wanted to show the love of God in a tangible way in serving our community. They were astonished at this act of generosity.
Generosity will change your life dramatically.
I've learned that it's really not about money at all. It's about your heart. Jesus knew giving would be an issue for us because there is a connection between money and your heart. Where you give the most could very well be the indicator of your heart. That's why He addressed it in the Sermon on the Mount. You will always give to what's important to you.
Developing a heart of generosity is a life-changing challenge.
And yet …
Giving is one of the hardest things for us to do because we think there may not be enough to go around.
Money and possessions are so dear to the heart that the Bible warns of the love of money in the last days. That's why we have to accept God's truth that everything we have is His. If we know that everything we have belongs to God, and if what we have is surrendered to God, then we won't have to worry about provision. Our faith stays where it belongs–in our Father–not in our material goods!
I used to have a gigantic problem with giving because of a bad experience I had in the past. That was my problem. I was letting a bad experience keep me from my blessing! But I am learning that it's better to give out of an overflow of your relationship with God. I give as to the Lord now! My giving is relational and not mechanical, and I'm learning to mix love with my giving!
The issue of giving my car away is something between me and the Lord that I will touch on in another article. However, for today, just know that what we ask God for should be based on the surrender of our heart and not out of discontent. How can we be discontented when what we have isn't ours anyway?
You never lose when you give.
Let this question sink deep. Are you willing to trust God with what you give away more than you trust yourself with what you keep?
Samuel Burger is the Senior Pastor at Chestuee Baptist Church in Calhoun, Tennessee. He loves God and loves people. Sam walks in the manifest presence of God every day. He is one of the most anointed people I know, and he didn't pay me to say that! 🙂 – Jamie
Recommended resource: If you're ready to get your personal finances in order so you can live AND give like no one else, get the book that changed my financial life forever: The Total Money Makeover: A Proven Plan for Financial Fitnessby Dave Ramsey. I LOVE LOVE LOVE this book. It's THE best money makeover plan I've ever read, and I've read a ton of personal finance books. But when I got THIS book, I was so inspired that I actually did what it said. 🙂 And it worked.

The Total Money Makeover is easy to read and FULL of stories and testimonials that will light your fire. Grab it on Amazon today! (Affiliate link.)

The Amazon link above is my affiliate link. That means if you use my link to purchase a resource on Amazon, Amazon will pay me a small commission (at no additional cost to you of course). Thank you in advance for helping me keep this blog online so I can reach people for Jesus! And if you love legalese, you can delight yourself in my disclosure policy here.