Don't Let the Liberals Steal Your Voice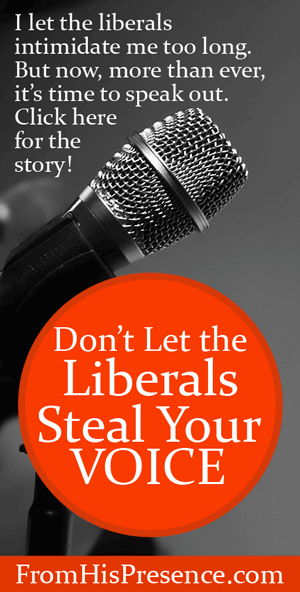 I realized yesterday that I have been afraid to say what I think.
Oh, not about God. I could talk about God all day long, and I am definitely not afraid to witness for Christ.
But I was on Facebook, and people were talking about all sorts of current political happenings, and there were some things I agreed with … but I was afraid to share them or comment openly.
And then I realized why, and the why isn't going to happen anymore.
I was afraid to comment openly because I am Facebook-friends (not necessarily personal friends) with a lot of liberal people.
People who are LOUD about their opinions;
People who unfriend those who don't agree with them;
People who call others names who don't agree with them;
People who scream buzzwords like "bigot" or "intolerant" and all sorts of other things whenever someone doesn't agree with them.
People whose insistence on "tolerance" only applies as long as you agree with AND ENDORSE their agenda.
And I don't agree with them; but I was afraid to state my opinions publicly because I didn't want them to "unfriend" me or think badly of me.
And that, my friend, is a problem.
THAT'S how the Church arrived at the sad state it's in right now. For too long, Bible-believing Christians have sat back and let everybody else have their say. We have sat back and shaken our heads, pitying those liberals who don't believe and live out the Bible.
But we have done so silently, and THAT is why "those liberals" have taken over our government and churches. Because Christians have said NOTHING.
And I'm done with silence. I'm not going to let the liberals steal my voice anymore. From now on, world, hear me in this:
1. The Bible is the inerrant, infallible Word of God. (This isn't new, and it isn't new for me to say so, either; but I just wanted to say it again.) 🙂 Everything in the Bible is true, and in it is found the ONLY truth.
2. There is only one way to God, and that is through Jesus Christ.
3. Abortion is WRONG. It is murder.
4. I don't believe we should hate Muslims; we should love them, pray for them, and witness to them IN LOVE about Christ. It's the goodness of God that brings men to repentance. And Ephesians 6:12 tells us:
For we do not wrestle against flesh and blood, but against principalities, against powers, against the rulers of the darkness of this age, against spiritual hosts of wickedness in the heavenly places."
Beloved, you MUST understand that we aren't wrestling against the people who have been seduced by the enemy into believing the lies of Islam. They are precious people for whom Christ died. But make no mistake, world: the religion/political system of Islam is at war against the world. 
And if you don't like the fact that I said that, you can unfriend me, unfollow me, or unsubscribe if you need to.
I'd hate to see you go; really, I would. I'm not unfriending you over your liberal statements that I disagree with. I find value and beauty in you, and in getting to know you, whether we agree or not.
But if you need to disassociate yourself from me because of what I said–your choice, not mine, then do what you need to do. I would be sad if you did; and your doing so would indicate that you advocate tolerance, yet have none yourself. And if that describes you, then what you really are advocating is INtolerance; that your way is the only way, and that everyone has to think like you do.
Yet you accuse conservative Christians of intolerance, while conservative Christians are saying, "Go ahead and believe the way you want to; it's a free country. But stop interfering with my Constitutional rights to believe and live the way I want to."
I hope you will stop and think about that. It sounds like a double standard to me. Doesn't it to you?
But from now on, I'm going to say what I think when I need to, on Facebook and every other place I feel led.
That doesn't mean I will always have something to say. But I am going to say it if I do, and not let myself be intimidated by the possibility that someone **might** disagree with me.
That also doesn't mean this is going to become a political blog. This site is not going to become a political blog because that's not my life's message. The message God assigned me for MY life is to preach the Gospel of Christ with power and to encourage, build up, and teach God's people.
But I'm not going to cower in intimidation before a few people with angry spirits over their liberal cause. And since Jesus is coming back for a pure and spotless Bride, and since He has promised the biggest outpouring of revival in history before He comes, maybe, just maybe, I will find that my voice is louder.
And if you've been cowering too, maybe it's time to find your voice again and be louder with me. Don't let the liberals steal your voice. Now, more than ever, it's time to speak up.
Does this resonate with you? Have you been letting fear or intimidation steal your voice? If so, leave a comment below!