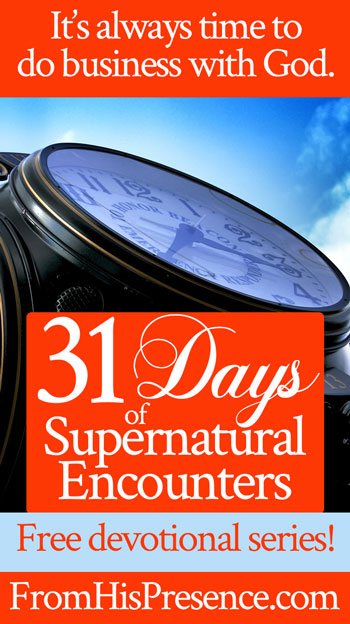 Welcome to Day 1 of our 31 Days of Supernatural Encounters free devotional series!
Every day of this series will have four parts: Read, Know, Pray, and Listen. The series will contain prophetic words, prayers, and more! (Click here for the series index.)
As you walk through this series, I pray that you would be powerfully impacted and that Holy Spirit would take you to a new level of intimacy with Jesus!
Day 1:
Read: Ruth 1:1-17
Know:
If you seek to walk in the supernatural with God, there will always be a moment in which you must make the same choice Ruth made. If you will make it, you may proceed with God … and have abundance and blessing, too.
If you will not make this choice, you will go backward. Back to the old ways, the old land, the old misery.
Staying still is not an option.
So what's the choice before you?
Only this: What will you give up for Christ's sake?
Ruth was willing to give up everything. She left her family behind. She left her culture and traditions behind. She left her home behind. She abandoned everything that the outside world valued, all for the sake of following the way of God.
So what are you willing to give up?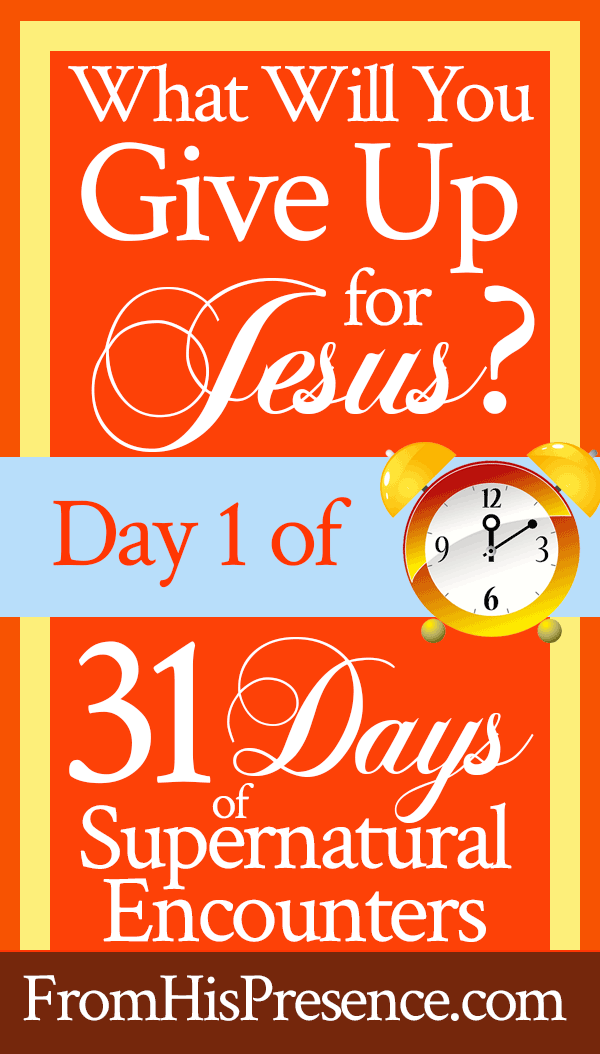 Will you give up your right to worry about your circumstances, and decide to trust God and speak in faith no matter what?
Will you give up your right to be right, in order to humble yourself under God's mighty hand?
Will you give up your right to do what you want with your time, in order to seek God with your time?
Will you give up your entitlement to good treatment, in order to complete the sufferings of Christ in your own life?
Mark 8:34-37 says:
When He had called the people to Himself, with His disciples also, He said to them, 'Whoever desires to come after Me, let him deny himself, and take up his cross, and follow Me. For whoever desires to save his life will lose it, but whoever loses his life for My sake and the gospel's will save it.

For what will it profit a man if he gains the whole world, and loses his own soul? Or what will a man give in exchange for his soul?'"
There is a choice that you and I must make. We must make it once, and then we must make it daily. That choice determines whether we will be disciples of Christ, or merely fans of Christ.
What will you choose today? Ponder your answer. Meditate on it. Don't take this decision lightly. Then talk to the Lord about it, and verbalize your choice to Him.
Pray:
"Father God, in Jesus' name, I choose this day to make Jesus the absolute, 100% Boss of my life. I choose to bow and yield my all to You. I choose to obey You in everything. Please help me carry out this choice every moment of my life from this time forward and forevermore. Convict me and help me as I walk with You. In Jesus' name, amen."
Listen:
"Lose My Soul" by TobyMac. This is one of the most profound songs about lordship that I know. Listen closely to the lyrics, and pray through this song as you listen!

How did Holy Spirit speak to you today as you pondered this decision? Please leave a comment below!
Would you help me with my work of reaching people for Jesus as a domestic missionary? I need you; we are in this together!

This blog, and all of the Kingdom work we do in this community together, are made possible through your partnerships, donations, and product purchases. If you'd like to help, please check out the partnership details and products available for sale here. And, thank you in advance for helping make this blog and everything we do together for the Kingdom possible!