3 Prophetic Words: Freedom, Delight, and Glory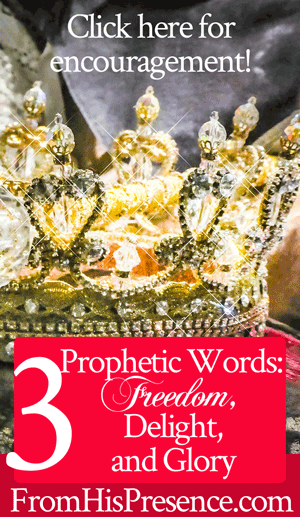 As you may know, the time between Rosh Hashanah and Yom Kippur is often referred to as the 10 Days of Awe, and Holy Spirit does a lot of special work during this time.
For me, He has been sitting on me to prophesy more than ever before. Today, He gave me the three prophetic words below. I believe they will encourage you; Papa encouraged me as I was writing them! Glory!
Here are the 3 prophetic words for today:
Prophetic word #1:
I see someone's hands being loosed from a controlling relationship that has kept you pinned in one spot and unable to look upward or outward. And the Lord says to you, "I have created you for freedom. You will find rest in your journey; do not be afraid to go where I send you and to do what I have commissioned you to do."
The Lord is near you; He is in your heart; He surrounds you with songs of deliverance. Deliverance will come quickly as Holy Spirit moves on your heart to bring freedom. Anoint yourself with oil and arise, for the anointing breaks the yoke.
Prophetic word #2:
I see the wind of God pushing His provision toward you. With every gust of wind, Holy Spirit is breathing more revelation into your heart about who He is. He is increasing your faith right now–not only faith in Him to provide, but simply faith in who He is.
I see that as you move with this wind toward Father, you will be filled with joy. I see you running toward Him like a small child, arms outstretched. I see you come into His outstretched arms, where He picks you up and swings you around in a big circle through the air. His joy is in you, and you are delighting in Him. It is from this place of pleasure and delight in Father's arms that you will see all things clearly, and all things will be made new.
The Lord is coming to you. He is coming swiftly, riding upon His wind. Notice it. Sense Him. Run out to meet Him, and you will find yourself enraptured with Him.
Everything that He has is available to you in that place, and you will be so enraptured with Him that you will not remember how it felt to do without. His abundance will become your abundance as you delight in Him. Everything that belongs to Him is yours also.
Prophetic word #3:
The Lord says, "I desire to crown you with many crowns. As Christ is, so you are you on the earth. He is the apple of My eye, and you are in Him; therefore, so are you the apple of My eye. You are My people, and I desire to use you to demonstrate My goodness and My royalty on the earth.
To do that, I must crown you. Please let Me do so. I desire to crown you with glory and honor. I desire to set you over all the nations of the earth. I desire that you should lend to many nations, but never borrow. I desire that you should demonstrate My royalty and how I treat My children.
But you must be willing. You must be willing to be set over everything you touch. You cannot maintain the attitude that you are less; that you have less; that you are as a grasshopper among giants. You have wandered the wilderness long enough.
So I say to you, 'Arise! Shine! Your light has come, and My glory has risen upon you!' Let the people who are in darkness stay there if they must, but YOU shine with My glory.
I will take care of those in darkness. How can they hope when they cannot see how life should be? YOU are the example I have chosen to demonstrate My glory on the earth. Wear your crowns–all of them–with dignity and honor. Know that I am here for you to bring all things into fruition. I will never leave you nor forsake you."
Glory hallelujah! I'm excited about these words myself! Did one or more of these words speak to your heart? If so, please leave a comment below and share your thoughts! Praise God!
Would you help me with my work of reaching people for Jesus as a domestic missionary? I need you; we are in this together!

This blog, and all of the Kingdom work we do in this community together, are made possible through your partnerships, donations, and product purchases. If you'd like to help, please check out the partnership details and products available for sale here. And, thank you in advance for helping make this blog and everything we do together for the Kingdom possible!