4 Prophetic Words About Your New Season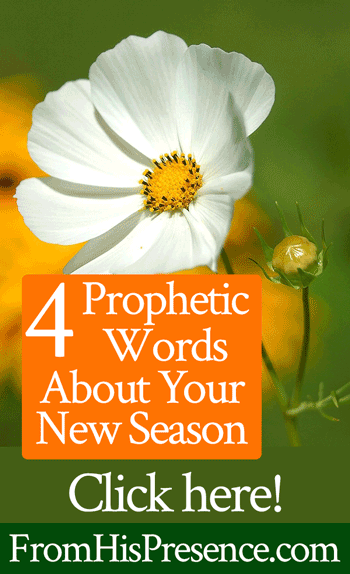 As we enter into this new season and new Jewish year 5778, the Lord has been talking to me about some of the new things He is going to be doing. Today, I wanted to share 4 prophetic words about some of these new things.
If one or more of these words resonates with you, then Holy Spirit is speaking it to you! Please leave a comment below if that's you. 🙂
Prophetic word #1:
You have been praying for opportunity and the Lord is saying to you right now that you have prepared; you have fasted; you have walked with Him. He sees both your physical preparation and the preparation of your heart.
Now, even though you do not currently see a way forward, your God is making a road in the wilderness. He is doing this NOW.
A door will soon open and it will be a small door; but pay attention, for it is a door from Him. What looks like a small door will open up into a wide place after you enter through it.
Be watchful; be vigilant. Pray for God to protect every door He is opening for you, and to close every door He does not want you to walk through. Isaiah 43:18-21.
Word #2:
The Lord says:
"You have long been holding back your full self from the things I have called you to do. You may not realize it, but you have been thinking of the hardest parts of your life as the parts to keep hidden. However, I see those parts of your life as the diamonds around your neck. They are what make you shine.
I am calling you forth from the diamond mine. I am bringing you to light, and I am giving you grace to share your testimonies with others. Do not refuse My people the blessing of seeing your diamonds. Your testimonies will release the prophetic word into their lives so that I can do the same thing in them that I have done in you.
My grace is sufficient for you, for My strength is made perfect in weakness. You will speak as the oracles of God. Revelation 12:11."
Word #3:
The Lord says:
"I am releasing a family to you. That which has long been held up is going to be released. You have long cried out to Me out of your lonely place, and you were right to do so. I am the One who sets the solitary in families.
Your new family will come from the north, south, east, and west. They will love you and you will love and enjoy them. You will feel at home with them, and I will heal the loneliness of your heart. Psalm 68:6."
Word #4:
I see someone who is a great lover of sports. Healing is coming to you. Your heart has been bound up in chains because you were abused in the past. You were not honored or respected as a person, but you will be again.
The healing process begins with receiving God's love for you. Ask Him daily to open your heart up and remove the calluses and scabs from your heart, so that His love can seep into your very pores.
Your Father loves you. He has made you strong on the outside, working many things out for your good. However, you have not felt strong on the inside. You think no one knows your struggle, and people may not–but Father God does. He has not forsaken you, and He has not forgotten you. He has tattooed you permanently on the palm of your hand, and He is with you to bring you through safely and in health.
Be strong and of good courage, for the Lord your God is with you wherever you go. He will not faint nor be discouraged with you; He will walk with you as long as it takes and longer. He will never abandon or forsake you. Only ask Him to pulverize your heart before Him, so that you can receive His healing touch.
Again, if one of these words is for you, please leave a comment below! I love hearing from you!
Would you help me with my work of reaching people for Jesus as a domestic missionary? I need you; we are in this together!

This blog, and all of the Kingdom work we do in this community together, are made possible through your partnerships, donations, and product purchases. If you'd like to help, please check out the partnership details and products available for sale here. And, thank you in advance for helping make this blog and everything we do together for the Kingdom possible!