A Prayer for You if You're Hurting Really Badly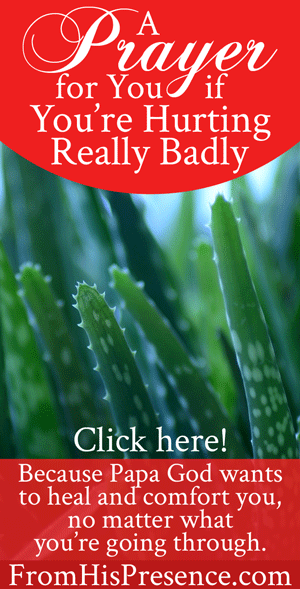 I've been getting a ton of emails lately from precious readers all over the world who are hurting really badly. Some of you have told me about your spouses who are having affairs, or children who are estranged from you, or even unjust work situations. Some folks have been abandoned, betrayed, hated, or stabbed in the back.
And I'm sorry.
Although I haven't been through what you've been through in some cases, I think every person in the world can identify with pain (no matter the cause of the pain). We don't wrestle against flesh and blood; it's the devil who causes pain, and he hates us all and wants to kill us.
But God is stronger. Our Heavenly Father is stronger, and He loves us, and He will heal our hearts.
I wanted to give you a model prayer today for you to lift up to Father. If you're hurting, please go to Him. Go to your Abba who loves you. He listens. He cares. He knows. He feels every pain.
He's been there too, you know:
His bride, Israel, abandoned Him and committed adultery against Him many times in the Old Testament.
We, His New Covenant bride (all nationalities of people who have accepted Christ and been grafted into His covenant with Abraham and the Jewish people) have cheated on Him, abandoned Him, and betrayed Him many times.
Jesus was unjustly murdered, persecuted, and hated.
Jesus was abandoned by His friends when He was arrested.
Jesus had people walk away from Him when He taught things they didn't like.
Every bit of suffering you and I could ever go through, God has been through personally. He knows what it's like.
That's why Jesus is a sympathetic High Priest for us before the Father:
Seeing then that we have a great High Priest who has passed through the heavens, Jesus the Son of God, let us hold fast our confession. For we do not have a High Priest who cannot sympathize with our weaknesses, but was in all points tempted as we are, yet without sin. Let us therefore come boldly to the throne of grace, that we may obtain mercy and find grace to help in time of need.
So let's go to the Father together and ask Him for help, shall we?
Pray this with me, no matter what you're going through today:
Heavenly Father,

I come before You in Jesus' name. Father God, thank You for loving me. Thank You for taking care of me so many times in the past. And thank You for being with me right now, even when I don't know what You're doing and I don't understand what's going on.

Father God, I need help. I am coming boldly before Your throne of grace, that I may obtain mercy, and find grace to help in time of need. Father, I'm hurting. It hurts bad, Papa, and I can't fix it. I can't heal it myself. I need Your help.

So Father God, right now, I choose to forgive the people who have hurt me. I choose to leave it, let it go, and give up all resentment. I hand the wounds, the hurts, and the pain to You.

Father God, I confess that I have harbored bitterness, unforgiveness, hatred, anger, hurt, resentment, rage, disgust, and a spirit of murder toward the people who have harmed me, and I confess those things as sin. Father, I'm sorry. Please forgive me. Fill me with Your Holy Spirit where that was. Wash me with the blood of Jesus. Make me clean and fill me with the Holy Spirit.

Father God, I pray for the people who have harmed me. I release them from any harm done to me, and I ask You to bless them. Fill them with Your Holy Spirit. Give them wisdom. Make them like You. Provide for their needs and draw them closer to Yourself, in Jesus' name.

Now Father, I lift my heart up to You. Please heal it. Please roll away the reproach from off of me. I'm calling upon You, so I'm asking You to answer me, deliver me, and honor me (Psalm 91:15). Fill me with Your joy, peace, hope, and courage again. Grant me the will to go on, the will to live, again.

O Lion of Judah, roar over me and in me and through me right now. Comfort my heart. Take the pain away. Take me up as Your child and hide me in Your bosom. Shield me from the world. Help me to rest in You. Give me peace and keep me as the apple of Your eye; hide me under the shadow of Your wings from those who lie in wait for me. Protect me, instruct me, teach me, and guide me, Father.

Father God, throughout all this, I pray that You would be glorified. I ask that You would have all the glory in my life. Give me godly character. Make me like You. Help me to respond rightly to every situation. Help me to humble myself under Your mighty hand, and I ask that, in due time, You would lift me up.

I cast my cares on You, for You care for me. Please take care of me. Help me to abide in Jesus. Set a watch on my mouth, that I would not speak anything that is not from You; and help me to speak all those things that are from You.

Father, I love You. I thank You for being the Shepherd of my soul. I plead the blood of Jesus over my mind, will, thoughts, emotions, body, words, decisions, relationships, and over my spirit. Cause every part of me to line up with Your highest will and with Your Word. I plead the blood of Jesus over every unjust situation, and I ask that You would bring me mercy and justice, forgiveness and love. I plead the blood of Jesus over Your blessing on my life, and I ask You to preserve me in every way.

Father God, I ask that You would provide for my physical, emotional, and spiritual needs abundantly, according to Your riches in glory. Help me to receive Your love and rest securely in it.

Thank You, Father. Thank You for loving me and taking care of me. I love You, and I'll be careful to give You the glory in all things. I love You. Thank You.

In Jesus' name, amen.
Precious friend, whatever you're going through, Father sees. He knows. He cares more deeply than you could ever imagine. And if you will seek Him during this time, He will help you. He will sustain you, care for you, and meet your needs–physically, emotionally, and spiritually.
Would you join me and rest in Papa's lap today?
Partnership program update: I'm making a major life change to become a full-time missionary, but I need your help. So far, as of this posting, the Lord has brought me about 43 partners. If that's you, THANK YOU! But I need several hundred more in order to begin focusing on this blog plus serving at my church's prophetic/inner-healing ministry full-time. Please go here to see what's in it for you, and sign up to be a monthly partner for only $8 a month.