An Encouraging Word for the Most Desperate of Times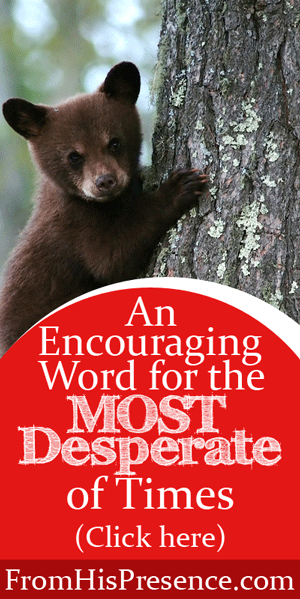 I was 14 years old. I wasn't saved. And I wanted to kill myself.
It was my freshman year of high school (9th grade). I was being bullied really, really badly. People made fun of me all day, every day. They did horrible things to me. I cried myself to sleep every night.
But in the middle of all that, I clung to one ray of hope.
I had only one piece of hope. Only one … but that one ray of hope mattered.
My ray of hope was a Scripture verse I had heard one time. A Christian teacher from my former school had shared the verse during a devotional time, and the verse stuck with me. (Isn't that just like God? I had not even surrendered to Him, but He still gave me hope in His Word!)
The verse that literally kept me alive was this:
Wait on the Lord; be of good courage, and He shall strengthen your heart; wait, I say, on the Lord!" (Psalm 27:14).
I clung to that verse. I opened my Bible and laid my head on it every night to go to sleep. I thought about it. I begged God to help me, because somehow, that verse showed me that He would. That verse encouraged me in the most desperate of times.
What was so special about that verse? Simply this:
If I'm supposed to wait on the Lord, by definition that means there is something to wait for … that He has something in mind for me that is better than what I'm experiencing right now.
So I clung to His promise. Desperately. Sometimes I felt like I was hanging onto a cliff by only the bleeding, wounded tip of one broken-off fingernail. But nevertheless, I clung. I cried. And I begged God to help me.
And He did.
It took time. I didn't finally surrender to Him–giving my everything to Him and asking Him to have my life for His own–until I was 21 years old. During the interim, things were still hard. Really hard.
(I should have surrendered much sooner; I felt Him drawing me many times, but I told myself I was already saved, and I refused His wooing.)
And even after I finally made Jesus the Boss of my life at age 21, things were still hard for awhile. I was really messed-up, and it took time to transform my mind, and renew and wash my thinking in His Word.
But now, I can honestly say that my life is heaven on earth. He has kept His promise. He has given me the wonderful life that He said was worth waiting for. He has strengthened my heart and given me fullness of joy and victory in Jesus Christ. I still depend on Him daily, and always will … but I'm incredibly, incredibly fulfilled in Jesus.
Here's the encouraging word for you if you're in the most desperate of times right now:
No matter what things look like in your life right now, the Lord has something good in mind for you that is going to be worth it.
That's why He tells you to wait on Him. He doesn't want you to look at your current circumstances. He wants you to look at HIM.
I know waiting on Him feels hard sometimes. I know you need courage and hope. But you know what? You can only have courage when you look at Him.
JESUS is, singlehandedly, by Himself, your Courage, your Strength, your Power, and your Victory. And as soon as you look at Him, He will give you that courage and strength. He will strengthen your heart, and you will start to see His victory made manifest in your life.
Beloved, God has something good for you. Better times are ahead. Daddy God has something for you that is worth waiting for.
A song that was so encouraging to me during some of my hard times after I got saved was "I Will Wait," by Jason Upton. It talks about Jesus being my Hope and the Sun on my horizon. Listen to this song here, and let the Lord encourage you too:
Dear reader, no matter what kind of situation you're going through right now, will you wait on Him? Will you look to Him? Will you let visions of Jesus fill your entire horizon? Will you look–desperately, maybe, but still looking–at Jesus, Jesus, and no one but Jesus?
Your tough time isn't going to last forever. God is working! Yes, even now, RIGHT NOW, He is working in YOUR life and in your heart. He loves you so much! He is working! I know you can't see His plan sometimes. I know you doubt sometimes. I know these might be the most desperate of times you have ever endured.
But beloved, this is welling up in my spirit even as I'm typing: YOU ARE SO MUCH CLOSER TO BREAKTHROUGH THAN YOU THINK!
So will you wait on the Lord? Will you look at Him? Will you let Jesus consume your entire horizon?
If you will wait on the Lord, precious one, He will help you. He will strengthen your heart. And He will bring you into the fullness of His purposes for your life. Please hang in there. You are so much closer than you think.
If this message was for you today, please leave a comment below. I would love to hear if this speaks to you. Thank you!