Are You Meeting the Conditions for Harvest?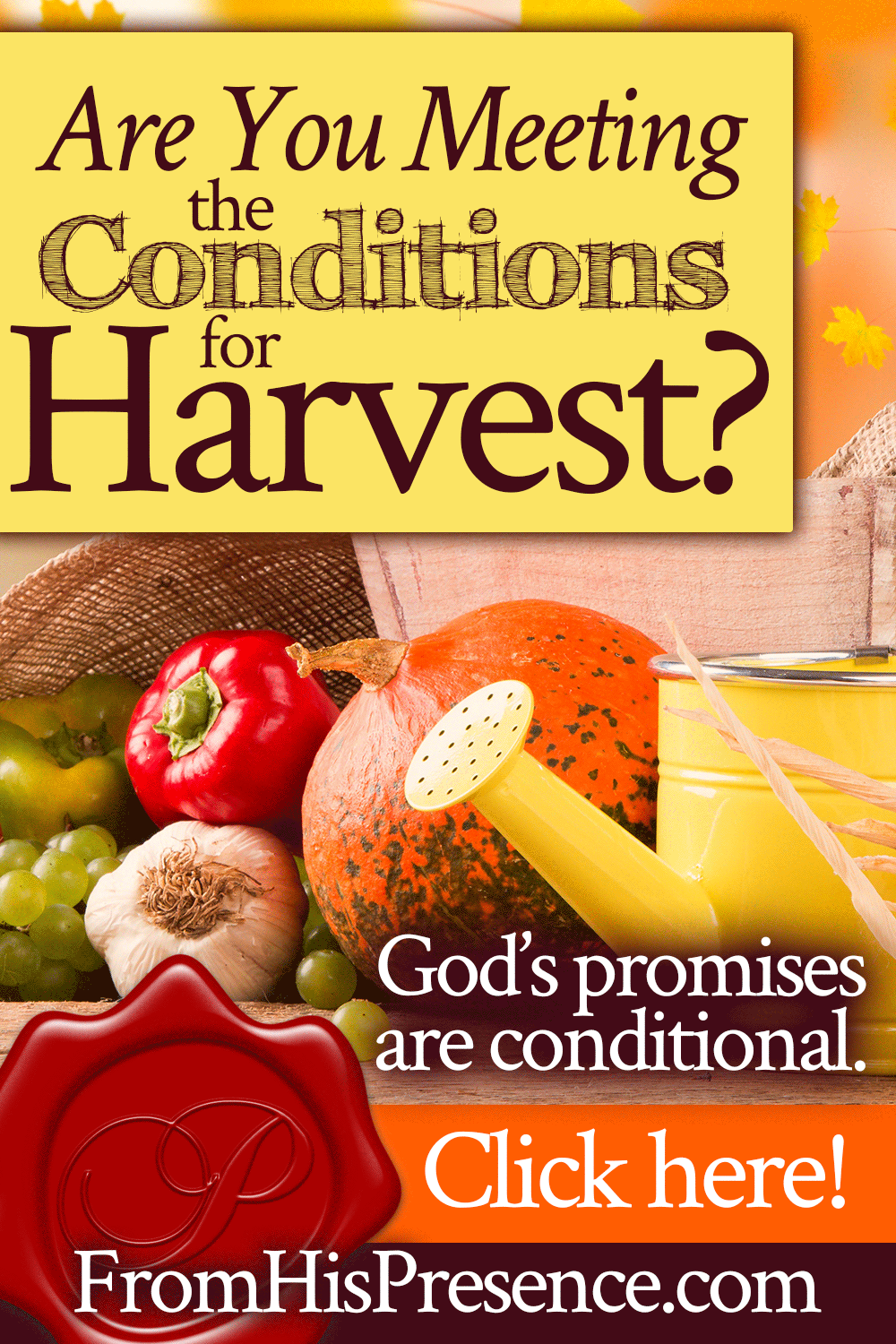 Are you in a famine right now? Would you like to get out of that famine if so? And, if so, are you meeting the conditions for harvest?
Around the world, many people are dealing with extremely hard times.
When I look in the Word, I see a time when Isaac, the son of Abraham, faced the same thing. In Genesis 26, there was a severe famine. Isaac was tempted to flee to Egypt to look for provision. However, the Lord spoke to him and reminded him of His covenant:
"… 'Do not go down to Egypt; live in the land of which I shall tell you. Dwell in this land, and I will be with you and bless you …'" (Genesis 26:2-3).
And so even though appearances said Isaac and his family should flee (looking to the world for provision), he didn't.
Instead, you know what he did? He sowed and prepared for a harvest.
Yes: Isaac, the son of Abraham, sowed his seed during a famine. Genesis 26:12-14 says:
"Then Isaac sowed in that land, and reaped in the same year a hundredfold; and the Lord blessed him. The man began to prosper, and continued prospering until he became very prosperous; for he had possessions of flocks and possessions of herds and a great number of servants. So the Philistines envied him."
Isaac sowed in the middle of a famine–and God blessed him.
God honored his seed (because God established seedtime and harvest and He always honors what He establishes), and GOD brought him a hundredfold harvest in the same year.
Friend, I don't know what you're going through right now, but I know I'm going through a lot myself–and I'm choosing to do what Isaac did.
My family's personal finances have been decimated in recent months because of extensive car repairs and things like that–not even counting the impact of skyrocketing inflation, which we are all experiencing around the world. But you know what? The Lord just led me a moment ago to get out my checkbook and sow a $100 seed into this word (the same word I'm writing above!), because you have to sow when you want to grow.
If you expect a harvest, you have to sow to get it.
Beloved, God's ways are always the same and His covenant is always true.
In hard times like everyone is facing these days, the same principle still applies:
"Give, and it will be given to you: good measure, pressed down, shaken together, and running over will be put into your bosom. For with the same measure that you use, it will be measured back to you" (Luke 6:38).
Note that Jesus said: "For with the same measure that you use, it will be measured back to you." That means if you don't give, nothing will come back to you. If you use an empty measure (not giving offerings to the Lord), then you won't get anything. Your harvest will be empty. But if you give sacrificially, God will bring abundant harvest into your bosom.
If you are faithful to obey God and sow, GOD will be able to keep His promise to you. He will always keep His promises–but His promises are conditional.
God's promises are conditional. Even salvation is a conditional promise; we have to confess Jesus as our Lord IN ORDER to be forgiven of our sins and be granted eternal life. Nearly all His promises are like that:
Are you meeting His conditions for financial blessing during famine? Are you sowing seed so you will be able to receive a harvest?
Friend, as I was writing this, the Lord just led me to sow $100 that I couldn't afford to sow.
(And don't tell me not to tell you that; it's ALMS that you're not supposed to talk about–gifts to the poor–not seed offerings.) 🙂
It hurts to sow that offering, but it would hurt a lot more to not receive a harvest. I need a harvest right now. Don't you?
And if you do need that harvest, what are you going to sow to get it?
Where you sow is between you and God. But I can tell you that there is benefit into sowing where you receive a word. And this ministry is good ground that teaches the Word every day. If you desire to obey God by sowing today, we'd be honored to have you partner with us! When we receive your seed, we will put it to work in the ground of global discipleship and teaching the Word literally around the world every day.
Our giving links are here:
Credit/debit cards and ACH (one-time or recurring): https://www.donorbox.org/fhp <=Click the "recurring" button at this link to become a monthly or weekly partner!
Cash App: $FromHisPresence
Gumroad: https://www.gumroad.com/fromhispresence (for donations or product purchases)
US Mail: From His Presence, PO Box 25232, Chattanooga, TN 37422 USA
Friend, God's Word is always true. He will keep His promise to you and bring you a harvest if you sow where He leads you.
Sow a seed unto the Lord today, and believe God to bring you a harvest as you meet the conditions for harvest!
Blessings to you as you sow!
All praise to the One who is faithful to watch over His Word and perform it,
Jamie Rohrbaugh
Founder and CEO, From His Presence