Baby Pictures, Sabbatical, and Asking for Your Prayers
Hey beloveds,
Next week, I am taking a sabbatical. And, I am asking for your prayers. I'll explain why below. I've also included our partner update on this month's ministry below–as well as some baby pictures. 🙂
Really quickly, here's the partner update:
May was a quieter month than some. I spent quite a bit of time in intercession for our community rather than trying to write a new post quite as often. Also, I helped teach a 6-week small group during April and May. It was about Psalm 23, and it was such a blessing.
I also was able to mentor five ministers who are building online ministries, which was a significant time investment.
In May, we had 158,167 pageviews on this blog, as well as several prophetic words on other magazines (Spirit Fuel, 365 Prophetic, etc).
The biggest thing in May, I think, were the testimonies we received:
Testimonies about people breaking free from controlling people and controlling situations.
Testimonies about people getting healed from father wounds.
Testimonies about this or that prophetic word arriving in their email inbox at just the right time.
Testimonies about people getting free from poverty-dominated thinking, and beginning to hope again.
Testimonies about people being hungry for Father, and how Papa used this blog to help point them closer to Christ.
I'm so thankful to the Lord for these testimonies. Seeing lives changed for Christ is really what it's all about. And I thank you and honor you for praying, for helping us, for reading, for sowing, for sharing on social media, and for sharing YOUR testimonies.
So then, I want to talk to you from my heart. Here goes.
Here's what's going on:
From the looks of things, this is the worst time to rest. Honestly. Blog traffic is just beginning to rebound from the spring break/vacation/prom slump (typical for bloggers most years). People are hungry for ministry and teaching, and I have a massive amount of Word in me that I'm just itching to get out to you.
But even writing this, I'm breaking down in tears, and that's why I need to rest.
I've been through a lot in the last few years. Honestly, if I were just looking at the facts and emotions of it all–not looking with God's perspective–I could honestly say that the last 3 years have been hell. But, God has a different perspective and He has blessed me so much. A miracle job (this job), a miracle baby, miracle after miracle after miracle.
But I'm tired.
I haven't taken one official day off since the baby was born, not one. I've constantly tried to keep the blog up-to-date, whether through writing or through back-end tasks like accounting and email. Even when I haven't gotten much accomplished, it wasn't for lack of trying.
And I'm so very tired.
Then, on Monday of this week, I had a pretty radical encounter with the Lord.
He gave me some healing revelation about some of the hardest things I've ever gone through in my life. Deep stuff. Things that carry so much impact that they will help to heal nations. I feel that by the Spirit of God; that thing about nations just came up in my spirit as I was writing this.
The things He showed me are so deep and impactful that I feel I need to sozzle in them awhile. I need to take every spare moment for a few days, and just rest, and just BE with the Lord–open Bible, open journal, open heart, and just let His Word about these things soak in.
I can't do that when I'm constantly thinking about ministry.
I am afraid to take a sabbatical.
There. I said it.
The very fact that I feel that way actually has to do with the deep things Papa is showing me. Deep, healing things that pertain to the things I have endured.
But, the first step to healing from anything is to recognize that there is a problem. And we're all like onions, just waiting until the Lord begins to delve into our next layer. He's taking us from glory to glory, faith to faith, and strength to strength, you see. And He has tapped into my next layer.
So I want to cooperate with Him.
A thousand thoughts are running around in my head about taking a week to rest. Among them are:
It's Father's Day, and it's a painful time! I won't be here to encourage people when they need it! (But I know Holy Spirit will, and He'll do a much better job.)
What if our income tanks? We live by faith; and "out of sight, out of mind" has often been true when it comes to blogging income! (But Father is our source, and He said "You'll receive when you rest.")
What if our pageviews tank, and our partners think I'm being lazy? Nobody wants to partner with a ministry that's doing nothing! (Partners, this is your call. But, I assure you that the website will still be reaching people whether I take a week to soak or not.)
Fear.
But, fear is not from the Lord. And He is my Source–as much as I love you, and although our ministry is 80% funded by donations, partnerships, and product sales–not you. And He'll encourage you with His own rhema word. He'll protect the ministry and all its finances, and He'll bring us the partners who are meant to run with us, and He'll release the others into their own, other mission fields.
The fact is that He's testing me.
He's speaking to me about some lies that were ingrained into my psyche when I was a tiny child. He's talking to me about love, and what it looks like, and how I can go deeper into His love.
And He's testing me to see if I am willing to let go of myself and cling to Him in a whole new way, even though fear would say "no."
But I can't say no. I want to obey Him, even though He bids me to leave my human logic and human abilities and training and education and all of that. He is asking me to follow Him, even if it costs me something.
I don't really think it will cost me anything. I think it will be a glorious time. But that's not by logic. Logic says "NO NO NO NO NO!" But FAITH says, "Do it."
"Follow Me."
"Follow Me, and I will make you fishers of men."
"Follow Me, and see what I want to teach you."
"If any man would come after Me, let him deny himself, and take up his cross, and follow Me …"
So I'm doing what He's asking, even though it makes no sense logically.
He's asking me to rest, and He's asking me to let Holy Spirit minister to me, teach me, rejuvenate me, and heal me. When He told me that June was a month of healing, He meant it. 🙂
I am not sure which day the sabbatical will start, but it will be next week.
I may or may not pre-schedule emails to go out during that time. I may or may not pre-write posts to be posted during that time. I HAVE scheduled social media during that time, so there's that. But as for the rest, I don't know. We'll see.
But I do ask for your prayer. Please, please, pray for me.
Pray that I will get deep, deep, physical, spiritual, and soul rest.
Pray that I will have wisdom from the Lord.
Pray that Holy Spirit will bear His fruit of self-control through me, so I stay keyed into His agenda for the week.
Pray for the ministry's finances while I rest.
Pray for all the healing He wants to work in my heart.
And, last but not least, pray that my son will cooperate with a period of rest for me. 🙂
And about our son:
Elijah is five-and-a-half months old, y'all. Can you believe it?
We had him dedicated to the Lord in May; on Mother's Day actually. Here are a couple of photos from that special event: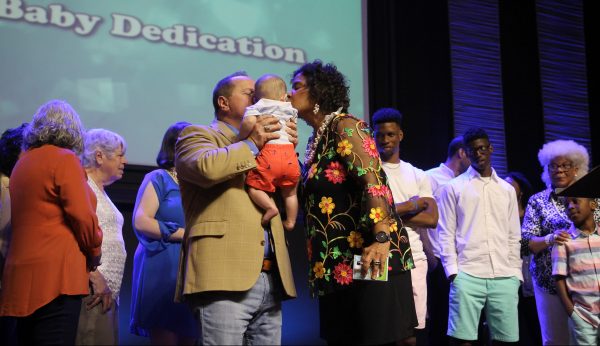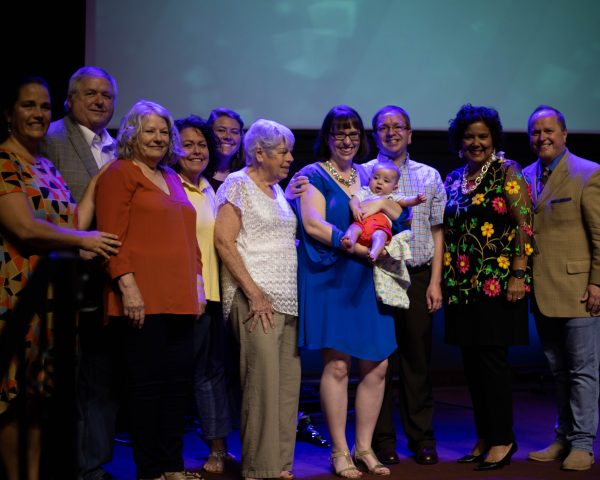 Here are a couple more fun photos of His Royal Cuteness: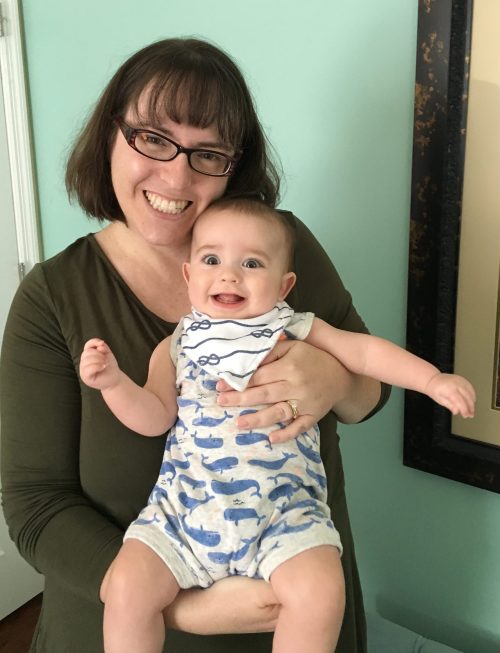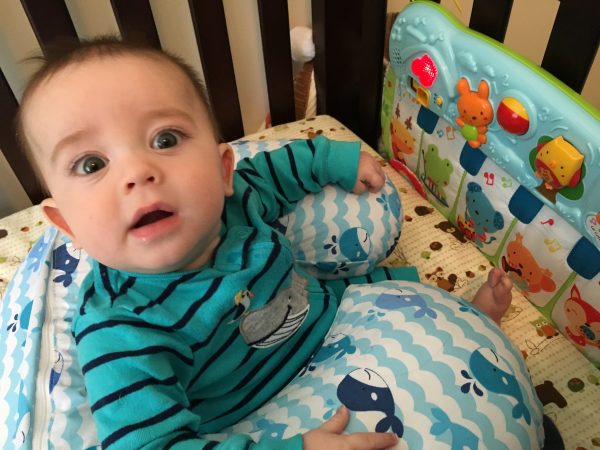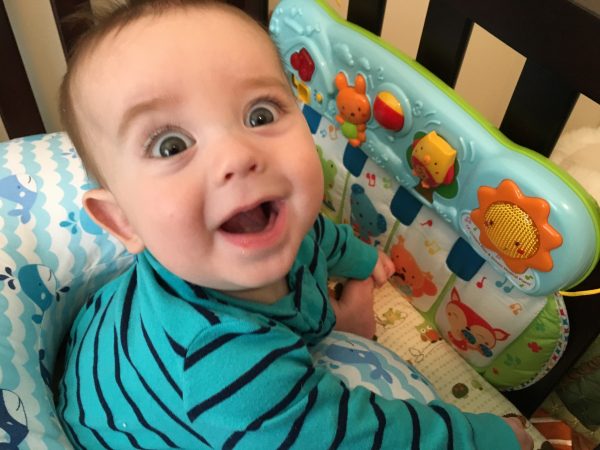 As you can see, he's a handful.
But, you'll be happy to know that PAPA IS ANSWERING YOUR PRAYERS.
Truly. So many of you have let me know you have been praying for us, and Papa is really answering.
Elijah still has struggled with uncontrolled vomiting, but just about a week and a half ago, we found a medication that appears to be stopping his vomiting. I mean, stopping it for real. It has been wonderful and he has gained quite a bit of weight just in the last few days, from keeping his food down!
He is also a VERY talkative baby. You can tell he's a prophet! He has a lot to say. LOLOLOLOL…. 🙂 He even speaks Hebrew! His favorite thing to say is "Abba! Abba! Abba! Abba!" and yes, I know that all the Experts say he doesn't know what he's saying, but I say he just recently came from Father's bosom, and he knows perfectly well what he's saying.
#Can'tTellMeAnyDifferent 🙂
Elijah is still high-needs, and his needs are more than I understand sometimes.
I struggle with figuring out if he's hungry vs. tired vs. bored, etc, when he cries–which he does A LOT. Plus, he fights off sleep. When we finally figure out that he needs a nap, he rarely actually wants to nap. He screams instead. Learning his ways has been a struggle for us all.
It can be pretty discouraging for me sometimes, especially. I struggle with suddenly being a mama, because his needs feel all-consuming. I feel like I have lost a good bit of who I am because I can't do or be the other things I love to do or be.
I go to the Lord and cry out for help, grace, and strength every single day, sometimes multiple times a day. Elijah is the best gift we've ever been given, after salvation, Holy Spirit, and marriage–but I feel very ill-equipped. And I don't want my incompetence to hurt him. Not that he's hurt; he's not. But I just don't know how to navigate these waters, and it's very hard.
I know that probably every mama goes through this. I honestly don't know how you other parents do it–let alone those of you with two or more children. Yes, they're worth it. I'd do anything for this boy. He's so amazing. But I am struggling to adjust and figure this mama thing out.
But, by the grace of God, I am winning.
I've adopted that as my motto–"I am winning today." It inspires me to get up and overcome, instead of letting discouragement get me down. And Papa gives me grace. Even on days when I feel like I'm clawing my way through the day, His grace is still sufficient.
Say it with me: "I am winning today!"
Powerful, huh? 🙂
Dear friends, thank you for praying for us.
As you can tell, we need your prayers and Papa is answering them.
Beloveds, I am so grateful for you all. Many of you I know, but many more of you I have never met. But whether I know you personally or not, I want you to know I love you in the Lord and pray for you daily. And I'm so glad that your prayers for me, and my prayers for you, reach our Father's ears and heart–and He answers, whether we ever meet on this earth or not.
So, to sum it all up, next week I'll be taking a sabbatical. I may or may not have posts pre-scheduled. But either way, Papa is moving. Would you please pray for me as I also pray for you?
Thank you. I honor you and bless you in Jesus' name.
Love in Christ,
Jamie