Conference Ticketing Info and What To Bring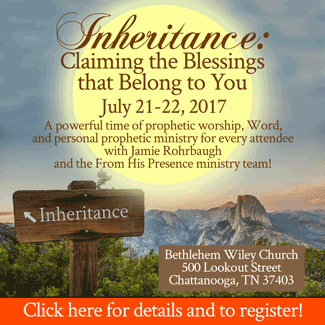 Dear friend,
If you're coming to this weekend's "Inheritance: Claiming the Blessings that Belong to You" conference, here's what you need to know! And if you haven't signed up yet, it's time to sign up today!
Yep… the conference is this weekend!!! We're so excited!!!
Location:
Bethlehem Wiley United Methodist Church, 500 Lookout Street, Chattanooga, Tennessee 37403
Ticketing info:
Your PayPal receipt (from when you registered) is your ticket. I have a spreadsheet of everybody who has paid, so we'll simply match up your receipt to my list at the door. 🙂
If your ticket was paid by someone else, that's okay. You'll just need to tell us who paid for your ticket, and we'll have record of their enrollment. No problem … we're "keeping it simple, sweetie." 🙂
Here's what to bring and what not to bring:
BRING:
-Your Bible;
-A notebook to jot down notes from when you receive prophetic words;
-A cushion or pillow to sit on if your spine doesn't like hard surfaces. (The seating in the church consists of un-padded wooden pews.)
-A sweater if you tend to get cold in air-conditioned spaces.
-Comfortable clothing and shoes. Dress code is COMFY. 🙂
-If you enjoy doing your praying while using a tallit or prayer shawl, you're welcome to bring yours. There will be plenty of prayer time.
But please leave at home:
-Musical instruments (tambourines, shofars, etc);
-Flags (I love them, but with lots of people around, it can be a distraction and a safety issue); and
-Perfumes/colognes.
*******We have some folks at the conference who get severely ill, with migraines and breathing problems, when exposed to perfumes, colognes, and even the smells of essential oils. If you use any of these things, please do not wear them during conference hours. We want to keep everybody breathing easy. Thanks for understanding!*******
Parking info:
Parking abounds. Behind the church are 10 parking spaces that are labeled "for church parking only." You can use all of those.
Additionally, there is a large, open-air parking lot located diagonally across the street from the church. It's owned by Unum Group and has "Unum Parking Lot A" signs at the entrances. This parking lot is FREE to the public after 4 PM on weekdays, and all weekend. This is the best parking option, in my opinion.
Also, there is plenty of on-street parking all around the church. But, it's metered. Check the meters for the times that payment is required. Depending on the day of the week and time of day, on-street parking can be free or paid. Park on the street at your own risk; city personnel love to give out parking tickets if you park at the meters and your meter runs out during payment-required hours.
Conference schedule:
We'll flow with the Holy Spirit on session times. If one session ends late, we may start the next one a bit later than planned.
But in general, here's the plan (and it's safe to say that the Friday info is set in stone, Lord willing): 🙂
-On Friday, July 21, registration starts at 3:00 PM Eastern.
-Meet-and-greet with me and my team (we want to meet you and hug your neck!) is from 3:00 – 4:00 PM or so on Friday.
-We'll all break for dinner from 4:00 – 5:15 or so on Friday.
Then:
-Session 1 starts at 5:30 on Friday evening.
-Session 2 (Saturday morning) is 10 AM – noon.
-Session 3 is from 1:30 – 3:30 PM.
-Session 4 is from 5:30 – 8 PM on Saturday.
Live streaming:
We will NOT be streaming this conference. There will be too much personal ministry going on. We will, however, make the recordings of the sermons available at a later date.
Restaurant info:
Restaurants are very close to the church. The church is directly downtown (in a very good area of town), and you can easily walk to any number of restaurants. Good food is as close as a few hundred feet away.
We will have a list of local restaurants for you (the ones I like, anyway), with a map of their locations, at the registration table.
Hotel info:
Chattanooga is a major convention destination, as well as a thriving tourist location. Hotels abound downtown. Hotels are as close as 4-5 blocks away. The hotels are downhill from the church, so wear comfy shoes.
Beloved, this conference is going to be life-changing.
My team and I have been in intense intercession for YOU. We know that God is going to sit down in huge power. He's going to release prophetic words, heal the brokenhearted, set captives free, give new spiritual gifts, and so much more.
This weekend is all about YOU receiving YOUR inheritance, which was bought and paid for by the blood of Jesus.
We have the strongest ministry team I've ever seen, ready to serve and encourage you. Every person will receive personal prophetic ministry. We're ready to love on you and be a blessing to you, and we can't wait to see you.
If you haven't signed up yet, it's never too late. PLEASE come and join us. Registration is $54, which is a huge deal considering how much personal ministry you will receive.
I hope to meet you in person this weekend. Please be in prayer, and be expecting God to do something huge both for you and for all attendees.
Much love in Christ,
Jamie