Huge, Huge, HUGE Ginormous Announcement!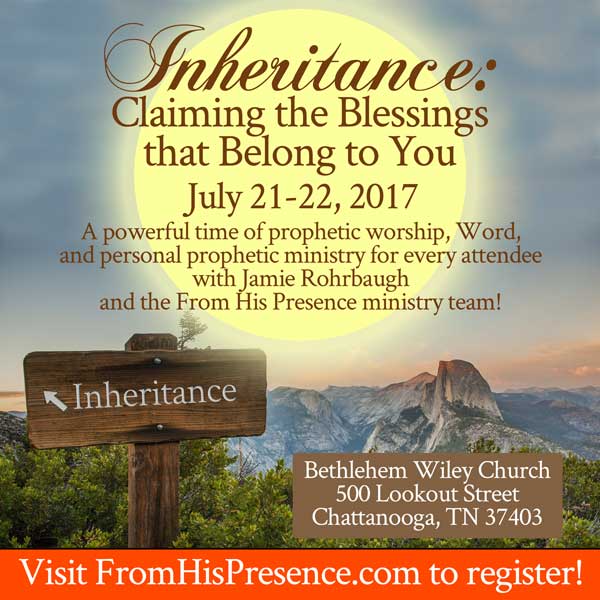 Beloved Presence-seeking family,
We prayed and the Lord has provided. We are going to have a CONFERENCE so that my team and I can minister to you personally to help you CLAIM YOUR INHERITANCE!!!!!
I am beside myself with excitement. Read below for info about what I'll be preaching on, the ministry you will receive, the registration link, photos of the venue, and more!
So many of you said you would come when I emailed you a couple of months ago … so now it is time for YOU to come and be blessed. 🙂
It took me awhile to find a venue that would be centrally-located and easy to access for everyone, but THE LORD PROVIDED! Just yesterday, I signed a contract with a venue where we will have our conference.
The conference is called "Inheritance: Claiming the Blessings that Belong to You."
It's Friday night and Saturday, July 21-22, 2017, here in beautiful Chattanooga, Tennessee.
At this conference, I'll be preaching incredible words the Lord has given me about SPECIFIC blessings God gave Abraham to which YOU are also entitled. And I don't mean the One New Man blessing, either … although that one is great also. I mean SPECIFIC things that you can have as your inheritance. He's also given me a word about El Shaddai (never released before) that is WRECKING me.
Even more exciting:
Father has also given me a mandate to apportion (hand out) inheritances prophetically and through impartation, as per Isaiah 49. So my team and I will be ministering to every attendee in this area as well.
This weekend is going to be INCREDIBLE.
The Lord told me to turn to Genesis 12 this morning. When I did, He showed me a vision of what He is going to do at this weekend.
I saw people's dead dreams coming to life.
I saw people inhaling as if they were breathing in for the first time when the Lord gave them inheritances and new gifts.
I saw Holy Spirit taking people who have been feeling like the walking dead, and resurrecting their lives.
I saw people laid out all over the floor under the power of the Holy Spirit as people wept under the manifest glory of God sitting down on them at this conference.
I've seen Him do these things over and over again in the past–even as recently as this weekend, when I preached at a local women's conference and He showed out big-time–so I know what I saw was a true vision. He is going to do it again, and it's going to be more powerful than ever before.
So I need you to register. Specifically, I need 50 of you to register in the next 2 weeks during the early-bird discount period, so we can make sure enough people are coming to hold the event.
I am opening early-bird registration TODAY, and everyone who registers between now and May 20 will receive the early-bird discount.
Early-bird cost: $39 per person
Effective May 21, the cost will increase to $54 per person.
Note: Registration fees are not refundable.

Here are the conference details at a glance:
What: "Inheritance: Claiming the Blessings that Belong to You" conference with Jamie Rohrbaugh and the From His Presence ministry team.

Personal prophetic ministry for every attendee
Live prophetic worship by Kara Green and our From His Presence worship band
Powerful preaching by Jamie Rohrbaugh
Special guest ministers to be announced later

When: Friday night and Saturday, July 21-22, 2017
Where: Bethlehem Wiley United Methodist Church, 500 Lookout Street, Chattanooga, Tennessee 37403
Check-in and meet-and-greet for conference registrants begins at 3:00 PM on Friday, July 21.
Service times:

Friday night 5:30 PM – 8:00 PM
Saturday morning 10 AM – noon
Saturday afternoon 1:30 – 3:30 PM
Saturday evening 5:30 – 8:00 PM
All times are Eastern Daylight Time

Handicapped accessibility: The sanctuary IS handicapped-accessible via a wheelchair ramp from the outside. HOWEVER, the restrooms are not. The restrooms are located downstairs in this building, so you have to go down a set of stairs in order to access the restroom (and back up to return to the sanctuary).

Here are a few photos of this amazing venue the Lord has provided for us.
The church is 150 years old and just renovated. It is SOOOO beautiful! I used to go to this church and pray at lunchtime when I worked at my corporate job. This place is perfect for our gathering, for our band, and for our ministry time. It has plenty of worship space!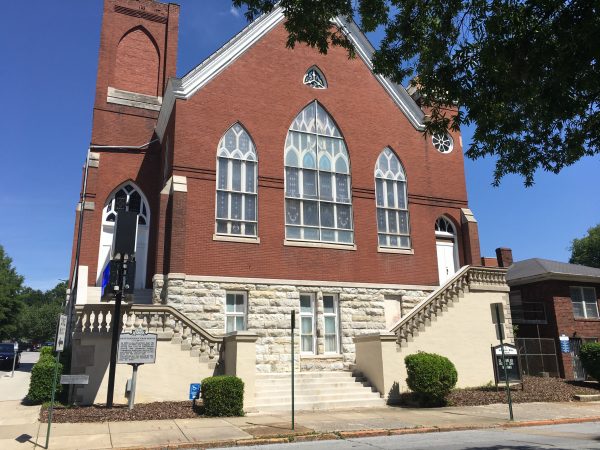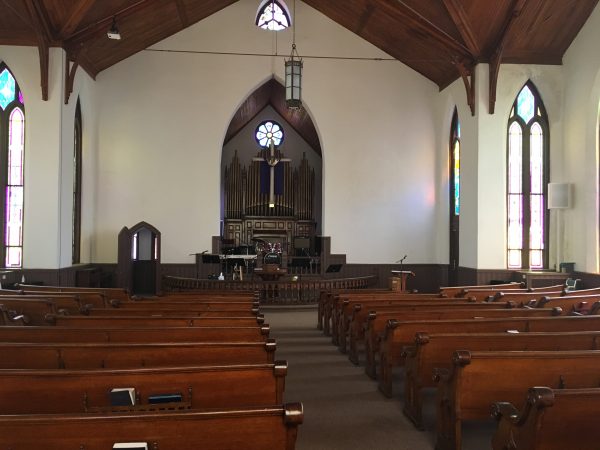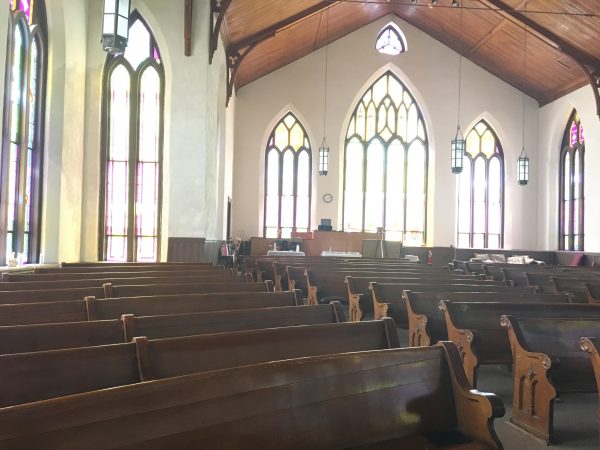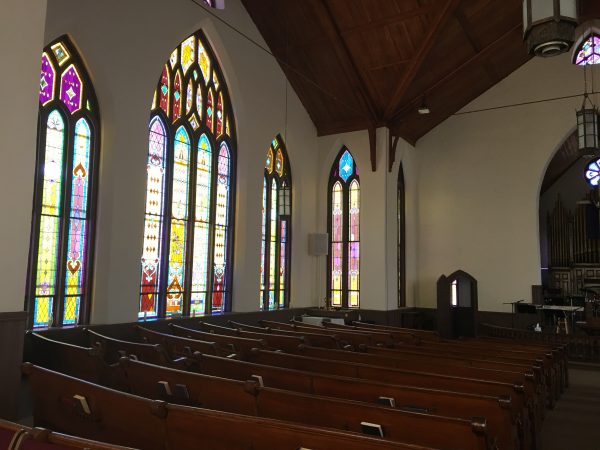 Note: The registration fees don't cover all the conference costs for our ministry, but they do for you. 🙂 In other words, I've also been saving up some of the money that comes from our monthly partners, donors, and product sales to help pay part of the costs of the event. I'll be releasing several new MP3 teachings (about dreams and visions, etc) on our Gumroad store over the next few weeks also, and those proceeds will help pay for the parts of the conference that the registration fees won't cover.
Beloved, we're stepping out in faith in a big way here. I would like to fill the church (the church will hold several hundred easily). And in order to even hold the event, we HAVE to have at least 50 registrants. So I need YOU to come.
You.
Yes, you. 🙂 Don't look behind you; I'm talking to you. 🙂 God has something for YOU at this conference.
Oh yeah–and please bring your friends! 🙂
The conference is very affordable. $39 for early-bird pricing? That's dirt-cheap. (A one-on-one 50-minute session with me over the phone costs $45, so you can see how much value you'll get for this–and you'll get a ton of ministry.) And, if you split a hotel room with some friends, that makes it even more affordable. 🙂
Also, I worked hard to make sure the event would be as easy and fun as possible. For example:
A number of you told me that you will be flying in. If you fly into Chattanooga, you don't have to get a rental car. The church where the conference is held is in downtown Chattanooga, only a few blocks from all the hotels and restaurants you could desire. Everything is within walking distance.
The church is a quick cab/Uber ride from the airport.
You can also fly into Atlanta and either take Groome Transportation shuttle to East Ridge, then a cab/Uber to your downtown hotel, if you prefer to fly into Atlanta.
If you drive in or if you do elect to get a rental car for the two days, then either a hotel downtown or at the Hamilton Place Mall area would be convenient.
Restaurants within walking distance include (but are not limited to):
Panera Bread;
Chili's;
Universal Joint (burgers, tacos, BBQ);
Taziki's Mediterranean Cafe;
Taco Mac;
Applebee's;
Coldstone Creamery;
Tony's Pasta;
the best, bomb-diggityest Indian lunch buffet ever;
and many, many more.
The church is also only a few blocks away from:
the Tennessee Riverfront;
the Tennessee Aquarium;
the IMAX theater;
the Hunter Art Museum;
the Southern Belle riverboat;
the 10-mile Tennessee Riverwalk;
the Creative Discovery Museum;
and many other fun attractions in Chattanooga.
Beloved, this conference is going to be amazing. I absolutely cannot wait to meet you in person.
We will seek the Lord together. We will have long periods of soaking in His presence. The prophetic word and ministry of the Holy Spirit will mess us all up. My team and I cannot wait to minister to you, encourage you, and see what the Lord does.
Please register today, get your early-bird discount, and I will see you there!