When the Darkness Closes In, There Is Hope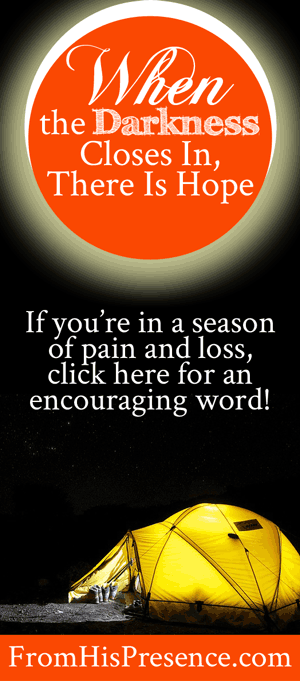 Beloveds, this is an encouraging word I published some time ago–but the Lord told me someone needed to read it TODAY. If things look dark around you and you need hope, THIS IS FOR YOU. Much love, Jamie.
Have you been going through a season of pain, grief, loss, or sickness? Do you feel some days–maybe even today–like discouragement is overwhelming you, and you only long for it to be over?
If that's you, I have an encouraging word for you today.
I can identify with pain. I've been through a lot of it in my life, and I've told you even recently that the last few months have been one of the darkest seasons of my life. There have been times recently when I have seriously struggled with major discouragement and have had to lean on the Lord for my next breath.
And I've told you things have been getting better, and they have–because the Lord has done a work in my heart to help me handle it better. But the "circumstances" have not seemed to be getting better themselves. And that has been frustrating. I'm sure you know how that feels, when you want certain things to happen and they just … aren't.
But yesterday, the Lord used a rabbit, of all things, to give me such a sweet bit of encouragement, and I want to share the same encouragement with you today.
Here's the rabbit story:
I spent the morning working on a project I'm working on for my church, and I was working at my kitchen table. All of a sudden, the little girl on the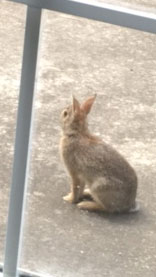 right showed up on my back porch. She wasn't very big–just a little adolescent bunny, and cute as cute can be. 🙂
Well, obviously I was delighted. I love animals and birds–anything beautiful and delicate. And this little girl was just as delicate and pretty as she could be. I knew that seeing her was a gift from Papa.
Well, a couple of hours later, I was in a hurry trying to leave the house and drive to work. I got out the door and down the road a ways, when I realized I had left my cell phone charger at home. As soon as I realized it, I heard the Lord tell me that He wanted me to turn around and go home and get it.
Now, I was irritated about having to turn around.
Usually, when I am getting ready to go, the Lord tells me if I have forgotten something. I probably forgot to ask Him yesterday, but still–usually He will tell me to stop in the driveway and show me what I forgot, so I can go back inside and get it.
But yesterday, He didn't. He let me get all the way down the road, in a place where it was very inconvenient for me to turn around, and then told me to go back and get it. I tried to reason with Him and tell Him I could borrow someone else's charger at my office, but He said no. He was very insistent that He wanted me to turn around and get it.
So, grudgingly, and not a little irritated at myself and at God, I did. And when I got back to my house, guess who was sitting in my driveway?
You guessed it. My bunny.
And all of a sudden, revelation hit me like a two-ton truck. This is what the Lord showed me:
My Papa allowed me to leave the house without my cell phone charger on purpose yesterday. Then He told me to turn around on purpose. Why? Because He knew that I was stressed out, and He wanted to bless me. He wanted to give me another moment of peace and tranquility and just show me His beautiful bunny one more time.
He knew that seeing that rabbit brought a thrill to my day. It absolutely delighted my heart, because I knew Papa had sent this little creature hippity-hopping onto my back porch just to show her off to me. He knew I would love her.
And He wasn't worried about my getting to work at all. Instead, He just wanted me to take a minute and be a little girl with her big Papa. He wanted me to delight in His creation, and share a moment of awe with Him.
He allowed something to happen that I thought was bad–in this case, forgetting my phone charger and having to turn around–so that He could give me something better: the blessing of a special moment with Him.
And I realized that the dark season I have been going through has been just that.
I am not saying that what I went through was from the Lord. It most definitely was NOT. But my Papa allowed me to go through it. Why? The only reason He would allow it at all is because He is going to use it to bring me something better. He is going to work it out for my good.
That's what it says in Romans 8:28:
And we know that all things work together for good to those who love God, to those who are the called according to His purpose."
All things work together for good to those who love God. ALL things.
That means the season of pain I've been going through will work out for my betterment. Papa's going to bless me because of it, and He only allowed it in my life because He needed a giant for me to kill so He could promote me.
And I've endured pain and loss of things that were important to me–things that were unjustly stolen.
But as soon as I saw that bunny in my driveway and understood what Papa was telling me, the Holy Spirit immediately brought this Scripture into my mind:
And he said: 'Naked I came from my mother's womb, and naked shall I return there. The Lord gave, and the Lord has taken away; blessed be the name of the Lord'" (Job 1:21).
And suddenly I understood that the Lord would never allow anything to be taken away from me if He were not going to give me something better. He's too good for that. He is a good, good Papa who loves us and hides us under His wing. And if I suffer loss for the sake of Christ, I am still blessed.
The Lord gives, and the Lord takes away. Blessed be the name of the Lord.
There's a song by the Newsboys (see the YouTube video below) that says this:
Blessed be Your name in the land that is plentiful, where your streams of abundance flow, blessed be Your name
And blessed be Your name when I'm found in the desert place, though I walk through the wilderness, blessed be Your name

Every blessing You pour out I'll turn back to praise
When the darkness closes in, Lord, still I will say

Blessed be the name of the Lord, blessed be Your name!
Blessed be the name of the Lord, blessed be Your glorious name!

And blessed be Your name when the sun's shining down on me
When the world's 'all as it should be,' blessed be Your name

And blessed be Your name on the road marked with suffering
Though there's pain in the offering, blessed be Your name

You give and take away, You give and take away!
My heart will choose to say, "Lord blessed be Your name!"
And I wondered: what kind of grief and loss are you enduring right now? Does it seem like the darkness is closing in on your life?
If so, there is hope for you today. That hope is found simply in the fact that you have a good Papa who loves you. He is taking care of you right now, even if you don't feel like He is. Even if you're afraid, lonely, grieving, or angry, Papa is still taking care of you.
And He would never allow anything to be taken away from you unless He is going to work it out for your good and give you something better.
He loves you, you see. Precious one, He loves you so much. His heart beats for you every moment of every day. You are His dream, the desire of His heart. Jesus Christ gave up everything to get you.
And no man can snatch you out of His hand. He's got you, precious. Papa's holding you in His hand right now.
I don't know what you're enduring, but Papa knows.
I don't know what you've suffered, but I know Jesus paid the price for your comfort and healing, and He's going to work it out for your good. I don't know how you're hurting, but I know the Holy Spirit is right with you. He'll never leave you or forsake you.
And I don't know what you've lost, but I know Papa's got something better in store for you.
Related: Weeping May Endure for A Night, But Joy Comes In the Morning!
The Lord gives, and the Lord takes away–not to allow your life to be plundered, but to replace those things with something better. Blessed be the name of the Lord.
Beloved, there is hope for you. This season of grief and pain you're in is not going to last forever. Papa has promised to work ALL things out for your good. He is going to turn your situation around. I don't know when or how, but I do know that you can rest safely in His arms.
When the darkness closes in, you have hope, beloved. Your hope is HIM. Papa. HE is your hope, because He's too faithful and too good not to turn this around for your good.
So no matter what you're going through today, I encourage you to trust Him. Know that you are safe right now, even in the midst of your circumstances. Trust His goodness, and bless His name.
Does this word encourage your heart today? If so, please leave a comment below. I'd love to hear from you!
Would you help me with my work of reaching people for Jesus as a domestic missionary? I need you; we are in this together! This blog, and all of the Kingdom work we do in this community together, are made possible through your partnerships, donations, and product purchases.
If you'd like to help, please check out the partnership details and products available for sale here. And, thank you in advance for helping make this blog and everything we do together for the Kingdom possible!