Do THIS To Maximize Your New Season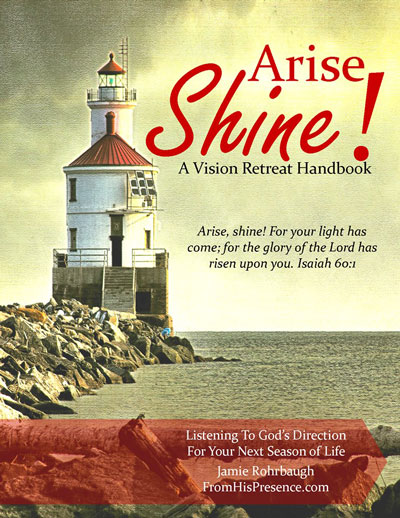 Want to know the one thing you can do (other than seeking God) to make the absolute most out of your new season?
Want to know the one thing that can set the tone for your whole season and align you with what God wants to do for you and in you?
I thought you might. 🙂
THIS thing is the special one thing I do when every new season begins. And this thing absolutely has shaped every new season of my life for years.
THIS thing is how I'm so productive.
THIS is why I can be a wife, a writer, a professional in a Fortune 500 company, a teacher and prayer leader at my local church, and serve in many other areas in ministry–along with taking time for myself and my husband to rest and go on vacations.
And this is how you can become as productive as YOU desire to be.
This is how I know exactly what I'm called to do.
It's THE reason I only do what I'm called to do, and I say no to everything else. And this is how you can receive direct revelation from God about exactly what YOU are called to do, too.
THIS is how you can order your life so that you're walking in the fullness of God's best for you EVERY MOMENT.
Want to know what it is? Here it is:
When a new season starts, go on a vision retreat.
Where you go is not important. Do what you have to do:
Maybe you're a busy mom, and the only way you can get away is to lock yourself in the bathroom and sit in a dry tub.
Maybe you can get away to a local park. Spread a blanket on the grass and get on your face before the Lord.
Maybe you go on a short weekend getaway to a cabin, a hotel, or even a friend's house (a friend who won't interrupt you, that is). 😉
I have retreated to my spare bedroom. I have retreated to a cabin in the woods at a local state park. I have retreated to fancy hotels with amazing views of bustling cities. Whatever. Do what you can, where you can.
But take a vision retreat.
If you want to know more about how to do a personal vision retreat, I explained the whole process here in How To Get Heavenly Design For Your New Season (My #1 Technique). Please read it.
For your vision retreat, you'll want some guidance. So earlier this year, I made the material that I wrote for my own personal mentees–my own spiritual sons and daughters–publicly available.
My vision retreat workbook is called "Arise, Shine." You can read more about it below.
You can't duplicate this material anywhere else. It's directly from my heart, inspired by the Holy Spirit, to the hearts of my sons and daughters. I wrote this for the people into whom I pour out my life day after day after day.
And TODAY, TOMORROW, AND SUNDAY–September 18, 19, and 20–until 8 PM Sunday night, I'm making Arise, Shine! available to you at a deep discount.
The normal price is $15 for the workbook PLUS a huge amount of bonus material. Today through Sunday at 8 PM, you can get $5 off by using the coupon code "five" (no quotation marks) at checkout.
Go on a vision retreat. Get Arise, Shine! to help you.
You'll be glad you did.
Keep scrolling to read more about Arise, Shine! Or, click the button below to purchase it now! (And don't forget the coupon code "five" will get you $5 off today, tomorrow, and part of Sunday ONLY.)

More info about my Arise, Shine! personal vision retreat workbook:
"Arise, Shine" is a downloadable, printable, step-by-step guide that will help you walk through your personal vision retreat from beginning to end. It's a workbook that includes 6 faith-building teaching sections about hearing God and developing intimacy with Him. It also includes exercises (with forms) on the following subjects:
Building a Memorial;
Soaking & Prayer;
Listening & Writing the Vision;
The Reason You Exist;
Your Mandate From Heaven;
Values & Priorities;
Defining Success for Yourself;
Your Personal Life;
Marriage & Family;
Children;
Finances;
Making Written Goals; and
Celebration.
As a special part of this offer, I'm also including awesome BONUS MATERIAL:
My personal tool for evaluating how I'm doing with life balance, the "Shine-O-Meter" (I use it every week);
My reading list form;
Personal vision forms for men and women; and
My personal weekly goal forms that I use (3 different versions for different walks of life).
All of these materials are downloadable, printable forms. (They are not available in hard copy format.) They are also formatted in the lighthouse design you see on the book cover above, to remind you of the Holy Spirit shining His light into your future.
This material will help you stay on track with the vision God gives you and keep shining all year long! So don't wait! Hurry and take advantage of this special offer to get Arise, Shine! at this special, discounted rate!