Encouraging Word: Rest and Anoint the Feet of Jesus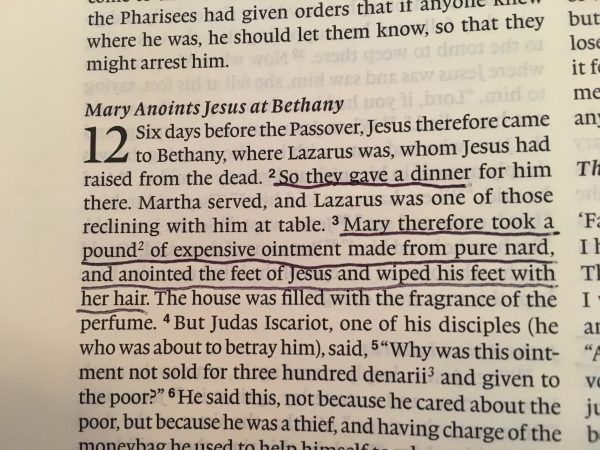 As I was spending time with the Lord this morning, He gave me an encouraging word for you. No matter what you're going through, I believe Father is saying: rest and anoint the feet of Jesus.
When Jesus was on earth, He endured so many hardships. He is the Man of Sorrows. He was, and is, well-acquainted with grief and pain.
But just before the Crucifixion, what did He do? He went to His friends' house, visiting the people whom He loved, and attended a dinner made in His honor.
Sometimes we just need to rest and get fortified again … and I believe now is one of those times.
Also, remember that the place of true rest is hidden in the secret place of the Most High (Psalm 91:1). I believe the Lord also asked me to tell you, from the story of John chapter 12 (pictured above), that the prescription for bringing peace into your hardship right now is to anoint the feet of Jesus.
Anoint the feet of Jesus.
Anoint them with your tears.
Anoint Him with your love.
Anoint His feet by pouring out your heart in adoration to Him.
Slobber all over Him if you want to–that's okay. The Greek word for "worship" means "to kiss toward," like a puppy kisses its master. So go ahead and kiss Him with your worship. That's the right thing to do.
Beloved, I don't know what you're going through, but I do know that He is God who makes all things new. I know HE is Comforter, Sustainer, and Renewer. He is Almighty, Ever Loving, and Merciful.
So seek Him today just for His own sake, and He will help you as you just focus on Him. Rest in Him and anoint His feet with your worship.
He will heal your heart as you do.
If this word is for you today, would you leave a comment below? Feel free to encourage your brothers and sisters in the comments as well.
Much love,
Jamie
Would you help me with my work of reaching people for Jesus as a domestic missionary? I need you! This blog, and all of my mission work in person, are made possible through your partnerships, donations, and product purchases.
If you'd like to help me, please check out the partnership details and products available for sale here. And, thank you in advance for helping make this blog and everything we do together for the Kingdom possible!