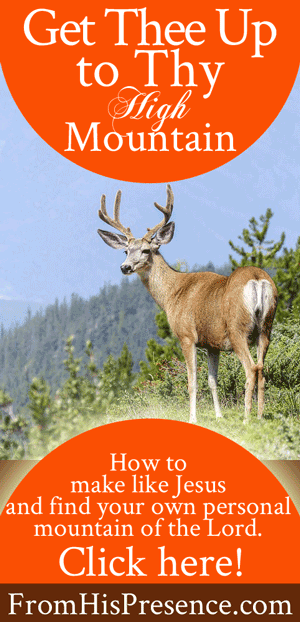 We all know someone.
The teacher who has worn himself or herself out with ministering to others and the pressure of always being on the front lines.
The mom who is so exhausted and overwhelmed that she feels like curling up into a fetal position and sobbing like a baby.
The corporate professional who never seems to get a break from his company's demands. He feels stuck because he has to earn an income, but all he wants is a deep, healing vacation so he can be restored and get out of burnout. He's tired, tired, tired … and it's a deep, spiritual tiredness that reaches beyond the need for a good night's sleep.
We all know someone. You may be that someone.
Maybe you're so worn out that you're on auto-pilot. You're still going through the motions, but the pep–that spring of energy and vivacity and inspiration inside you that feeds your soul and connects you to God so deeply–is gone. It fried a long time ago. And you're desperate, desperate to get away.
I know. I've been there.
I'm a go-getter by nature. I'm extremely motivated. I love to work hard (as long as it's working at something I'm called to do). I'm happiest and most fulfilled when I'm productive.
But sometimes I get so worn out that I just want to slobber all over myself and blubber like a baby. And normal types of R&R can't fix it. For example:
A good night's sleep helps, but that doesn't fix this kind of weariness.
Eating healthy food and exercising helps, but it doesn't solve the problem.
Taking a break from some things, so my schedule isn't so crazy,  also helps–but a break can't reach the depths of my soul that I need to see restored when I get like this.
What can fix this kind of weariness? Only one thing: finding my personal mountain of the Lord.
The best way to explain this is to look at Jesus. When Jesus ministered, He preached to thousands of people at a time. He taught constantly. He healed the sick, raised the dead, and cast out demons everywhere He went.
Jesus was a workhorse.
And you know He had to love it. He only said what He heard the Father saying, and He only did what He saw the Father doing. And He loved obeying the Father. He loved staying intimately connected to Papa.
But it's funny. Over and over again throughout the biographies of Jesus (found in Matthew, Mark, Luke, and John), it is recorded that Jesus would go away to a deserted place by Himself after He ministered.
Check out these Scriptures:
And when He had sent the multitudes away, He went up on the mountain by Himself to pray. Now when evening came, He was alone there" (Matthew 14:23).
And Mark 1:35: "Now in the morning, having risen a long while before daylight, He went out and departed to a solitary place; and there He prayed."

And Luke 6:12: "Now it came to pass in those days that He went out to the mountain to pray, and continued all night in prayer to God."

Then there's Luke 9:28: "Now it came to pass, about eight days after these sayings, that He took Peter, John, and James and went up on the mountain to pray."

And again in Luke 5:16: "So He Himself often withdrew into the wilderness and prayed."
The Biblical authors had plenty to write about. They could have filled books and books with the chronicles of all Jesus' activities.
The apostle John, who wrote only 21 short chapters, said this about Jesus:
This is the disciple who testifies of these things, and wrote these things; and we know that his testimony is true. And there are also many other things that Jesus did, which if they were written one by one, I suppose that even the world itself could not contain the books that would be written. Amen" (John 21:24-25).
Hmmm. Don't you find it odd that John and the other Gospel writers only had a few short chapters in which to write–yet they continually recorded the fact that Jesus withdrew to pray, over and over again?
It's almost like the fact that Jesus constantly withdrew to solitary places was, well, important.
😉
John tells us that Jesus accomplished so many great works that even the world itself could not contain the books that could be written about them. Nevertheless, we only have a few stories about how Jesus raised the dead. Only a few stories about deliverances.
But every Gospel writer appears to have found it of extreme importance that Jesus continually withdrew to solitary places to pray.
Up on the mountain.
In the wilderness.
In a secluded area.
Everywhere… Jesus got alone with the Father.
Why is this? Why was it so important?
Because I believe the Gospel writers saw how critical it was for us to withdraw to our own personal mountain of the Lord to refresh our spirit whenever we are weary.
When we get tired–
When we pour and pour and pour and pour, whether we're pouring into our family, our job, or a ministry of some sort–
When the measure of our output exceeds the measure of our solitude– 
The river inside us dries up.
That river isn't a river of physical strength. That's why physical rest can't cure it.
The river isn't a river of happiness. That's why having a great day can't fix the weariness.
The river inside you is the deep inflow of the Holy Spirit flowing into your spirit. And when that river gets dry–when your spirit shrinks and shrivels in weariness–only one thing will fix it.
The only thing that will fix this kind of spirit-level weariness is withdrawing to a place of solitude where you can commune alone with God.
That's what I call "finding your own personal mountain of the Lord."
For me, that mountain is usually an actual mountain. I was born for mountains. I feel closer to God in the mountains. I could stare at mountains for days on end and weep in the presence of the Lord. I prefer jagged, snowy mountains–I have a huge THING for the mountains of the American West–but hey, the state park on the mountain in my backyard will do just fine too.
Sometimes, however, my mountain of the Lord has been my spare room. Other times, it's been the floor of a hotel room.
And one time that I remember, it was the floor of an empty classroom at my church. I was too dry to even be able to handle going to church, so I went on a Wednesday night and found this classroom. I laid on my face all by myself and poured out my heart to the Lord in prayer.
An hour later, I got up a different person.
Why? Because I found my own personal mountain of the Lord–a solitary place where I could commune with God alone. Every time I have withdrawn like that, our precious Holy Spirit has totally healed my spirit, restored me, and raised me up with more strength and power than I had before.
We put too much stock in togetherness.
I'm actually starting to cry as I write this. One of my favorite authors, A.W. Tozer, wrote about Abraham and said this:
"As far as we know not one word did God ever speak to him in the company of men. Face down he communed with his God, and the innate dignity of the man forbade that he assume this posture in the presence of others."
He went on to say: "The prophets of pre-Christian times differed widely from each other, but one mark they bore in common was their enforced loneliness …. their zeal for the welfare of the nation of Israel drove them away from the crowd and into long periods of heaviness. "I am become a stranger unto my brethren, and an alien unto my mother's children," cried one and unwittingly spoke for all the rest."
And then–possibly my favorite quote in all the world–"There are some things too sacred for any eye but God's to look upon."
Read Tozer's short essay "The Saint Must Walk Alone" here. This one essay, just over one page in length, changed my life.
Did you get that? I mean really, deep down–did you let that sink into the cells of your body, soul, and spirit?
"There are some things too sacred for any eye but God's to look upon."
Oh beloved! Are you dry and weary today? Are you lost without a compass? Are you running on auto-pilot, but has the river of flow, life, and holy inspiration inside you shriveled up?
If so, beloved, get thee up to thy high mountain!
Yes, I don't usually speak in King James English, but somehow it seems appropriate here. Get thee up! Hie thyself away! Can't you hear the dryness in your spirit calling to the River of our Father?
Only He can help. A good day can't fix it. A great nap can't solve it. A fun time with other people can't bring you around.
Only finding your own personal mountain of the Lord and communing with our Father alone will bring you the renewal your spirit craves.
So where can you go? What can you do?
Can you find that hotel room floor somewhere? Can you go to a park, lay on a blanket in the shade, and pour your heart out to Papa?
Can you get thee up to the nearest high mountain? Or, if you're a beach person, can you lay on the beach and pour out your heart to the Lord in prayer there?
No matter where you find your mountain of the Lord, precious one: if your spirit is weary, you must withdraw.
Make like Jesus. Go away to a solitary place.
Let your spirit get refilled with the refreshing river of the Spirit of Life.
Only He can heal. Only He can make your spirit fat and well-watered again. Only He can restore your drive, your flow, and your verve.
So what are you waiting for? Get thee up to thy high mountain!
Does this message speak to your spirit today? Can you feel the anguish of your spirit, yearning to withdraw? Do you need His refreshing? If so, please leave a comment below. I'd love to hear from you!
And hey! By the way … 🙂
(By the way, I need your help to keep reaching more people for Jesus every month. I'm asking people to partner with me financially in the amount of $8 per month. If God is stirring your heart to help with this work, go here to read the details about my partnership program, what I'll be focusing on, what's in it for you if you partner with me, and how I will be accountable. I need 1,000 partners, so don't hold back, ok?
😉
And if you're already one of my amazing partners, thank you!!!!! We are laboring together in His harvest field and reaching people with Jesus' love all around the world. I praise God for you and pray for you daily.) 
And one more thing…
You'll get an email when new content is posted. You'll also receive my free, printable blessing cards and my ebook–The Presence Seeker's Creed–for free when you confirm!