How To Pray Against the Python Spirit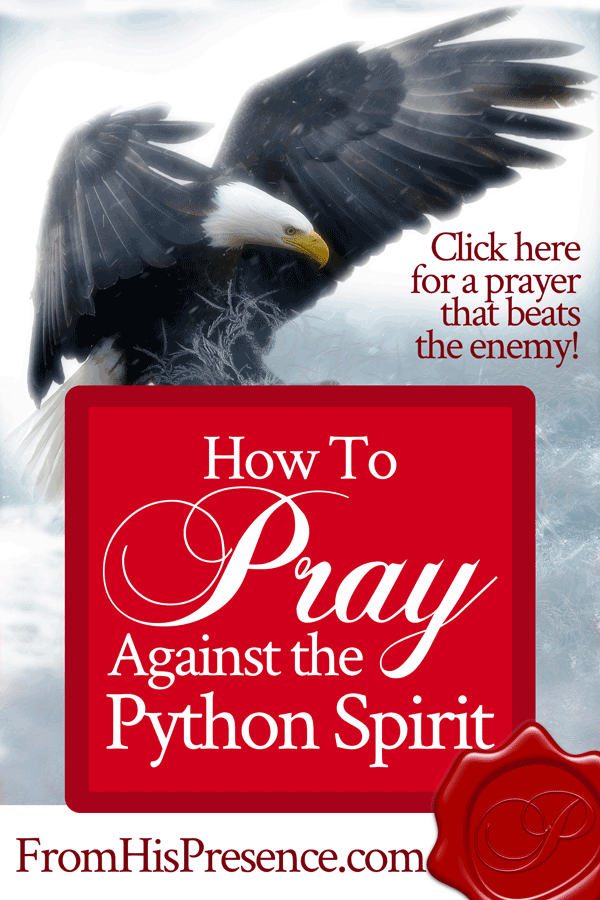 Are you being attacked by the python spirit, or are you praying for someone who is? Is the breath being squeezed out of you or them? Are you in bondage to anything that keeps you from walking holy and living a holy life? If so–and if you're ready to cast this demon out–then today's prayer against the python spirit will help you.
Why this is on my heart today:
Recently, I was minding my own business when suddenly, I looked to my side where another person was. When I looked over, I was startled and horrified by what I saw: a python, twisted and wrapped around their hands.
In the natural, there was no snake there. But in the spiritual, the Lord was showing me the enemy spirit that was coming against this person. I began to pray, and the Lord gave me a prayer against the python spirit that beats the enemy.
What is the python spirit?
Various people describe it lots of different ways. Today's article isn't an in-depth look at what this spirit does. All I want to say today is: a python spirit twists and coils its way around a victim and suffocates them spiritually. It squeezes the spiritual life out of them by squeezing the spiritual breath out of them.
That breath is the Spirit of God. And people only allow this to happen in their own lives because they are unaware of it happening. If a real snake tried to wrap its way around you and kill you–and you knew it–you wouldn't allow it, would you? Of course not.
In the same way, the python spirit tries to take people unawares–usually because they aren't paying attention.
Note: The python spirit is a different spirit from the spirit of fear. The spirit of fear makes you feel like you physically can't breathe–like something heavy is sitting on your chest. You KNOW you're being attacked when the spirit of fear takes away your physical breath. But a python spirit takes away your spiritual breath, and you generally don't know you're being attacked by it.
What is the antidote to the python spirit?
Holy Spirit–the Spirit of God, the Spirit of Christ–is the antidote to the python spirit.
Keep in mind that Holy Spirit and the python spirit are not equal adversaries for good versus bad. No, the python spirit is a totally defeated minion of the enemy with limited power–and no power unless YOU give it to him. The python spirit simply masquerades as a thing with power, taking people unawares if it can; and it chips away at attacking what Holy Spirit does/gives: the breath and freedom of the Lord.
But Holy Spirit is God Himself. He has ALL power.
And He IS the breath–the Breath of God. HE is Living Breath. I would say He is Breath Incarnate, but the "-carn-" part of that word "incarnate" means "flesh," and Holy Spirit has no flesh. He is Spirit, which IS a substance that can be seen; but it is not flesh. But, you could think of Holy Spirit as Breath Tangible. Breath Literal. He IS the Breath of God.
And Holy Spirit is the Spirit of Christ. He is God Himself, very God of very God, just like Jesus is. And it's "'Not by might nor by power, but by My Spirit,' says the Lord of hosts," that all battles are won (see Zechariah 4:6).
So you defeat the python spirit by being filled with Holy Spirit and being submitted to Jesus.
Again, the enemy has ZERO right or ability to hurt you or make any inroads against you and your life unless you give it to him. When you are hidden in Christ and dwelling in the secret place of His presence (Psalm 91:1-2), you are totally and completely safe.
Related: Read more about Psalm 91 and a model prayer for protection from harm and danger here.
So if you notice the python spirit squeezing the life and breath out of you or someone else, you can pray against the python spirit by praying for yourself or that person to be FILLED with Holy Spirit. Where the Spirit of the Lord is, there is liberty and freedom:
"Now the Lord is the Spirit; and where the Spirit of the Lord is, there is liberty" (2 Corinthians 3:17).
The Gospel is simple, folks:
Jesus saves. He heals. He delivers. He raises you up into newness of life by His Spirit … and it's easy.
All we have to do is submit to Jesus and be filled with His Spirit in order to be free in every area. Just obeying the commands of the Lord and listening to His Spirit. Walking in the Spirit and not fulfilling the lusts of the flesh … that's how we get and stay free.
So would you like to be free from the python spirit today? Or, are you praying for someone else to be delivered from the python spirit?
I'm going to write the prayer below using words as if you are praying for yourself. However, if someone else is caught in bondage to this evil demon, pray it for them too. Just change up the words.
However, be sure to pray it for yourself first–and then pray it for someone else after that. Jesus said we shouldn't try to pick the speck out of someone else's eye when we still have a log in our own eye.
And while you're praying this prayer against the python spirit, walk out your freedom, okay?
You can't be free if you pray the prayer and then don't follow up by submitting to Jesus. Grace empowers you to live a holy life. It's not too hard, either. The commands Jesus commands you this day are not too hard.
As it says in Deuteronomy 30:11:
"For this commandment which I command you today is not too mysterious for you, nor is it far off" (Deuteronomy 30:11).
And then Deuteronomy 30:19-20:
"I call heaven and earth as witnesses today against you, that I have set before you life and death, blessing and cursing; therefore choose life, that both you and your descendants may live;

that you may love the Lord your God, that you may obey His voice, and that you may cling to Him, for He is your life and the length of your days; and that you may dwell in the land which the Lord swore to your fathers, to Abraham, Isaac, and Jacob, to give them" (Deuteronomy 30:19-20).
So choose life proactively–on purpose, every day–if you want to be free from the python spirit.
Pray against the python spirit once, or whenever you need to if you allow this demon back into your life. However, to STAY FREE, voluntarily submit to God's Spirit every day of your life. Seek first the Kingdom of God and His righteousness, and all these things will be added to you (Matthew 6:33).
So if you're ready to be free, to submit to Holy Spirit, and to kick the python spirit to the curb …
Pray this prayer to defeat the python spirit:
"Father God, in Jesus' name, I thank You that the blood of Jesus Christ cleanses me from all sin. Thank You that You have redeemed me and bought me back from the slave market of sin, to which I was condemned. Thank You for saving me and forgiving my sin.
Father, I confess that I have not been working out my own salvation with fear and trembling. I confess that I have not been walking in the Spirit like I should have. I confess that I have not been seeking You first, Lord.
Father God, I repent for these things. Please forgive me.
I confess my sins to You, and I thank You that Your Word says if I confess my sins, You are faithful and just to forgive me my sins, and to cleanse me from all unrighteousness.
Father, I repent of and renounce my agreement with the python spirit.
I repent for tolerating the python spirit. I repent for agreeing with it. I repent for not caring enough to kick it to the curb. And in the name of Jesus, I command the python spirit and every other evil spirit to leave me right now in Jesus' name. Be gone, demons, and do not return, in the name of Jesus.
Father God, please fill me with Your Spirit.
Come from the four winds, O Spirit of God, and breathe on me. Father, Jesus, put Your breath into my nostrils. Breathe on me again, just as You breathed into Adam in the Garden of Eden. Breathe on me and fill me with Your breath from Your lungs–Your Spirit Himself.
Father, have me for Yourself. I give myself completely and totally to You.
I surrender, Lord. I surrender to You. Have me for Yourself. Holy Spirit, fill all of me. Jesus, I am Yours. Please take me completely and totally for Your purposes. Baptize me anew and afresh in Your Spirit and power. Fill me with Your fire. From this day forward, let me never be the same again.
Lord Jesus, I confess You as my Lord. Holy Spirit, I confess You as my Lord as well. And Father God, I confess You as my God, my Lord, the Ruler of Heaven and earth–and the Boss of me.
You are my Everything. So Lord, I need Your help.
As I put one foot in front of the other to seek You first from now on, please help me. Work in me both to will and to do for Your good pleasure. Help me to want to seek You every day, Father. Make me hungry and thirsty for You.
Help me to obey You in every moment, Father, no matter what You are telling me to do that moment. Help me to walk in the Spirit, where I will not fulfill the lusts of the flesh.
Father, it's not by might, nor by power that I can seek You and submit to You. It's only by Your Spirit.
So help me, Father. Holy Spirit, please lead me and guide me. Instruct me and teach me in the way I should go, and guide me with Your eye upon me. You who began a good work in me will be faithful to complete it, and I thank You for that. But please help me to submit to You every day, and fill me with Your breath.
Breathe through me every moment with the wind of Your Spirit, Lord Father. Thank You. And it's in the name of Your holy Child Jesus that I pray, and I give You all the glory.
In Jesus' name I pray, amen."
Now take a deep breath.
Thank God for the breath in your lungs–both physical breath and spiritual breath–for they are from Him. His breath, and His Spirit, if you have given your life to Jesus.
And now walk it out. Submit to the Lord every day. Walk in the Spirit, and you will not fulfill the lusts of the flesh–and you will be filled with the Breath of God, hidden in the secret place of the Most High, and immune to the attacks of the enemy.
Did you pray this prayer? Do you feel a difference? If so, leave a comment below!