Jesus Is Praying for You About THIS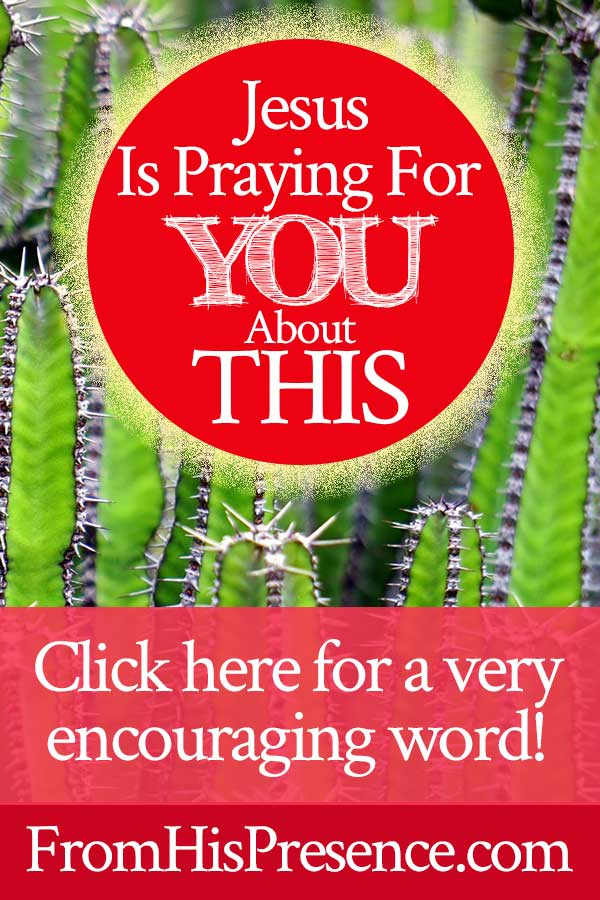 I was hurting really badly. Something had been done to me that was devastating, and my heart was broken and bleeding.
I was so discouraged; trying to stand in faith, but all the standing I could do was to survive another day. Each morning, I would say, "Abba Father, I know that You'll take care of me. I trust You, Lord … but I'm dying. Please, please help me."
As Charles Spurgeon taught, sometimes the joyous are not always happy.
During that time, I fought through a deep depression.
I managed to make it through every day, but I don't know if I've ever felt so broken, so dead, in my life.
One day, I was praying and the Lord brought to my mind the fact that Jesus is in Heaven, where He ever lives to make intercession for us. So I asked: "Lord Jesus, what are You praying for me right now?"
And I received an answer–an answer I'll never forget.
What did Jesus say? Well, I'll tell you what He didn't say first:
He didn't say that He was praying for resolution of the injustice that had been worked upon me.
He didn't say He was praying for all things to work out for my good.
He didn't say He was praying that I'd receive an extra-special blessing that day that would make me feel better.
I would have loved it if He had said any of those things, but He didn't.
You want to know what He said? He said:
"That you would persevere."
Whoa. Totally unexpected.
The biggest thing on Jesus' heart for me at that moment, despite everything I was going through, was that I would persevere.
Although I was hurting so badly at that time, that simple phrase from the Lord–"that you would persevere"–four words, no more–hit me like a ton of bricks. It hit me because it was do-able. The Lord didn't ask me to get up and leap forth into my day with great enthusiasm. He didn't ask me to put on a smiley face and act like nothing was wrong. He didn't say to get up, get over it, or any other pat answer.
No, He told me the one thing I needed to do–and one thing only. The one thing that was on His heart: that I would persevere.
Wow.
And so I did.
Related: Perseverance wins the battle AND the war. Read this key to divine advancement here.
I took another breath, and another and another. I got up and kept going. I kept walking the walk I knew I should walk. I stayed in the Word and prayed. I fasted and contended and sought the face of Jesus even though I thought that every. single. day. was. killing. me.
Ever been there?
I'm sure you have. Maybe you're there right now; but if not, you almost certainly have been there before. And if you have been there before–or are there right now–then let me tell you what you may or may not already know:
Eventually, the situation worked itself out. It worked out because God worked it out, and He did it because He promised He would.
Remember Romans 8:28? It contains God's promise to YOU today, no matter what you're enduring right now:
"And we know that all things work together for good to those who love God, to those who are the called according to His purpose."
All things. ALL. All things work together for your good if you love God and are called according to His purpose.
Do you love Him? Are you called? If so, the thing you are going through is going to promote you.
I can't answer the first question for you; I don't know if you love God or not. I hope you do, but only you know that. If you don't, I pray you would give your life to Him with everything you've got today, and love Him. He loves you very much, and He loved you first–so He is worthy to be loved in return.
But you know what? After you get past that first question–the "Do I love Him or don't I?" question–I can tell you the answer to the second question. Because if you exist (yep, you do), then you are called. God has called you.
Jeremiah 29:11 says this:
"For I know the thoughts that I think toward you, says the Lord, thoughts of peace and not of evil, to give you a future and a hope."
God has a future for you.
It's a hopeful future, too:
A good future.
A bright, promising future.
He has things for you that eye has not seen and ear has not heard–things that have not entered into the heart of man. Things people can't even conceive of.
That's how good He is, and how much He loves you! He's been storing up good surprises for you since eternity past!
But you know what? The only way to get the future God has for you is to persevere.
You have to persevere in order to walk into your destiny.
That means you can't quit. I know it's tempting to quit, but you can't.
That means you can't stop. I know it's tempting to stop, but you can't.
And that means you have to keep on doing what you know is right:
Keep reading your Bible.
Keep encountering Jesus in its pages.
Keep seeking Him.
Keep throwing yourself on His grace and mercy every day.
Keep giving your all to know Him better.
Keep praying.
Keep casting your burdens upon the Lord, for He will sustain you. He shall never allow the righteous to be moved.
Keep on, keep on, keep on.
Keep seeking His face. You have to persevere.
I believe Jesus is praying the same thing for you today.
That's right. Jesus is praying for you. We know this because Hebrews 7:25 says:
"Therefore He is also able to save to the uttermost those who come to God through Him, since He always lives to make intercession for them."
And since Jesus is praying for you, what is He praying? He's no respecter of persons. If He wants something for me He wants the same thing for you.
That means the prayer that Jesus is praying for YOU today–the request of His heart that He is lifting up to Father for YOU–is: "Father, that they would persevere." That you would persevere.
That's His prayer. For you. Today.
Again:
Today, you have to persevere.
I know it's hard sometimes, but God's grace is sufficient for you.
His strength is made perfect in your weakness. If there's one thing I've learned during this past year of raising a newborn plus working this full-time job mostly-without-help-during-the-day, it's that God's grace is enough.
It may not be pleasant to learn this. It is definitely not the most fun to have to rely on grace–in other words, to have nothing else to rely on. It is way more fun to not have to persevere … to not have the pressure that demands perseverance … to not have the struggle.
But I don't live in a life without struggle. Do you?
I live in a life in which tests and trials come. I live in a life in which things happen, and God helps us navigate the waters safely–but there are waters of hardship and adversity to navigate.
Aren't you in that life with me?
But you what? We can persevere. Today, YOU can persevere.
That's right. You can do it! Jesus is praying for you. He's praying for you and making His grace–tangible, helpful, right-now kind of grace–available to you.
And He's praying that you would persevere.
Not that you would be a rock star–but that you would persevere. (Although, to be honest, I think your persevering makes you a rock star in Jesus' eyes. He's a pretty big fan of Y-O-U.)
He's not praying that you would excel at everything, even though you can do all things through Christ who strengthens you.
He's not praying that you would be some kind of poster child for the perfect life, although He does want victory for you in every area. He paid for you to experience victory in every area.
But today, Jesus is praying for you … and He's praying that you would persevere.
When the Lord spoke this to me the first time, it meant so much.
And it was hard, but I persevered. Not through my own strength, but through His … and He brought me out higher and stronger and more blessed than I could ever have been if I had not endured that discouraging, horrible time.
So what's the takeaway for you?
There's more to life than just perseverance. God DOES bring hope and help into your situation when you ask. It's not all just "hang in there until the storm is over." No, we can walk in total and complete victory in Christ Jesus.
But if you aren't quite there yet (as I'm not either) …
If your life isn't perfect yet, today anyway (as mine's not either) …
And if you could use some hope today …
Jesus wants you to persevere.
He wants you to hang in there, because something good is around the corner.
Something better is on the horizon. Jesus is looking at things from a higher perspective, and He sees what's coming around the bend. Jesus sees a brightness rising on your future. He sees the light He is sending your way.
But to get to that hope and future He has for you, He needs you to persevere.
Will you do it?
Will you choose today to get up, put one foot in front of the other, and persevere–keeping on doing what you know is right today, whether you feel like it or not?
I believe you will. And if you will, you need to confess it publicly. Speak it out of your mouth right now: "I choose to persevere today!" Then, if the Lord is speaking to you directly through this message, please leave a comment below.