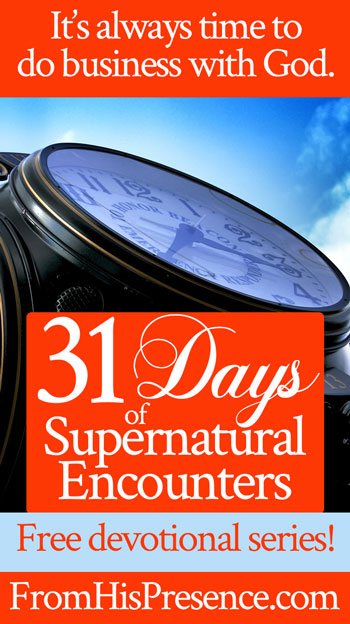 For Day 21 of our 31 days of supernatural encounters (series index here), the Lord is inviting you back to the raw.
Read: Revelation 2:1-7
Know:
I heard Jesus say to you today:
"I am calling you back to the rawness. Back to the raw. Back to the passion you used to feel, before ministry became cold. Before you became a minister at all … the rawness you felt when all you were doing was ministering to Me.
Beloved son, beloved daughter, come back to the raw.
I invite you to come back to the times when you didn't care if you were at church or in the field; you just wanted to sit with Me.
I invite you to come back to the times when you didn't care if anyone knew you or not; you just wanted to worship Me.
I invite you back to the times when you opened your arms to Me and ran towards me across the field, joy all over your face.
I invite you to listen to the things you listened to before you didn't have time.
To study like you studied before you got too rushed. And to hear Me, just for fun, just to share secrets with Me–the two of us, alone together, best friends whispering to each other.
I invite you back to the raw.
It's time to give honor to the things I honored, like you did before people told you that you shouldn't.
I invite you to focus on My face again, and on My heart, and on what I have anointed.
For what I have anointed is often different than what people say I have anointed, beloved.
You used to have more fire for Me, but time has snuffed it out, dulled it, or diminished it. People's expectations have calmed the flames. Dealing with religious spirits has resulted in less fire for you, as you have been influenced without your knowing it.
Beloved, come back to the raw.
Sit with Me again. Let Me change your paradigm. Help Me help you. Break the spirit of python off–that evil spirit that has been strangling and choking the life and fire out of you.
Come back to the raw, My son. Come back to the raw, My daughter.
Come back to the intimacy of sitting one-on-one with Me. Nothing else matters. No one else is as important as Me. Bare your soul before Me, and let Me bare My heart to you.
We were meant to be together, you and I. Come back to the raw."
Thank You, Jesus.
Are you ready to return to the rawness of your first love for Jesus? If so, pray this:
"Heavenly Father, I come before You in Jesus' name. Father, I love You. Lord Jesus, I worship You. And I accept Your invitation to come back to the raw with You today.
Jesus, here I am. I bare my soul before You.
I want You and You only, Lord. I shake off every pre-conceived notion; I shake off every unholy perception; I shake off every expectation that other people have put on me.
Precious Lord Jesus, here I am. Have me for Yourself. Help me to be raw with You in every way again–no distance or space in between us. It's all about You and me, and no one else between us.
Thank You, Lord Jesus. Thank You, Heavenly Father. In Jesus' name, amen."
Listen:
Listen to Jason Upton sing "Fly"–with the accompaniment of an angel singing unexpectedly on the track with him. 🙂 (True story; read the testimony in the video description on YouTube.)
This is a song that brings me back to the raw–raw hunger for Jesus; raw love for Him; raw awe of who Jesus is. I pray you'd be transported into His presence as you listen.

Does this message speak to your heart today? If so, please leave a comment below. I'd love to hear from you!
Would you help me with my work of reaching people for Jesus as a domestic missionary? I need you; we are in this together!

This blog, and all of the Kingdom work we do in this community together, are made possible through your partnerships, donations, and product purchases. If you'd like to help, please check out the partnership details and products available for sale here. And, thank you in advance for helping make this blog and everything we do together for the Kingdom possible!