Our London Adventure, Part 1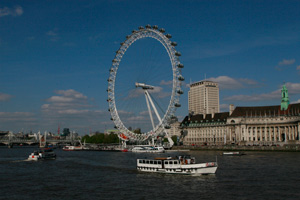 My husband and I spent just over a week in London and the surrounding area recently. We had an absolute blast and LOVED seeing just a tiny bit of the UK and its proud history.
Some of you guys have asked to see photos, and there are a ton of awesome ones I want to share. In addition, I'll share some of the most thrilling historical tidbits that go with the photos. I'm a history nut, and England is such an old nation and London an old city, so there were a ton of historical gems to see!
First, one important thing to note is that our trip was mostly free!
We had free round-trip airfare from Atlanta to London Heathrow (think $$$$), and 8 nights' free hotel stays in VERY NICE HOTELS (Hyatt and Hotel Indigo brands). The hotels themselves would have cost hundreds of dollars US per night if we had paid for them. All we had to pay for was taxes on our airfare, our tube/rail passes, a few entrance fees, and food.
How did we score a mostly-free trip? Free airline miles and hotel points from credit card bonuses. Go over here and check out the Frugal Travel Guy's website for more info about how you can do the same thing if you want to. We are SO grateful for this huge blessing, because we could definitely not have afforded to go on this trip if the airfare and hotels weren't free. Woot! Papa loves to bless His kids.
(Disclaimer: My husband and I don't carry ANY credit card debt, but we don't think credit cards are evil either. They are a tool, and their benefit or harm depends on the habits of the user. To each his own. If you can't handle a credit card responsibly, stay away from them. But please don't email me your negative opinion if you don't like credit cards, ok? Thanks.) 🙂
Ok, now that we've got that out of the way, here's part one of the trip:
We arrived in London about noon on a Saturday. We rode the tube from the airport into downtown. Downtown, we checked into our hotel – the Hyatt Regency (the Churchill) – and then wanted to just see a couple of sights and get our bearings that afternoon.
So we took the tube over to the Westminster area and checked out Big Ben and Parliment… Big Ben… Parliament (watch the National Lampoon clip here if you don't get the joke):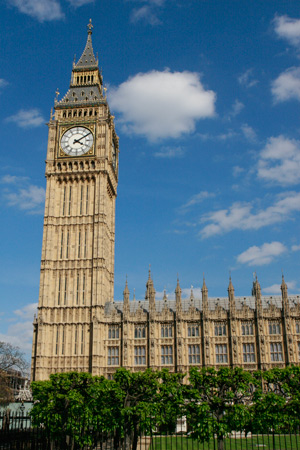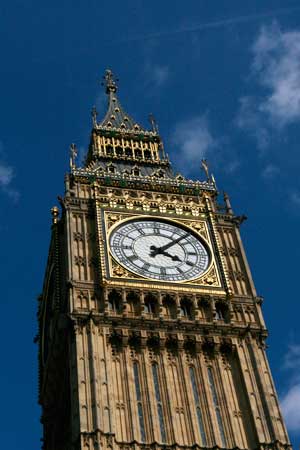 The British know how to build a big building, that's for sure.
Then we checked out Westminster Abbey. The photos absolutely cannot do it justice. It was one of the most incredible places I've ever been in my life.
Westminster Abbey is OLD. It has been the place where British royals are crowned since 1066. It is still in regular use today for daily worship and prayer! We had the privilege of attending an evensong service, in which the choir sang the same Psalms and Scripture passages (sang, not chanted) they have been singing for a thousand years. They also prayed for the nation and their leaders. Think of over 1,000 years of worship and intercession going up, then wonder why the British are blessed?
Here are a few photos of the Abbey on the outside. No photos were allowed inside, so check out their website above for interior photos. This is the front wall, but only starting about 1/3 of the way up; the whole thing won't fit in a camera frame: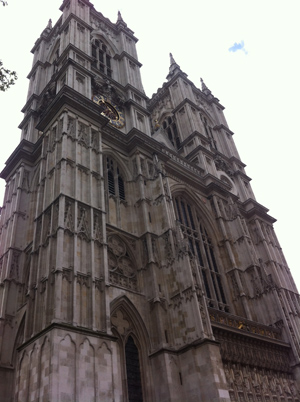 And this is the side entrance:
And this is one side wall–again, it's too big to fit in any one camera frame, but the whole thing is incredibly ornate like you would not believe: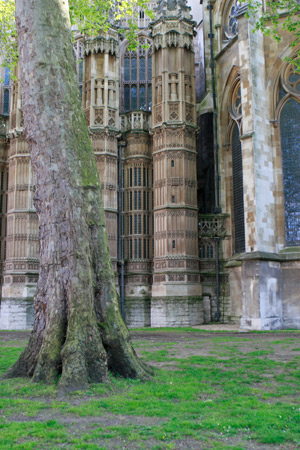 Here's just one shot that shows some of the many sculptures on the exterior walls. It seemed like most of the walls were covered with these high-relief sculptures of Bible characters, saints, martyrs, etc: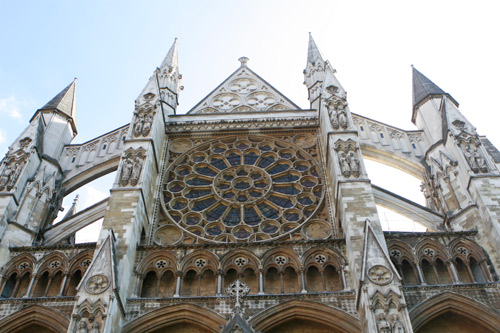 Here's a closer shot of one of the walls: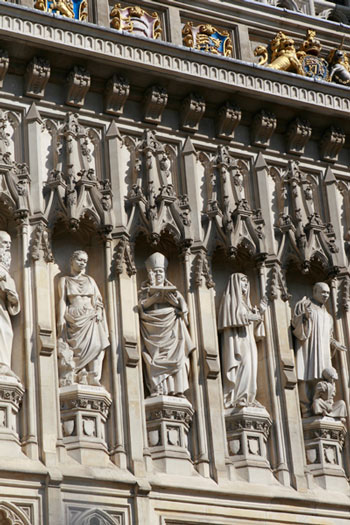 Notice the royal heraldry in gold at the top? Yeah. Pretty cool. And this wall of sculptures includes some modern figures. I believe Martin Luther King, Jr., is on this wall – I think he's the last figure on the right in the photo above. It was a bit difficult to see with your eye since these sculptures were so high up.
On the inside of the Abbey, the supporting columns in the nave are huge and thick. They are made out of marble and the vaulted ceiling is nearly 102 feet high. The columns just soar all the way to the top. I've never seen anything like it. It's incredible; words really cannot describe it. (You just need to go.) Click here to see someone else's photo of the nave (inside the Abbey, with all the columns).
We got to see the tombs of some very famous people inside the Abbey. I stood on Handel's grave. We got to see the tombs of Queen Mary I, Queen Elizabeth, and Mary, Queen of Scots. As well as Edward the Confessor and many other monarchs. It was incredible. You don't get a brush with history like that every day!
The next day, we went to the National Gallery (no photos allowed, but we did get to see original works by Van Gogh, Monet, Caravaggio, da Vinci, and many other incredibly famous artists).
Although we couldn't take any photos, there was an interesting guy outside the Gallery that we could photograph:
George Washington! Yep. The story goes that Americans made a statue of the guy that helped steal the American Colonies, and they presented the statue to the British.
Legend has it that George Washington had said he'd never step foot on British soil again, so the Americans were so kind as to send some dirt from Virginia to go underneath his statue (so he wouldn't have to touch British soil, of course). True? I have no idea. But it's a funny story. 🙂
And here is one of the famous Trafalgar Square lions. These lions are huge, but they were surrounded by construction fencing, so we couldn't get a really good photo. What we did see was cool, though – very noble, like British history in general feels noble to me: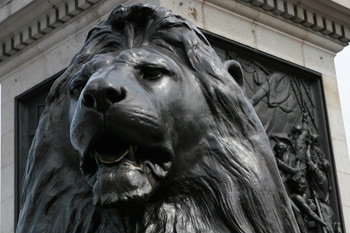 And here's a thoroughly British-looking street scene of the streets by Trafalgar Square. Those red buses were EVERYWHERE. They even had their own traffic lane in some areas. We never did ride on one, though; we took the tube or a train everywhere.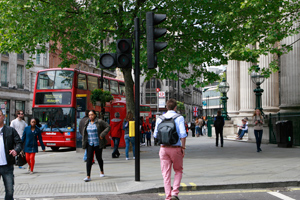 Next came a walk down the street to the Horse Guards. These guys were surrounded by tourists and children, petting the poor, unsuspecting horses and posing for selfies all day. What a job. I was too chicken to get a photo with them, but my husband wasn't: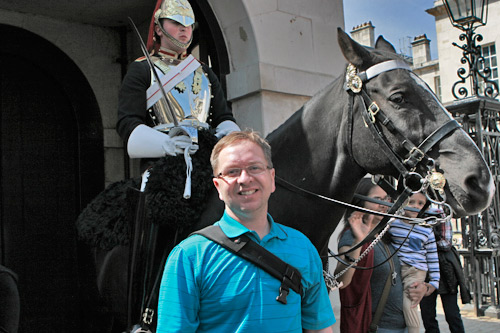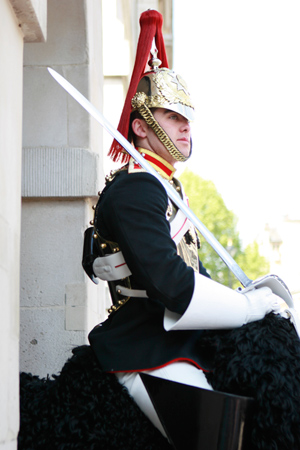 According to Rick Steves, these guys are really better for photo; not so much for video. 😉 Party like a horse guard, baby.
Then we visited the Cabinet War Rooms. Since D-Day was last week, it seems appropriate to talk a little more about that!
During World War II, Sir Winston Churchill was the prime minister of the UK from 1940-1945. For safety and security reasons, the British built an underground bunker of sorts, from which Churchill and his staff could command the war. This bunker has been since converted into a museum. Much of the original furniture, signage, tools, etc remain:
The original maps used by the military strategists still hang on the walls. The pins are still in the maps, showing where the troops were when Hitler surrendered.
There are lists on the walls of how many lives were lost each night when the Luftwaffe bombed London.
The actual phone that Churchill used to talk securely with President Roosevelt is still there, in a secret room.

Interactive videos and displays about World War II and Churchill himself are throughout the facility. It's an amazing place.
You really could see the people's secure phones, meeting notes, strategic maps, etc just the way they left them. When the war ended, the workers stacked up their papers and left the bunker – and many of these things are just as they were when they left it.
It was tough to get photos in there, but here are a couple: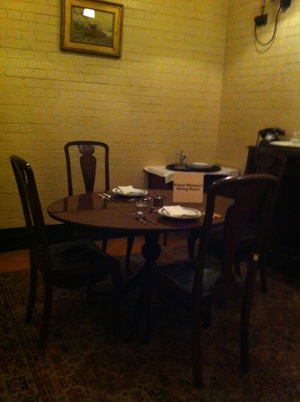 And Churchill's front door: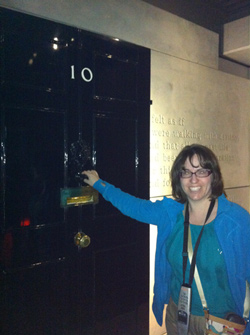 You could easily spend a half-day at the Cabinet War Rooms. Easily. (Go! Did I say go?) 🙂
Just outside the Cabinet War Rooms, between there and Buckingham Palace, is a huge parkland that is divided up into at least 2 different park names, but it really all flows into one giant park. I've never seen a park like this in the States, but I wish we had one where I live! Here's a photo of the lake at St. James's Park (and yes, they do write "St. James's" like that, even though it's not American English!):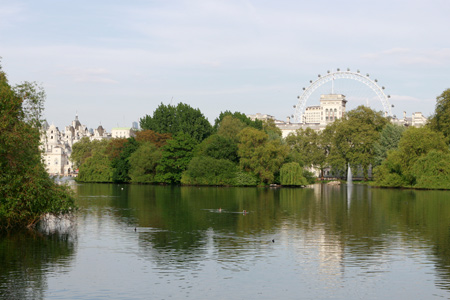 And this is from the section of the park called Green Park. Do you see why I wish we had one of these? The lawn was verdant and gorgeous and the shade trees were amazing. People were just lounging around in the grass, reading, sleeping, and relaxing: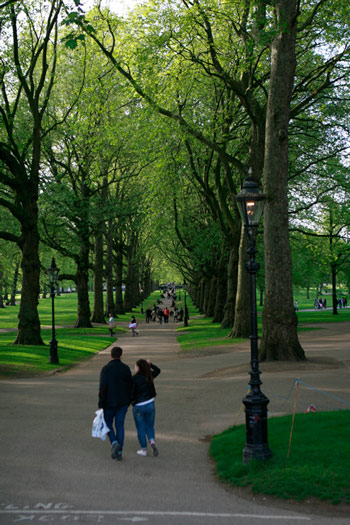 And they had amazing flowers there. We got there just at the tail end of tulip season. I posted many photos over on my Facebook page, and will post more later, so go over to FB to check those out.
In the middle of the parkland is, you guessed it, Buckingham Palace: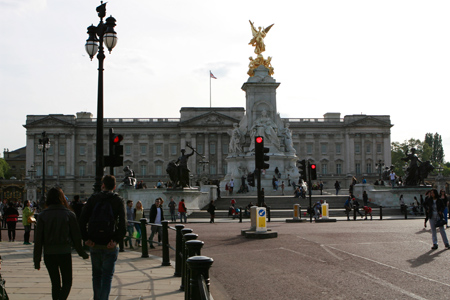 You could get quite close to it. I was shocked by that, but I guess the dudes in red coats with machine guns have security all taken care of.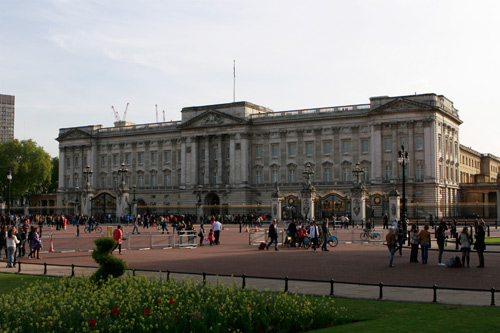 And no, we didn't see the Queen or any princesses or cute babies walking around in there. 🙂
London is an amazing place and I have tons more photos to share. However, that's enough for one blog post! Check back Friday and next week for more – and don't forget to head over to my Facebook page for more photos that won't be on a blog post!