The Truth You Need to Know about Mentoring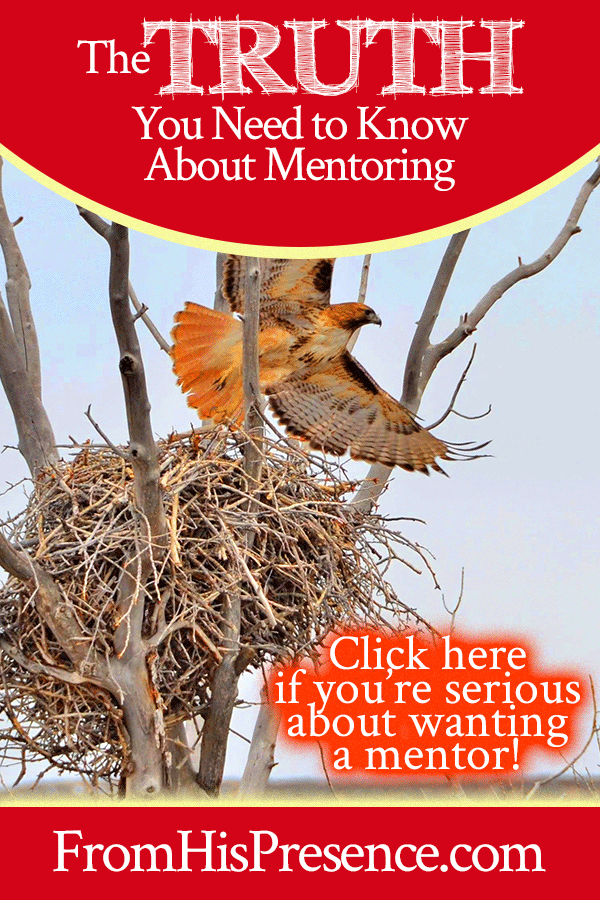 If you're interested in mentoring with one of the mentors on my team, I highly recommend them all. BUT, before you begin any mentoring relationship, you should know something about mentoring.
It's the truth that sometimes people don't want to hear about mentoring, but it's a truth that you need to know.
This truth is hard to say, but I love you; and I want you to succeed in life, in the Kingdom, and in whatever your dream is. I want your dreams to happen for you.
But the truth is that, sometimes, a person can be their own worst enemy when it comes to growth–and particularly when it comes to leveraging the mentoring process in order to grow.
Mentoring costs YOU time and money, and it costs your mentor time, prayer, and agony of heart and spirit. A real mentor will have the Father's heart toward you, and will care about you deeply. HOWEVER, that doesn't negate the very hard truth about mentoring that I describe below.
This is the hard truth that you need to know about mentoring:
I hear lots of people say that want a mentor. They also say, "Teach me!" The problem is, 99.9% of the time, they don't want a mentor—and they don't want to be taught.
People want a mentor many times because they long for affirmation. They want someone to take them under their wing and love them—and a mentor SHOULD certainly love you and, when appropriate, affirm you.
But those are just people skills. That's not the actual PURPOSE of a mentor.
The purpose of a mentor is to encourage you to see things from an objective standpoint; to help you dissect and troubleshoot your calling and the execution thereof; to suggest changes and corrections; to impart wisdom from the experience they have that you do NOT yet have; and to (proverbially) kick you in the tail and challenge you to COME UP HIGHER.
Very few people actually want this. Instead, people are looking to get their inner need for love met—and they are looking for a kingmaker (someone who will promote their ministry so they won't have to do the work it takes to grow from the ground up).
So people ask for mentoring, but rarely listen. They say, "I felt led to do _____ instead," but that "leading" was their pride and self-sufficiency and refusal to humble themselves, not the leading of the Holy Spirit. How do I know this? Because Holy Spirit is WISDOM, and 100% of the time I have seen people say they "were led" to do XYZ, instead of doing what their mentor suggested, the alternate course they "felt led" to pursue WASN'T WISDOM.
Then, months and sometimes years later, they are upset and discouraged because their methods didn't work.
What's the takeaway?
If you want a mentor, know that real mentoring—and the real growth that can come from it—depends on these things:
1) Be teachable. And by the way, your "teachable-ness" isn't evidenced by your saying, "I'm teachable."
The most un-teachable people I've ever worked with are the ones who insist they are teachable while also "feeling led" to do NOTHING you ask them to do. Your "teachable-ness" is evidenced by your actually DOING what your mentor asks you to do.
2) Don't hang onto the "It's warm and it's wet and it's mine" strategy.
Just because you made it, thought of it, or conceived it doesn't mean it's good, helpful, or going to get you where you want to go. A good mentor will help you dissect what is wrong, what went wrong, and where you can do better.
Most people stop the mentoring process here and push back, saying, "Oh no, I like ____ (that thing). I wouldn't change that." And at those words, both mentoring AND THE BREAKTHROUGH YOU COULD HAVE GOTTEN BY MENTORING WITH SOMEONE are OVER.
Beloved, I love you. But if you want to grow, you have to acknowledge something just like I do when I want to grow; just like we all do when we all want to grow:
Just because you made it doesn't mean it's great. If it were great, you would be getting the results you wanted to get, and you wouldn't need a mentor. So put away your arrogance and pride and, if you're asking a mentor for help, actually listen to what they're telling you AND DO IT.
You can get a lot of help from the right mentor.
You can gain a lot of wisdom from the right mentor.
BUT, YOU have to be willing to put up, shut up, and get to work. YOU have to be willing to sacrifice your pride, arrogance, and self-sufficiency and admit you don't know it all.
And you have to understand that your mentor is where they are because THEY had to humble themselves and learn also—slashing at their own "sacred cows" to follow wisdom from THEIR mentors and teachers in years past and even over the course of decades—and if you want to grow and achieve the same level of success, you're going to have to do the same thing.
Selah.
Jamie