Beloveds, do you need mercy in your life? If so, I have an encouraging word for you today.
As I was studying this morning, the Lord led me to Psalm 32:10, which says:
Many sorrows shall be to the wicked; but he who trusts in the Lord, mercy shall surround him."
I looked it up, and sure enough:
The word "mercy" is chesed, which is the word I taught on throughout the entire 21 Kisses teaching series.
"Chesed" is God's covenant love, which you have in Christ Jesus. It's His faithfulness and lovingkindness, manifest and put together into action on your behalf.
It is the kiss of God on your life.
"Chesed" is what causes God to help you, no matter how bleak your conditions.
It's what turns things around for your good. It's the sweet manifestation of His goodness toward you.
It's the power of God at work on your behalf that makes you weep into your pillow at night, because you sense Father's love and feel Him helping you, even if nobody else loves you, helps you, or believes in you.
And when I read this Scripture, my heart cried out in agreement with the Word of the Lord: "Yes, God! Mercy! Mercy! Mercy!"
Mercy is not just for when you mess up. Mercy is the thing that makes you whole again.
It's the thing that makes everything beautiful in its time.
And if you trust in the Lord, the word of the Lord to you today is: "Mercy shall surround you!"
Believe it. Speak it out of your mouth. Confess out loud that you trust in the Lord, and that mercy surrounds you. It's God's Word! Mercy SHALL surround you!
Thank Papa for His mercy. Pray for it to be manifest on your behalf. Then take time to notice all Papa's acts of mercy toward you today, and keep on praying for more.
According to your faith be it unto you!
Does this word resonate with your heart today? If so, please leave a comment below and share with others what God is ministering to you!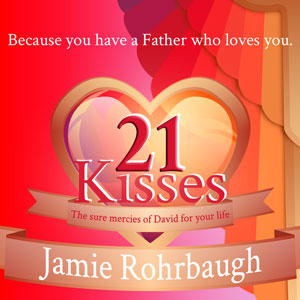 (By the way, if you haven't listened to the 21 Kisses teaching set yet, please. At this point, based on all the Lord has been saying to me and others in the prophetic community, I consider an urgent message.
So please, please, please, I implore you for your own sake: run don't walk to get 21 Kisses today (it's instantly-downloadable on my Gumroad store), and learn these 21+ manifestations of MERCY so you will have faith for them in your own life.)