Ministry Update, Ordination Video, and AMAZING MAP!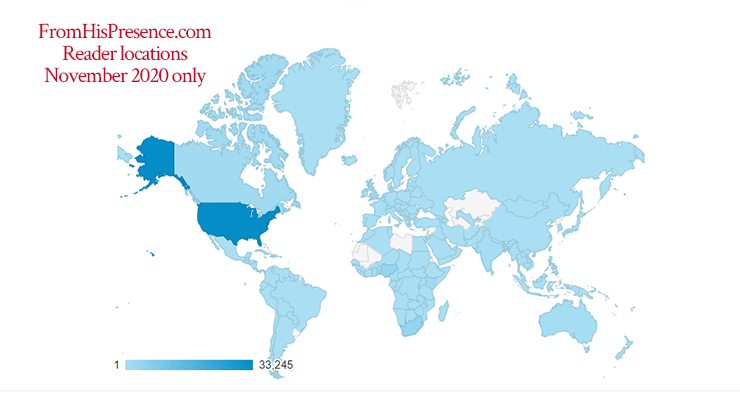 Look at this map! You know what it shows? It shows all the nations of the world that the Lord used YOU to reach in the month of November alone!
November was a really tough month, but look what the Lord did! Together we were able to reach people for Christ:
with 151,538 pageviews on our main blog, FromHisPresence;
In 198 nations and territories of the world (see map above–it shows where our readers were on our main website alone for November);
with 11 new, FREE blog posts containing teaching, mentoring, encouragement, and prophetic words;
with 4 new, free podcasts released;
with 3,595 podcast downloads of our free podcast;
with prophetic words on The Elijah List, Charisma Magazine, and Spirit Fuel;
with 2 free webinars (8 Keys to Growing Your Business or Ministry and 10 Ways NOT to Insult God's Holy Spirit), with hundreds of people signed up for each webinar to either attend live or watch the replay;
with one free Zoom mentoring blitz for you, our readers;
and so much more.
In other news:
I got and recovered from the coronavirus, so that was fun–thanks for praying! And, although I haven't mentioned it to our email readers yet, on November 13, I was honored to be formally ordained into the ministry by my amazing, Holy Ghost-filled pastors, Apostle Jamie Tuttle and Prophetess Judy Jacobs Tuttle.
Here's the video of the ordination, with prophetic words spoken over this ministry, if you'd like to watch it:
(Yes, I've served vocationally in full-time and part-time ministry for years and was just now ordained. Don't let the devil tell you that you have to be ordained in order to answer God's call on your life.)
So the Lord is just AMAZING, and He's using us ALL–you and me together–to reach people with the love, healing, and GOOD NEWS of Christ every single day. THANK YOU for being part of this community!
We currently are only $582.51 away from having our entire budget for November met.
God is good and He always provides. If you haven't gotten a seed in the ground of this ministry recently, would you prayerfully consider doing so today?
If Father God is putting it on your heart to help, here are our 5 easy ways to give:
And, thank you so much for shouldering up with me to serve the people of God through your generous praying and giving!
Serving our God who only does wondrous things,
Jamie Rohrbaugh
FromHisPresence.com and OverNotUnder.com