Prophetic Dream: You Are Aiming Too Small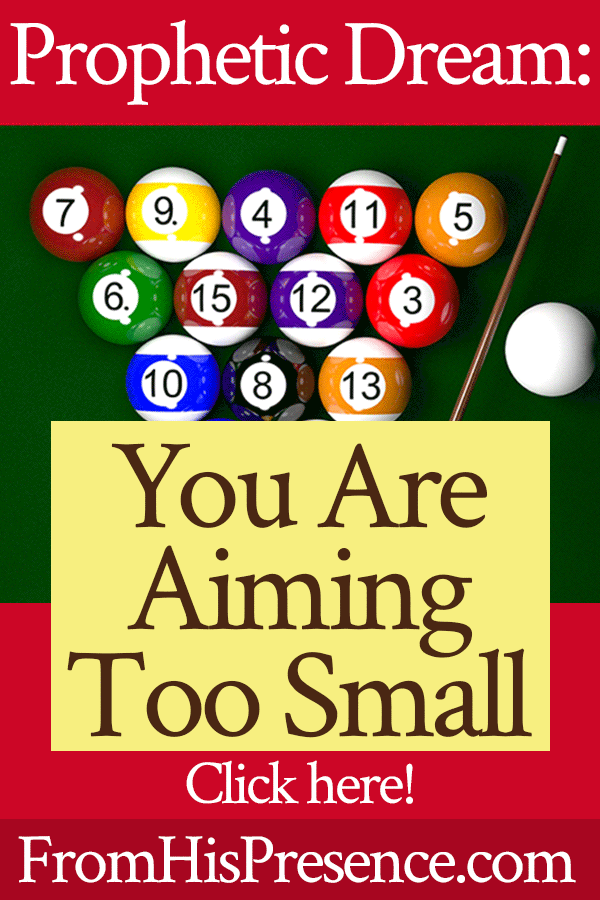 Have you been struggling with frustration lately? Are things that usually work in your life just not working right now?
If so, the Lord gave me a prophetic dream of encouragement that I believe is going to help you.
The dream is short and sweet:
I dreamed I was playing pool–American-style 8-ball, that is. Now normally, I am pretty good at pool (a holdover skill from my pre-Jesus days where I hung out with anarchists in billiards halls all the time). However, in this dream, I was shooting terribly. None of my shots were making it in the pocket!
I was so frustrated in the dream because nothing was working. Then, however, I stepped closer to the pool balls and examined them.
When I looked at the balls close-up, I could see that half of them were half the size they should have been! Furthermore, in the dream, I heard that these small balls were "snooker balls"!
Immediately when I saw the snooker balls, I understood why my shots weren't working–and why I was so frustrated.
In the game of pool, in order for one ball to hit another and go where they were supposed to go, all the balls must be precisely the same size. Otherwise, the math and physics don't work! So, the game wasn't working because half my targets were too small.
As soon as I saw the small size of the balls, I heard in my spirit:
"You are aiming too small!"
And the dream ended.
What does this dream mean?
I believe the Lord is speaking not only to me, but also to the entire Body of Christ. Remember that 2 Corinthians 1:3-4 says:
"Blessed be the God and Father of our Lord Jesus Christ, the Father of mercies and God of all comfort, who comforts us in all our tribulation, that we may be able to comfort those who are in any trouble, with the comfort with which we ourselves are comforted by God."
So, when we are comforted or encouraged, the same word of comfort we received is to be shared with all because it's for all.
I believe the Lord is speaking to all of us who are frustrated right now; all of us who are playing the game to the best of our ability–but it's just not working.
Why? Because some of us have been "snookered" by aiming too small.
According to Dictionary.com, to be "snookered" means to be "deceived, cheated, or duped." In the dream, the "snooker balls" were not the kind of balls that are actually used in the game of snooker, so we know that the reference to "snooker" was a play on words.
If this word is for you, then it means this:
You have been doing a thing you are supposed to be good at; a thing you're usually good at.
But, it's not working–and you're frustrated.
If you examine your goals, projects, and efforts, you will suddenly see that half of them have been way too small. This is why they haven't been working.
If this word is for you, the enemy has "snookered" you into playing the game with too-small goals, which is both wasting your time and frustrating you.
What's the takeaway for you and for me? What is the Lord saying?
I believe Father is saying that we're aiming too small. I think this is a huge source of the frustration that so many of us are experiencing in the Body of Christ right now.
How can we fix it?
Look back over the last month or two. Ask the Lord to show you a time when you stepped out in big faith–on the very edge of faith. Then, recall how quickly and easily God moved and it worked–things just worked.
Then, examine all the rest of the things at which you've been spending your time. Have the other things you've been doing and striving toward been equally on the edge of faith? Or, have you been aiming too small?
If you've been aiming too small, that's the reason why your game isn't working.
Big goals and small goals don't work together, the same way regulation-size pool balls and mini pool balls can't work together. The whole game of pool depends on being able to aim the exact center of one ball at a precise point on the second ball. And if the balls are two different sizes, nothing is going to work.
Some of us have been trying to mix small targets and large targets–small goals and big goals, small faith and big faith.
But it doesn't work that way. The math is off. The physics won't work.
Psalm 72:18 says this:
"Blessed be the Lord God, the God of Israel, who only does wondrous things!"
We've been praying and expecting a God who only does wondrous things to embrace and endorse our willingness to play a game filled with non-wondrous things.
Then, after expecting God to do things that are TOTALLY not in line with His nature, we wonder why things aren't working for us.
Zoom in, and let's stop being snookered by the enemy.
In the dream above, I didn't notice that half the balls were too small until I looked at them closely. Until I took a very close look at things, I was snookered–deceived, duped, cheated–and frustrated. But I had instant understanding from the Lord as soon as I looked at those balls closely.
We need to zoom in and examine everything closely right now.
Beloved, it's time to ask the Lord to ruthlessly show us all the areas in which we are aiming too small.
I believe our paradigms are, in many cases, too tired to pick up on this without Holy Spirit's help. We need Him to examine us and reveal to us where we have been expecting and asking Him to do anything less than wondrous things.
Nothing less than miraculous will do.
No place other than the very edge of faith will provide stability.
Nothing that is unworthy of God Who Only Does Wondrous Things will work anymore.
Are you ready to pray? Pray this sample prayer with me, making it your own as needed:
"Dear Heavenly Father,
I come to You in Jesus' name. Father, I want to thank You for being my God who only does wondrous things.
You don't specialize in the mundane, the mediocre, or the passé. You alone work wonders, and You ONLY work wonders. Thank You, Abba Father. Thank You.
Abba Father, in Jesus' name, I ask You right now for Your help.
I need You to show me; I need Your help to see:
Lord, in what areas am I aiming too small?
In what areas am I positioned in yesterday's faith?
In what areas am I positioned in something LESS than the very edge of faith?
Search me, O God, and know my heart; try me and know my thoughts. See if there be any wicked way in me, O Lord; and if there is, get it out–and lead me in Your way everlasting (Psalm 139:23-24).
Abba Father, I need You:
Please help me to root out and destroy every target, every goal, every expectation in my heart that is unworthy of You.
Help me to eliminate every target that is too small.
And Father, in Jesus' name, please help me replace those dreams and targets with dreams from You–You who only do wondrous things.
Give me ears to hear and eyes to see, Abba Father. Help me to see things with Your vision, Your discernment, and Your perception–and I'll give You all the praise.
Glorify Your own name in me, Abba Father; and root everything out of me that is too small to give You the glory You deserve.
Thank You, Father. In Jesus' name, amen."
Beloved, is the Lord speaking to you through this word? If so, please leave a comment below and share what He is saying!