7 Ways to Regain Your Spiritual Fire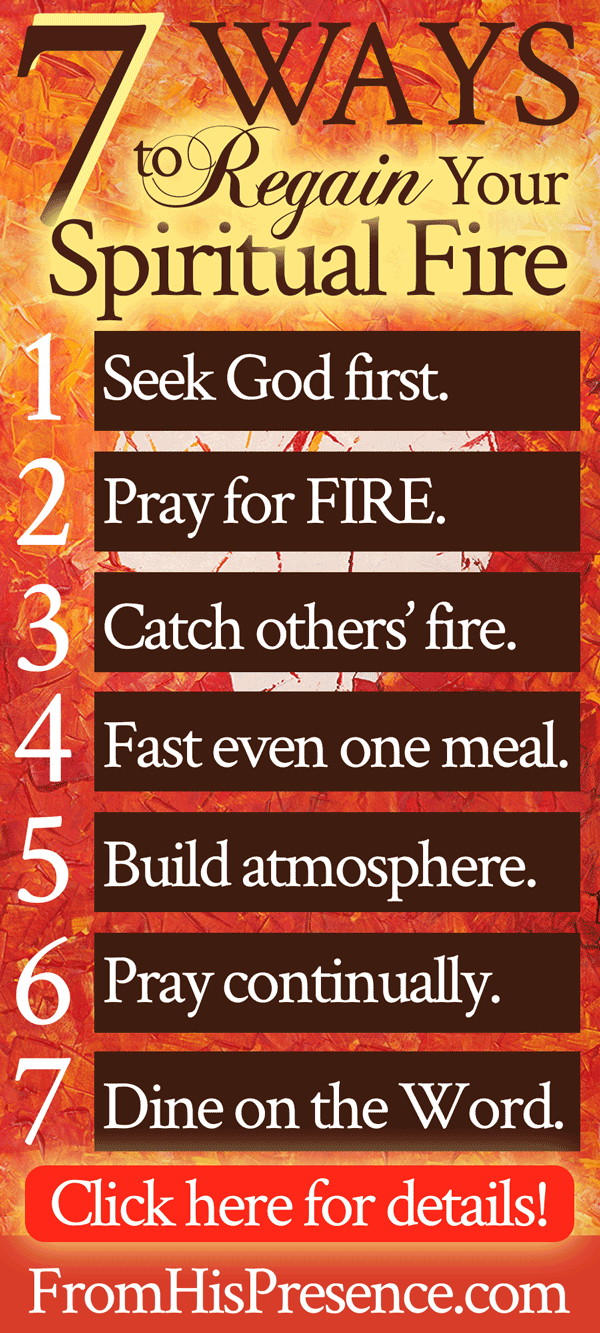 Beloved, are you feeling dry and uninterested in spiritual things? Are you struggling to connect with the Lord–maybe struggling to even want to? If so, don't lose hope! You can get your spiritual fire back and burn brightly for the Lord once again!
Today, I will share with you seven ways YOU can regain your spiritual fire.
Dryness happens. Apathy happens. However, those things are not God's will for you.
In Revelation 2:1-7, Jesus tells us how He feels about it when we abandon our first love and let ourselves get dry spiritually:
"To the angel of the church of Ephesus write,

'These things says He who holds the seven stars in His right hand, who walks in the midst of the seven golden lampstands:

'I know your works, your labor, your patience, and that you cannot bear those who are evil. And you have tested those who say they are apostles and are not, and have found them liars; and you have persevered and have patience, and have labored for My name's sake and have not become weary.

Nevertheless I have this against you, that you have left your first love. Remember therefore from where you have fallen; repent and do the first works, or else I will come to you quickly and remove your lampstand from its place—unless you repent. But this you have, that you hate the deeds of the Nicolaitans, which I also hate.

He who has an ear, let him hear what the Spirit says to the churches. To him who overcomes I will give to eat from the tree of life, which is in the midst of the Paradise of God'" (Revelation 2:1-7, emphasis mine).
God hates spiritual apathy. And let's face it, life is not fun when we are apathetic, either.
So when we find ourselves in that condition, we have to stir ourselves up! We have to lay hands on our own head, speak the Word over ourselves, and do what God prescribes in His Word to regain our spiritual fire!
If you feel dry and dim today, I want to encourage you. I'm sharing seven ways to regain your spiritual fire today, and you can do them. You can do all of them, and they aren't hard. They are easy.
In fact, as you carry out one or all of these keys, you will find yourself slipping into a groove of being YOU as you were meant to be.
These keys describe a LIFESTYLE–and it's a lifestyle of power.
These seven methods and techniques I describe below are things you can incorporate into your daily life, and they will bring instant transformation when you do. The transformation will start in your heart, seep into your body, soul, and spirit, and then will manifest in your outward circumstances as well!
So, without further ado …
Here are seven ways to regain your spiritual fire:
(And I am sharing these in no particular order, because all of them are important and are equally vital.)
1. Make sure you're seeking God first.
Matthew 6:33 says:
"But seek first the kingdom of God and His righteousness, and all these things shall be added to you."
It is clearly God's will for us to seek Him first. He wants to be the MOST important Person in our lives, not the least–and not even second. He wants our time with Him to be the most important thing we do all day. He wants to be put FIRST, before everything else. And He deserves that!
Years ago, after I made Jesus the Boss and Master of my life, I began to seek Him in the mornings after I had eaten breakfast, showered, etc. But after awhile, as I prayed and asked the Lord to draw me closer to Him, I got convicted about this.
Why did I get convicted?
Because the Lord showed me that, by eating breakfast before seeking Him, my stomach was more important to me than He was. My comfort was more important than He was.
When I got ready for work before I sought Him, He showed me that even looking nice for my office job was more important to me than He was–because I sought that first.
Whatever you do first is most important to you. So you can tell where your priorities are by looking at what you do first.
I got so convicted when the Lord showed me this. I asked Him for help, and I began to seek Him truly first. I would get out of bed, grab my Bible and journal, and sit down for prayer and time in the Word. And you know what? That little change made all the difference.
Holy Spirit is really sensitive about this.
Even today, I can still feel a major difference in my morning time with the Lord if I check my phone and my Facebook before I seek the Lord. It's so easy to get caught in that trap of waking up, catching up on your Facebook notifications, checking emails, responding to messages, and THEN seeking God–after you feel like everything else is out of the way.
But you know what? Even that is NOT seeking God first.
When I do all that before I open my Bible and begin to pray and read, I feel the hurt of Holy Spirit. I know I have grieved Him, and there is FAR less fire in my morning quiet time with Him. (Sometimes, it's just plain dry when I don't put Him first!)
So of course, then I have to repent and ask His forgiveness–and ask Him to help me truly seek Him first the next time.
However, when I get out of bed, go into my woman-cave where I study and pray, and immediately sit down with Father to seek Him (ignoring my phone)? WOW! I can tell a WORLD of difference:
It's like He's sitting beside me in a tangible way.
I can touch Him and feel Him.
I can hear Him clearly.
I get SO much more out of my time in the Word.
Creative ideas come fast and furious.
Holy Spirit sits down upon me in a tangible way, and He feeds my soul.
It really does make an amazing difference when you seek God first.
After all, seeking Him first is just plain obedience. So it makes total sense that He would bless our obedience, and that our disobedience would not be blessed.
I challenge you today to look at your daily routine. What do you put before the Lord?
Anything you put before the Lord is an idol to you. If you wake up and do All The Things, or even Anything, before you seek God, then God is not first and something else IS first–which makes that "something else" an idol. It's clearly not God's will for us to have idols–and He will bless us when we dethrone and cast idols out of our lives.
If you want to regain your spiritual fire, key #1 is to make sure you're seeking God first. Every day. Every week. Every month.
Related: 21 Days to the Manifest Presence of God: 15 Minutes
2. Ask the Lord to help you live on fire for Him.
John 15:5 says:
"I am the vine, you are the branches. He who abides in Me, and I in him, bears much fruit; for without Me you can do nothing."
We can't do anything without Jesus. Nothing, nada, zilch. That includes living on fire for God! Therefore, if you want to regain your spiritual fire, you need to ask the Lord to help you.
This step can be really simple.
It's as easy as a heartfelt prayer–one little sentence breathed out to the Lord:
"Father God, Lord Jesus, please help me to burn for You. Set me on fire for You."
Remember that you didn't even give your life to Jesus by yourself. In John 6:44, Jesus said:
"No one can come to Me unless the Father who sent Me draws him; and I will raise him up at the last day."
Everything we do–absolutely everything–requires God's help. We cannot do anything at all without Him. So why would we try to drum up a fiery lifestyle without Him? We can't, so don't even try it by yourself.
Of course you should do whatever you can, but ask the Lord to help you first and foremost–and ask Him daily.
Again, that prayer is: "Father God, Lord Jesus, please help me to burn for You. Set me on fire for You." It's one simple prayer that will change your life, for He will answer it every time.
3. Make sure you attend a local, fiery church every week.
Fire is contagious. If you're not worshipping and seeking God with fiery people, you are not likely to be on fire yourself. To remedy this, BE SURE you're attending a local, fiery church every week. In person! And if you don't have a local church like that in your area, either move or pray about starting one. Yes, it's that important!
When I worship in person with other believers at my local church, my spiritual fires get stoked. I come out burning for God in a whole new way!
On the other hand, if I'm traveling or sick or unable to attend church for a few weeks for any reason (as happened this year with the nasty virus quarantines and regulations), I can tell a huge difference:
My attitude toward God becomes more callous.
My attitude toward church becomes more "take-it-or-leave-it."
I start feeling like "this is fine" just to have 1×1 time with the Lord, without church attendance–even though I know that is false, Biblically.
My spiritual fires dim and sputter.
But then, that first Sunday back in church with other believers in person, oh what a difference!
When I'm actually, physically present in church:
Tears run down my face;
I'm enveloped in glory;
I get all fired up;
I get re-sensitized to the Lord;
and I remember why church attendance is so necessary.
Beloved, 2020 has been a terrible year for church attendance for many people because churches have been closed per government regulation.
But even after churches have reopened, many people aren't back in church.
Beloved, if this is you, please: go back to church. Get your family back in church. There is NO substitute for the in-person fire, worship, Word, community, and discipleship that you get in person, in church. GO TO CHURCH!
#LoveYaMeanIt 🙂
4. Fast. Even one meal a week helps.
The lifestyle of fire is a lifestyle of fasting. There's no getting around it. But a lifestyle of fasting doesn't mean you have to flagellate yourself, live on bread and water, and climb a mountain on your knees. Fasting is not the same as punishment, and it's not the same as penance either.
Fasting is a voluntary offering to the Lord.
True fasting is when you get your heart right before the Lord by offering Him something meaningful to you, in order to spend more time with Him. True fasting is when you hand Him your breakfast, lunch, dinner, or anything else important to you, and you say:
"Abba Father, will You take this while I just sit here and stare at You awhile? And can we talk, and laugh, and dance together? I want YOU more than I want that thing."
God honors that true fast every time. He will ALWAYS meet you at the point of true sacrifice. As Pastor Bill Johnson says, "Fire always falls on sacrifice."
So do you want to regain your spiritual fire?
If so, try fasting one meal. Try giving up desserts, coffee, Facebook, television, or even fun activities with your friends for a period of time as a sacrificial offering to the Lord. Get alone with the Lord instead of engaging in those things, even if it's only for the duration of one meal!
When you do, God will always answer you.
Related: Read Field Notes from My Fasting Failures and other my other how-to posts about fasting here.
5. Surround yourself with worship and worship music.
Music is one of the only things you can truly do while doing other things. You can listen to music and clean the house, work, sew, cook, or whatever else. I used to listen to music while performing complex financial analyses in my corporate job–and it was fine!
Why? Because listening to music engages a different part of your brain than most other activities.
This means that you can WORSHIP, turning your heart toward the Lord in thanksgiving, praise, and adoration, at the same time as you are doing other things. You may not be able to focus or concentrate if you listen to jazz, rock, or pop music; I don't know. But if you haven't tried it yet, odds are good that you WILL be able to listen to worship music while you do other things.
So, I encourage you to surround yourself with worship and worship music.
Every moment is a moment in which you can worship the Lord, so why would you ever want to miss out? If you want to regain your spiritual fire, worshipping the Lord is a key part of that, so don't miss any opportunity!
For example:
Are you exercising? Put on some upbeat worship music.
Are you cooking? Worship music.
Driving in your car? Play that worship playlist!
Keep a CD player spinning your favorite worship CD in your house at all times, even if you are in a different room and can't hear it.
All music releases a sound and an anointing. Unholy music will release an unholy sound and an unholy anointing in your house; avoid that at all costs. But worship music, whether you can hear it or not (in other words, even if you're in a different room) releases a HOLY sound and a HOLY anointing in your house–a sound and anointing that soak into the very walls.
Playing constant worship music in your house, and listening to worship music as much as you can during the day, will really stoke your spiritual fires. If you want to regain your spiritual fire, become a worshipper:
Drive down the road worshipping.
Make your house a house of worship.
Release the sound of worship in your office.
After a day or two of constant, purposeful worshipping, you will look back at yourself and realize that your spiritual fire has truly been re-lit.
6. Pray constantly, whether in the Spirit or in your native language.
You can pray, either in the Spirit or in your native language, while you do pretty much everything. ("Praying in the Spirit" means praying using your prayer language.)
Related: Read here about what the gift of speaking in tongues is and how you can have it as soon as you ask. By the way, if you have asked the Lord for it, He has given it to you–and all you have to do is open your mouth and speak it out.
When you speak in tongues, you speak the mysteries of God back to Him. This is a powerful way to pray, and it gets results PLUS fires you up at the same time!
Also, by engaging in constant prayer, whether in tongues or in English (or whatever your native language is), you turn your heart, mind, spirit, thoughts, and even body toward the Lord–coming into tune with Him like a satellite dish tuning into a satellite signal.
I recommend that you speak in tongues while you do everything. Again, speaking in tongues engages a different part of your brain than you engage when you do other work.
For example, I am speaking in tongues while I write this blog post–but I'm still able to write just fine. I love to pray in the Spirit while I sew and quilt. I pray in English while I walk or exercise.
Everything you do can be accompanied by prayer!
If you try it, you will see. Speak in tongues or pray in your native language while you do everything during the day–and it will stoke your spiritual fires.
Related: 21 Days to the Manifest Presence of God: Everyday Conversation
7. Feed yourself with the Word.
Jesus is the Word Made Flesh, and He is the Bread of Life. The words that He speaks are spirit, and they are life. This is what He told us in John 6:63:
"It is the Spirit who gives life; the flesh profits nothing. The words that I speak to you are spirit, and they are life."
Also, one of the hardest lessons I ever had to learn–a lesson for which I had to go through years of absolute H-E-double-hockey-sticks–was that man does not live by bread alone, but by every WORD that proceeds from the mouth of God.
As it says in Deuteronomy 8:3:
"So He humbled you, allowed you to hunger, and fed you with manna which you did not know nor did your fathers know, that He might make you know that man shall not live by bread alone; but man lives by every word that proceeds from the mouth of the Lord."
My friend, do yourself a favor. Spare yourself a load of heartache and grief, and learn this the easy way:
The Word of God will feed you. The Word of God is literally Jesus in written form, just as Jesus is God's Word in bodily form. As such, the Word of God is your only Bread, your only Truth, and your only Life.
This cannot be overstated. God's Word is LIFE. And if you want to live on fire for God–whether you want to regain your spiritual fire or get fired up for the first time–you have to feed yourself on God's Word.
Daily.
No exceptions.
No excuses.
Daily.
So many of you are suffering, and are starved spiritually, because you are not feeding yourself on God's Word.
This is probably the most important part of your spiritual walk; and, for some of you, you're skipping it!
Beloved, if you're skipping God's Word–or even skimping on it or eating it only sparingly–you will be spiritually starved and dead. You cannot be filled with life without the Words that Jesus speaks, for THEY are Spirit, and they are life!
My dearest, darling friend, PLEASE. Please listen:
If you want to know God, you must dine on His Word. Every day:
You must eat God's Word for breakfast, lunch, and dinner.
You must yearn for God's Word and crave it.
You must satiate your spirit, soul, and body with God's Word every day!
It's not about volume of how much you read, either; it's about quality. It's about having Holy Spirit illumine His Words into your heart.
It's better to get one chapter deeply into your heart, bringing with it revelation and change by God's Holy Spirit, than it is to skim five chapters and get nothing from it.
And if you're already in the habit of feeding yourself with God's Word daily, I encourage you to amp it up today:
Ask the Lord to help you love His Word more. Ask Him to help you cherish it.
Re-examine your Bible reading strategy. Are you making progress and gaining revelation? Are you getting to know the Lord better? Or do you need to re-group and re-organize your approach?
Try new techniques to get the Word in your heart in new ways, such as:

Making notes in a journal, if you haven't already;
Copying the Scriptures verbatim into a journal (by hand);
Bible memorization (set a lofty goal and work on it all year!);
Bible diagramming;
Word studies; or even
Topical studies, where you read through a book of the Bible and highlight/mark/study all the verses about one particular topic.
Want to meditate on the DNA of God? Learn how in my free podcast!
Just click the player below. It's episode 22 of my podcast, Take Your Territory with Jamie Rohrbaugh, also available on iTunes and Spotify!

My friend, no matter where you are today in your relationship with God and His Word, you can get more fired up.
So I encourage you to ask the Lord to show you how to do just that. 🙂
There you have it: seven ways to regain your spiritual fire.
All of them are important. All of them are vital parts of the fired-up Christian life. All of them are major keys to a dynamic, powerful, victorious, miracle-filled relationship with Jesus.
Which of these seven keys is the Lord speaking to you about today? Leave a comment below!