My Testimony of a Paid-For House
Beloved, do you know that God wants YOU to have a paid-for house? It's true. You can read more about how and why here, in this prayer for a paid-for house. But today, I want to share with you a testimony.
My testimony.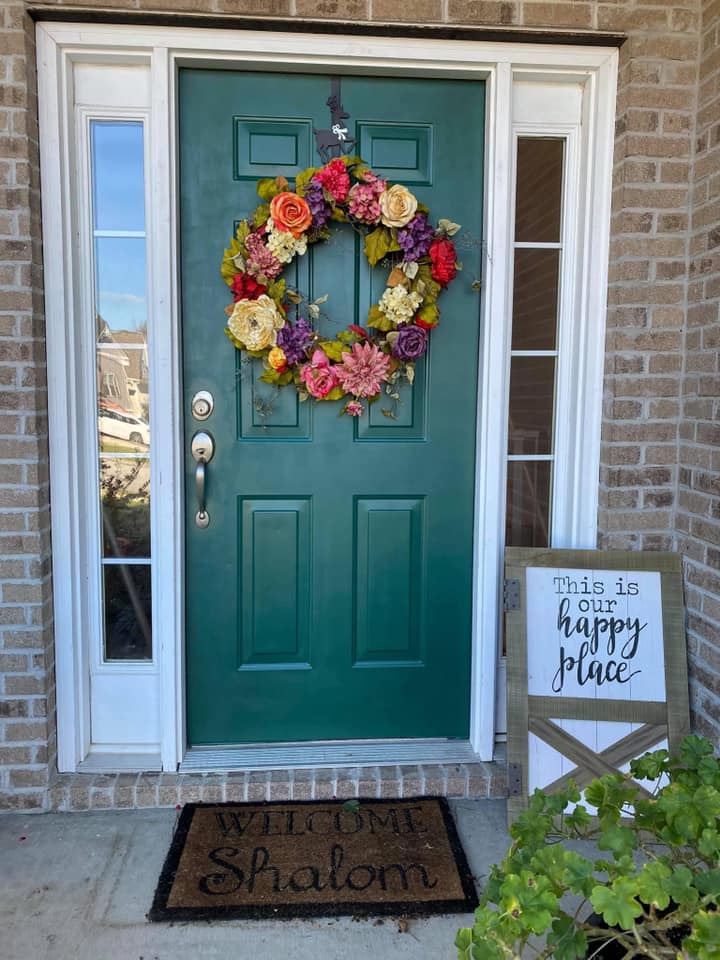 See this door in the photo above?
This door.
The house behind this door.
It's ours.
All of it.
Which really means it's the Lord's.
And it's paid for, in full, as of today.
When we bought this house many years ago, we only had a little revelation about debt.
We wanted to pay off all consumer debt like credit cards and student loans and car notes, but we didn't have a revelation about ALL debt going against God's will for us.
So we bought the house. Zero down, actually, with a nice fat mortgage.
With the help of the Lord, over several years, we paid off all our other debt and began to get more revelation from the Word of God as we studied His financial principles. And what we found in there surprised us: It is God's will for us to keep out of debt COMPLETELY.
Including the house.
What a strange idea.
So we prayed.
My husband, Bruce, had an easier time understanding this than I did at first. I struggled with it. I thought it was too big a project to tackle. Funny thing: When we started paying off our smaller consumer debts, I was the one who wanted to do that most. But when it came to the house, my husband was the one who wanted to pay the house off and I didn't really want to. I thought we'd never get there.
But the Lord kept working. He gave us more understanding and conviction. I finally got on board several years ago. And although I have wanted to sell this house and move to a bigger, nicer, GLORY-BE-TO-GOD TIMBER FRAME HOME, or any home that would be a little bigger and meet the needs of our growing family, we couldn't.
Our conscience wouldn't let us.
Because Romans 13:8 says to keep out of debt and owe no man anything, except to love others. The Bible says the borrower is slave to the lender. And God's Word teaches us that it is not His will for us to sign on a dotted line for a bank to be our Provider. HE ALONE is our Provider and our Source.
And we wanted to honor Him.
Sometimes we "wanted" to honor Him, that is; just being honest. Other times, we **chose** to honor Him—even though **I** was kicking and screaming.
But, the Lord is gracious. He is merciful.
Some months, we made progress. Other months, not so much. But in His grace and mercy, the Lord helped us get back on track each time we fell off. And we knew the payoff would be worth it—literally.
So we prayed. We fasted. We sowed.
We tithed and paid advance tithe on money we were praying for, even when we had no idea where it would come from. We delved deeply into Proverbs and other books of the Bible so we could learn God's ways about how to handle money and how to bring in income.
My husband started working two jobs and has kept working two jobs for years, often staying up until midnight or later working at his second job. I worked two jobs for years. And we got serious about paying off this house.
We began to throw every penny we could find at the mortgage.
$100, $200, $1,000. Raises and bonuses from my husband's job. We learned to travel with points so we wouldn't have to spend much money on vacations. We cut back on expenses except for the things that mattered most to us. We decided to love our 2008 and 2011-model cars, instead of replacing them with newer models. We said "later" to the burning desire to buy a travel trailer, which my son and I really want.
And we prayed. And tithed, first and foremost. And sowed seed offerings. And sowed some more. And worked.
And worked.
And worked some more.
And believed God.
And the balance went down and down. Sometimes crawling down, sometimes inching down, sometimes bounding down.
And then came the day when it was time to call the bank for the payoff amount.
That day was yesterday. The amount was going to be tight, but we could swing it.
That day led to this day: This day, when we gathered around the phone with our son and explained to him that we have been paying someone else money to live in our house, but Jesus sent us the money so that now we could stop paying them and own the house completely, and it will be just Jesus' house. And so, with little ears listening to the phone call that would change his life forever, we made the call.
Made the payment.
Paid off the house.
Completely.
Because GOD IS FAITHFUL.
If you've read this story this far, let our story be a witness to you.
What God has done for us, He will do for you if you follow the same path: Seek Him for His will. Pray and believe and sow and tithe like it depends only on God, and work like it depends on you.
The testimony of Jesus is the Spirit of prophecy. What God does for one, He will do for another. What God has done for me, He will do for you too.
Believe Him today!
"For I determined not to know anything among you except Jesus Christ and Him crucified" (1 Corinthians 2:2, NKJV).
This is my testimony. I pray it encourages you today.
Love,
Jamie