Prayer for a Pillar of Fire by Night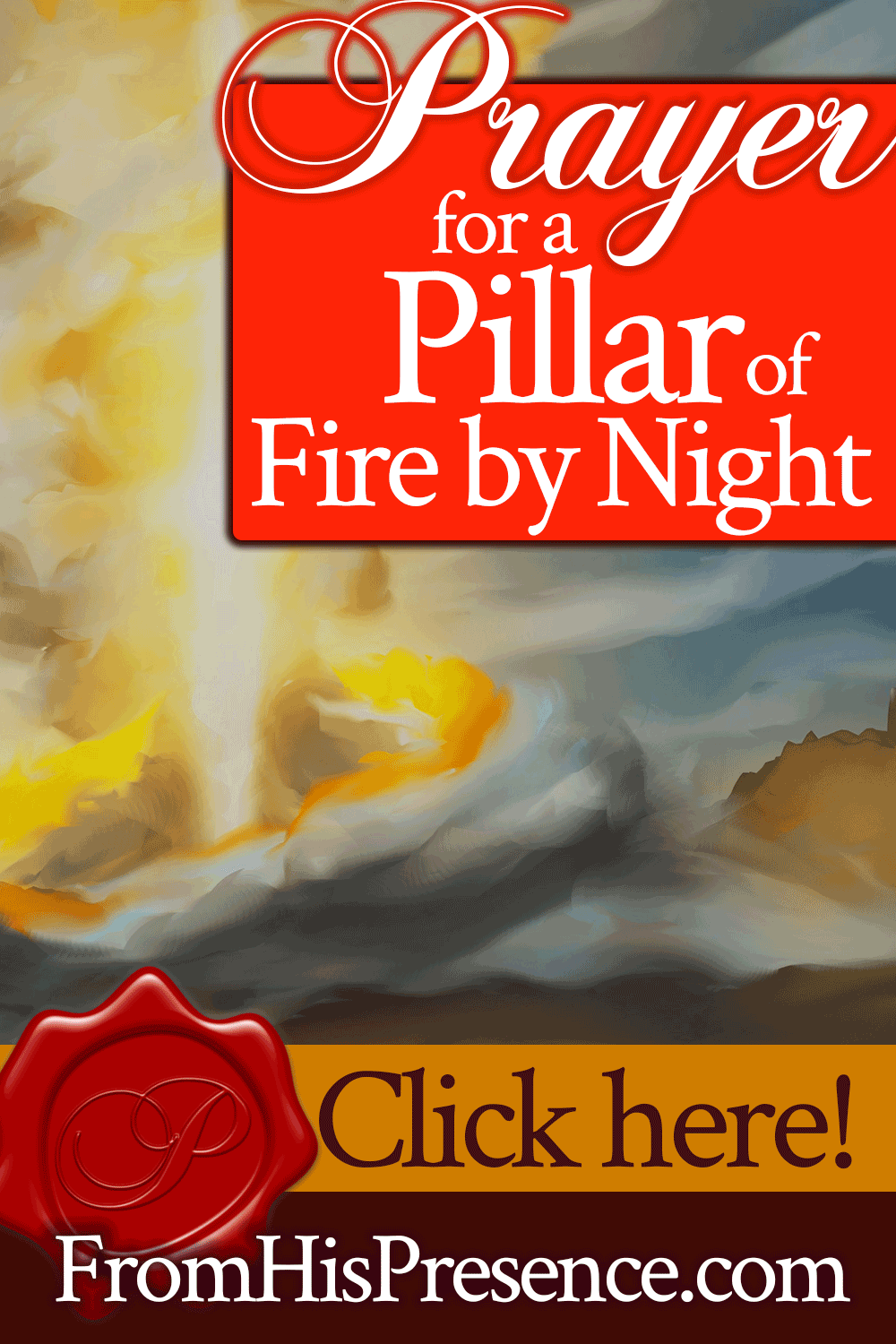 Does your life feel dark and full of despair right now? If so, Jesus Christ is with you right now to help you. Pray this sample prayer for a pillar of fire by night, and see what He does to comfort you!
When things are dark, Jesus is a fountain of life and hope. He is truly a strong pillar of fire who will fill you with light, even in the darkest night of your soul.
The concept of a "pillar of fire by night" comes from the book of Exodus in the Bible.
When God delivered the children of Israel–the Jewish nation–from hundreds of years of Egyptian slavery, He didn't send them out into the wilderness to abandon them. No; He went with them.
Yes; the actual pre-incarnate Christ–that's Jesus, before He came to earth in the womb of the virgin Mary–went with the Israelites.
He hid Himself inside a pillar (a whirlwind, like a tornado) of cloud by day, and He manifested Himself inside a pillar of fire by night.
Note: I have a whole video class that teaches extensively on this literal whirlwind and chariot of God. It's called Understanding the Prophetic Whirlwind. (Get it here if you haven't already; it's one of the most powerful teachings the Lord has ever taught me.)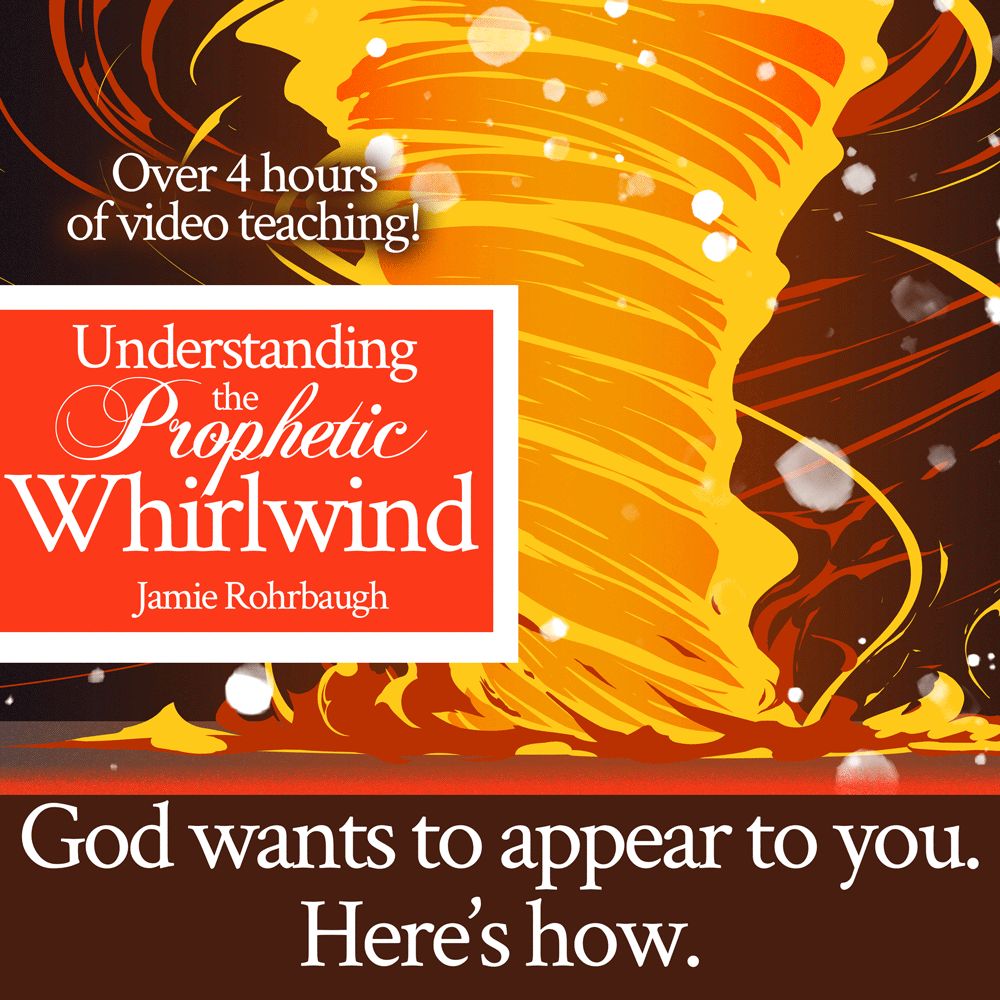 During the day, Jesus used the pillar of cloud to shade and shelter His people from the desert sun and heat. But at night, He revealed His fire to keep them warm and well-lit. He also walked before them at night when He wanted their camp to move. You can be assured that everyone knew where to go when they simply followed the fire!
(Read more about how He led the Israelites from within His pillar here, in the Prayer for a Pillar of Cloud by Day.)
Symbolically, I like to apply this picture of Jesus to modern-day life as well.
Jesus can and does still appear to people in literal, visible whirlwinds. (See my 4-hour video class, Understanding the Prophetic Whirlwind, here for more about that!) But when life is hard, as it often is, I like to apply the concept of Jesus and the pillar of fire by night like this as well:
I confess to Jesus that I am struggling with _____, and that things feel dark all around me.
I ask Him to manifest Himself to me and comfort me.
I ask Him to show Himself to me as the pillar of fire by night, bringing life back to my weary and withered soul–and helping me burn for Him again.
I also ask Him to illumine my darkness; to fill me with the light of His presence and chase the darkness away as I focus on Him.
Everyone goes through hard times, but Jesus Christ is the answer to every difficulty we endure.
I'm not saying that from an ivory tower of zero difficulty, either. My life is really hard most of the time, but I desire only to be counted faithful. And being counted faithful requires that we cling to Jesus even when we don't see light around us.
No matter what our outward circumstances may be, the mere fact that God exists–that He is "I AM"–is all the answer we need.
Friend, you can trust God. You can trust Him in all His triune forms: God the Father, God the Son (Jesus Christ), and God the Holy Spirit. He will never leave you nor forsake you. And even in the darkest night of your soul, He can and will comfort you and illumine your darkness.
Happy Notes
"I recommend this book. Couldn't stop reading it."
That's what Beth from the UK said about our prophetic digest ebook for 2023. This ebook is called Pray, Prophesy, Pioneer 2023: Uncharted Territory, and it's instantly downloadable.
Pray, Prophesy, Pioneer 2023 contains all the prophetic words the Lord gave Jamie for 2023, as well as extra freedom and deliverance resources and prayers not released anywhere else.
Are you ready to ask Jesus to manifest Himself to you, and to be your pillar of fire by night? If so, pray this:
"Dear Heavenly Father, I come to You in Jesus' name.
Lord God, You are everything to me. Thank You for being the Lord of Heaven and earth, and yet for bending so low to incline Your ear to hear my prayer. Thank You for caring about me, even though Your ways are so much higher than my ways, and Your thoughts than my thoughts. I praise You today, Father.
Abba Father, I ask in Jesus' name today that You would show Yourself to me as my pillar of fire by night.
Things seem so dark all around me right now, Lord. I do not have the strength or power to go on by myself. I can't see the right path on my own, and I have no power to carry it out.
But You, O Lord, are a shield for me. You are the glory and the lifter of my head.
I cry to You right now with my voice, O Lord. In the morning, I look up to You. In the night, I take refuge in You. My tears may stain my pillow, but You are my refuge and my portion forever. You and You alone sustain my life; whom have I in Heaven but You? No one; there is none like You.
Abba Father, I ask today in Jesus' name that You would illuminate and warm this dark, cold night of my soul.
I can't see any light except You, but You are all I need. So please, make darkness into light before You. Make all darkness flee in the light of Your presence. In Your light, let me see light, for with You are the fountains of life.
Abba Father, I cling to You. I cannot see what or how or why to do anything, and all the efforts of my hands, though blessed, are not enough to sustain me. I cannot sustain myself nor keep myself alive.
But You hear me out of Your holy hill, Father.
I lay down and sleep, and You awake me with Your comforts. In the multitude of Your comforts, You cheer and delight my soul. You preserve me and keep me alive, and You are my Portion and my ever-present Help in trouble.
So today, Father, I ask in Jesus' name that You, Jesus, and Holy Spirit would manifest Yourselves to me.
Be a rock to save me. Show Yourself to me as my Light and my Salvation. Work on my behalf and fight for me while I hold my peace and cling to You. Show me the light of Your presence so brightly that all my worries, cares, and anxieties flee away.
Father, my weeping has endured for a night. It has been a long night, but You have been faithful. But I ask today, in Jesus' name, that my joy would come in the morning–and that You would be the Morning to me.
Give me my joy back, Lord. Restore to me the joy of my salvation.
Create in me a clean heart, and renew a steadfast spirit in me. Cast me not away from Your presence; take not Your Holy Spirit from me. Uphold me with Your generous Spirit, and manifest Yourself–with all of Your help, glory, LOVE, comfort, and sweet holy presence–to me.
Thank You, Abba. Thank You, Holy Spirit. And I thank You, precious Lord Jesus, for manifesting Yourself to me. Thank You for being my pillar of fire by night, and for bringing me the joy that comes in the morning.
In Jesus' name I pray, amen and amen."
Beloved, did you pray this prayer for the fire of God, even in the dark night of the soul?
Do you believe Him to be your pillar of fire by night right now? If so, leave a comment below and confess your faith in Him. And remember, let God be true and every man a liar! He will never leave you nor forsake you, and He will never let you down.