Prayer for Women Who Struggle With Sex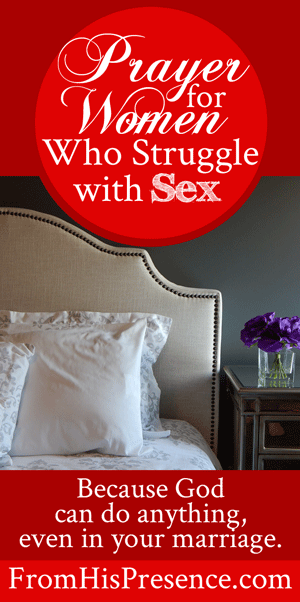 I received an email a few days ago from a precious woman who was struggling in her marriage. She said she had a wonderful marriage, but she and her husband had one point of conflict: sex.
This precious sister was desperate to find healing for her relationship with her husband in this area, and she asked for a Biblical prayer for women who struggle with sex. I felt strongly led to interrupt the Dimensions of Destiny series and publish this today, because:
This sister is not alone in her struggle.
I've heard a number of women tell me the same thing: women who are doing what they can, but it's not enough, and they and/or their husbands are desperate to find healing. And every woman who has talked to me personally has, without exception, suffered past abuse which has hindered her ability to function freely in marital intimacy.
Precious sister, if you are a woman who struggles with sex because of past abuse, my heart goes out to you. I am so sorry for what you've endured.
First, let me say that if you endured abuse in the past, please don't be afraid to get the help you need. Ministries like Bethel Sozo offer very SAFE, honoring ways to find inner healing and deliverance from past abuses through prayer ministry.
So if you need help, please make an appointment with a counselor or prayer ministry (however you feel led). Jesus died so you could be free–completely healed, inside and out. It is not Papa's will for you to hurt anymore, but you do need to take the necessary steps to find healing, as the Lord leads you.
If you are already getting the help you need, or are in the process of doing so, I praise God for that. Please keep doing what you need to do to follow our Abba Father's plan for your freedom. But if you are one of these precious women who struggle with sex because of past abuse, but you haven't begun seeking healing yet, I encourage you to begin pursue healing in that area.
Related: To Hell With Redemptive Suffering
And while you heal, sister, it's absolutely right for you to present your hurts, worries, and concerns to God about your marriage bed.
Our Daddy God is a good, good Father who LOVES you. His love is pure and perfect. His love is protective and sheltering. He will never leave you nor forsake you; He will always be with you, right by your side. And He cares deeply about what you care about.
That means He cares about your marriage. He invented sex. He created and divinely ordained it to be enjoyed within the safety and covenant of marriage between one man and one woman. And precious wife, Father wants you and your husband to have a beautiful, fulfilling love life together.
Related: Go Ahead … Tear Down the Walls about Money and Sex
He cares. He sees you, and He cares. It's important to Him. YOU are important to Him.
And Father God wants to hear all about everything in your heart–including your marriage.
I found some Scriptural promises you can pray back to God, and the Lord gave me the prayer below for you. I encourage you to look up the Scripture references and meditate on them until you get them in your spirit. They will build your faith.
Hey, the book that taught me to pray confidently and without ceasing for God's intervention in difficult situations–from Jesus' example, no less–is Unrelenting Prayer by Bob Sorge. This book is awesome. Check it out and grab a copy (paperback or Kindle) on Amazon here (affiliate link).
Are you ready to pray? Lift this prayer up to Father:
Dear Heavenly Father,

I come before You in Jesus' name. Father God, I thank You in advance for listening to my prayer. Thank You for caring about everything that concerns me. Thank You for my husband and for my marriage, and thank You for caring about my physical relationship with my husband.

Father God, I need help. First, I need healing from past abuse I've endured. Father, I ask in Jesus' name that You would lead me to the right places and people to get the help I need. And Father, please help me to be willing to take the steps I need to take to get all the old wounds healed. Show me what to do; instruct me and teach me in the way I should go, and guide me with Your eye upon me (Psalm 32:8).

Father, I plead the blood of Jesus over my love life with my husband. Your Word says that You will not withhold any good thing from those who walk uprightly (Psalm 84:11). Father, I meet Your criteria because I have given my life to Jesus; my life is hidden with Christ in You (Colossians 3:3), and I am Your righteousness in Christ according to Your Word (2 Corinthians 5:21).

So Father, because of who I am in Jesus–who You have made me to be in Jesus–I lift Your promise back up to You. Father, satisfaction and intimacy in marriage is a good thing. You ordained it. You created sex for my husband and I to enjoy (Genesis 2:24). So Father, I ask the following things in Jesus' name:

Please heal my heart in every way so that I can fully enjoy sex with my husband. Jesus was beaten so that I could be healed (Isaiah 53:5), so I plead the blood and stripes of Jesus and I receive Your healing in my inmost body, soul, and spirit right now in Jesus' name.
Father, please change my desires and those of my husband so that we can both agree on how often to be intimate. Help us to be in agreement on this subject, and on the timing of our intimacy.
Please help me to please my husband in every godly way, and I pray that my husband would also please me in every godly way.
Father, I pray that You would allow the fullness of the love between my husband and I to be demonstrated in our marriage bed. Let neither of us be selfish, but help us to selflessly give ourselves to one another.
And Father, if there is anything selfish in our physical, marital relationship, then please scoop it out, change our hearts, purge us completely of selfishness, and give us both a self-sacrificing love for one another.
Father, I ask also that You would help me feel safe with my husband, Lord. Show him what to do to put me at ease. Show me what to do to put him at ease. Overshadow our intimacy with peace and safety that only You can provide.
Open the doors of communication between my husband and I so that we can communicate easily and freely about our love life, with love and gentleness and without misunderstanding each other or twisting one another's words.
And finally, Father, I ask in Jesus' name that You would grow the love between my husband and I so much that our love for one another would overrule and outlast any difficulty that may try to hinder us.

Heavenly Father, please purify my husband and I. Help us to fix our eyes only on You and on each other. Keep us from temptation and sin. Protect our eyes and our ears. Let no unholy thing enter our hearts, our eyes, our ears, or our hearts. Cleanse us from any ungodly influence in our marriage, and help us to walk in purity and holiness before You in every way.

Father God, Your Word says that You will perfect all things that concern me (Psalm 138:8). So Father, I'm asking not only for help, but for PERFECTION in this area.

Abba Father, in Jesus' name, I ask for a total revolution, a total healing of my physical relationship with my husband. I ask that You would remake us both to Your manufacturer's specifications:

Rebuild our marriage, our desires, our thoughts, our passions for one another.
Rebuild and reform our physical needs and drives.
Rebuild everything about our love life, Father, and make it pleasing to You.

Father God, I ask in Jesus' name that You would restore the joy of our physical relationship–the deep joy, satisfaction, and fulfillment that You originally designed husbands and wives to have. Help us to love and serve one another the way You desire us to, and I pray for such radical transformation that both my husband and I are shocked and awed by Your goodness and Your grace.

Thank You, Father. Thank You for hearing my prayer. Thank You for loving me and my husband, and thank You for taking care of us in all things. I receive Your PERFECTED work in my physical relationship with my husband, and I thank You and praise You for it.

In Jesus' name, amen.
Beloved sister, if you are struggling with intimate relations with your husband, Papa cares.
He will help you. Please take the steps He leads you to take to find inner healing from any past abuse, but while you are doing so, pray His Word back to Him. Abba Father is a good, perfect Papa who gives good and perfect gifts. He is willing and eager to move powerfully and quickly on your behalf.