Prayer for Your Spiritual Children to Come Forth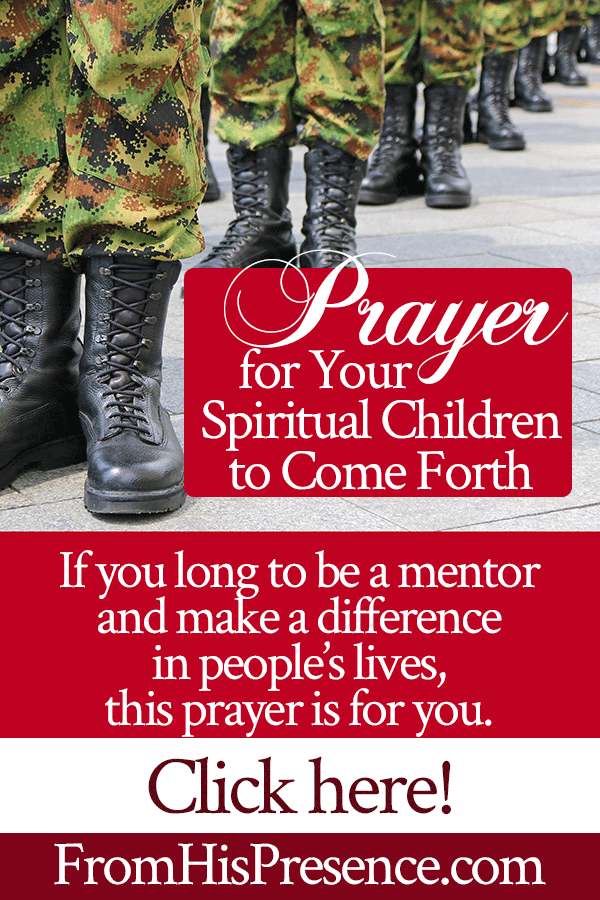 Beloved, do you desire to have spiritual children? Do you want to be a mentor to other people, raising them up in their most holy faith in Jesus?
If so, I have good news for you: no matter where you are in your spiritual walk with the Lord, YOU can have spiritual children and become a mentor to others–and YOU can be used effectively in God's Kingdom.
I have felt this word urgently on my heart for some time, so today I wanted to share with you the Scriptures behind it–and a short sample prayer for you to ask the Lord to send you YOUR spiritual children. 🙂
Related: Codependence Stinks!
In Isaiah 60:4-9, we see some incredible promises tied to the coming together of your spiritual children.
This passage says:
"Lift up your eyes and look about you: all assemble and come to you; your sons come from afar, and your daughters are carried on the hip.

Then you will look and be radiant, your heart will throb and swell with joy; the wealth on the seas will be brought to you, to you the riches of the nations will come. Herds of camels will cover your land, young camels of Midian and Ephah.

And all from Sheba will come, bearing gold and incense and proclaiming the praise of the Lord. All Kedar's flocks will be gathered to you, the rams of Nebaioth will serve you; they will be accepted as offerings on my altar, and I will adorn my glorious temple.

Who are these that fly along like clouds, like doves to their nests? Surely the islands look to me; in the lead are the ships of Tarshish, bringing your children from afar, with their silver and gold, to the honor of the Lord your God, the Holy One of Israel, for he has endowed you with splendor" (Isaiah 60:4-9).
Did you notice the promises as you read that passage? If not, read it again! Because in this passage the Lord tells us that:
You become radiant when your spiritual children come to you. (I imagine that this is because you're finally walking in your purpose and destiny–the purpose and destiny for which you have longed for many years!)
Your heart gets filled with joy.
Kingdom wealth and provision come to you.
A community of worship and prayer begins to manifest when your spiritual children join with you.
People who help you with your Kingdom purpose show up, and you all begin serving the Lord together.
The Lord uses you and your spiritual children to build His Church.
He gets honor during this process; and
He endows you with splendor!
Wow! That's a wild batch of promises, isn't it? And to me, the strangest part is that all eight of these promises are tied to the strangest thing: raising up spiritual children to be disciples of the Lord!
Why do I say this passage is about spiritual children?
Well, primarily because:
The children are coming to you "from afar." (The phrase "from afar" is repeated twice in the passage above). That means they weren't birthed naturally! (If you're talking about literal children, this could reference adoption, too.)
It also says that other people are bringing them to you–which really doesn't fit with a discussion about conceiving natural children.
It says you can look around you and see other people bringing your children to you. It doesn't say you can look inside your (or your wife's) uterus to see those children.
So the passage really doesn't appear to be talking about the conception of natural children. It appears to be talking about people who already exist, who are coming to you to be discipled.
Isn't that wild?
I love this promise because I love making disciples.
Related: 4 Ways to Know Who Your Prophets Are
Every person and their ministry giftings fit in different places in the Body of Christ. Some people are called to evangelism–to the calling of helping people accept Jesus as their Lord for the first time. But, that's not my primary calling.
I do love leading people to the Lord (and we all are responsible for telling lost people about Jesus using our own gifts and in our own way), but primarily I am called to the "after."
Praying the prayer of salvation is the first step, but there always has to be an "after."
This is why the most effective evangelists help the people they win to Christ get plugged into a local church. "Praying the prayer" is only the beginning. After you pray the prayer to receive Jesus as your Lord and Savior, you still have a whole lifetime of walking with Him, getting to know Him, progressively becoming like Him, and growing in spiritual maturity.
That process of "walking with Him, getting to know Him, progressively becoming like Him, and growing in spiritual maturity" is called discipleship. And discipleship works best, in my opinion, when you join with a small group of like-minded believers, together with a mentor, and you all proactively go after the Lord together.
Related: How to Find a Spiritual Father series
You don't HAVE to have a mentor in order to grow.
First John 2:27 says:
"As for you, the anointing you received from Him remains in you, and you do not need anyone to teach you. But as His anointing teaches you about all things and as that anointing is real, not counterfeit—just as it has taught you, remain in Him."
God's Holy Spirit can and will teach you everything you need to know, all by yourself, when you partner with Him to seek Him and study His Word prayerfully and intentionally. That's called working with the anointing.
BUT, Jesus also told us to "… go and make disciples of all nations, baptizing them in the name of the Father and of the Son and of the Holy Spirit, and teaching them to obey everything I have commanded you. And surely I am with you always, to the very end of the age" (Matthew 28:19-20).
We also have a strong example of spiritual fatherhood in the apostle Paul, who wrote:
"I am writing this not to shame you but to warn you as my dear children. Even if you had ten thousand guardians in Christ, you do not have many fathers, for in Christ Jesus I became your father through the gospel.

Therefore I urge you to imitate me. For this reason I have sent to you Timothy, my son whom I love, who is faithful in the Lord. He will remind you of my way of life in Christ Jesus, which agrees with what I teach everywhere in every church" (1 Corinthians 4:14-17).
The Bible also contains lots of other examples of people making disciples.
Think of Jesus, who lived and walked with His disciples during His entire ministry here on earth. Think of how much He must have poured into them! You could also think of Moses and Joshua; Elijah and Elisha; or even Elisha and the schools of the prophets.
God's ideal model of people making disciples for Jesus–raising up sons and daughters in the Lord, whether they are biological sons and daughters or spiritual sons and daughters–runs throughout the Scriptures. Having a mentor and being part of a discipleship group isn't required, since Holy Spirit is ready and willing to do all the teaching Himself.
However, having a mentor (sometimes also called a "spiritual father" or "spiritual mother") sure helps! It speeds up your learning process, provides you with the community and fellowship of like-minded believers, and enables you to learn to live and minister as a TEAM–something that's very important to spiritual growth and to proper function within the Body of Christ.
This is why it's so important for your spiritual children to come forth–and EVERYONE can have spiritual children.
Example 1:
As soon as you accept Jesus as your Lord and Savior, even if you know absolutely NOTHING more about the Lord than that, you can tell someone else about what Jesus has done for you, encouraging them to give their lives to Jesus too! For you at that stage, the people you are witnessing to about Jesus are your ministry, and if they give their lives to Him then they become your spiritual children!
Example 2:
If you've grown in the Lord after salvation, and have learned some spiritual meat from God's Word (the Bible), then your mentoring process and your spiritual children will look different than Example 1. You will still tell people about what Jesus has done for you, and you will still lead people to receive Him as Savior.
However, since you will have learned more about the Lord as you mature spiritually, you will have even more to offer your spiritual children by this point:
You'll be able to help them know God better.
You'll be able to help them apply God's Word practically.
And, you'll be able to teach them how to go deeper into the things of God–and how to become ministers themselves.
So everyone can reach someone. Everyone can have spiritual children.
It's just that the dynamic of your relationships with your spiritual children, and how much you are able to help them grow, will depend on where you are personally in your own walk with Christ.
Does that make sense?
I wanted to point this out because I don't want a single person to start reading this article and think, "Oh, I'm too immature. I can't have spiritual children." YES, you can. No matter where you are in your life, you can at least start at the basic level of discipleship (by sharing your testimony and winning others to Christ) and grow from there.
So are you ready? Do you want to ask the Lord today to bring you your spiritual children?
If so, pray this simple prayer with me:
"Father God, I come to You in Jesus' name.
Father, thank You for saving me. Thank You for helping me grow and drawing me near to Yourself. I love You so much. You have transformed my life, and I am grateful.
Abba Father, I want to be a blessing to You and Your heart.
I long to do something for You, both to obey You and to tell You "thank You" for how much You have done for me.
Father, I read in Your Word that I am to go into all the world and make disciples of every nation, baptizing them in Your name and in the name of Jesus and of Your Holy Spirit, and teaching them to observe all things Jesus commanded us. Father, I want to do that. And so I'm asking You today to help me.
Father God, I believe I can reach people today right here in the world beneath my own two feet. I do want to reach all nations, but every single day I want to reach at least the people around me. Father, I desire also to reach people deeply–to have spiritual children and raise them up in You, in the nurture and admonition of the Lord.
So Father, please help me. In Jesus' name, I ask You today:
Please send me the spiritual children that You have for me. Bring me into contact with the people You want me to disciple. Send me the right people, Lord, but deliver me from the wrong people.
Fill me with Your wisdom in all areas as I seek to make disciples.
Give me Your heart for people. Help me to love people the way You do. Teach me to see them with Your eyes and understand them with Your heart.
Teach me how to teach and mentor. Teach me how to make disciples like Jesus did.
Fill me with Your holy confidence and boldness. Help me to take risks to tell people about You the way You want me to. Help me to practice, practice, and practice some more.
And since You have promised me amazing blessings that come with my spiritual children, I ask also:
That I would become radiant as I disciple and mentor these precious people You are sending my way.
That You would fill my heart with joy as I walk through this process the rest of my life.
That You would send me Your Kingdom's wealth and provision, so that I can lavish Your goodness upon the people You are sending me–and so that my needs may also be provided for as I dedicate time and resources to making disciples for You.
I pray that You would unite me and my spiritual children together in Christ Jesus, and that You would teach us how to worship You and pray together.
Send me the people that You have called to help me pour into the precious people You are sending me.
Use us all to build Your Church and Your Kingdom together.
I pray that You would get all the glory and honor during this process–and that there would be lots of glory and honor coming forth from it for You to get!
I ask that You would endow me and my spiritual children both with Your splendor. Clothe us in Your glory and teach us personally. Help us to rightly represent You and demonstrate how good You are to the world.
Father God, Your Word says that I should lift up my eyes and SEE my children coming to me right now.
So Father, I lift my eyes up to You. I believe and know that You have granted my request, for Your Word says that I will receive anything I ask You for when I believe. I do believe, Lord. And I thank You that, right now, my spiritual children are coming to me from the north, south, east, and west.
Father, thank You for commissioning me and using me in Your Kingdom in this important way.
Thank You for using me to love Your people. Thank You for Your heart for people. Thank You for the divine appointments You have set for me this very day. And thank You for my spiritual children. Please manifest in my life all the promises that come along with discipling my spiritual children, and I'll give You all the praise.
Thank You, Abba Father. In Jesus' mighty and precious name, amen."
Beloved, did you pray and ask the Father to send you your spiritual children today? If so, leave a comment below!