For Day 15 of our 31 days of supernatural encounters (series index here), the Lord gave me a prophetic word for you.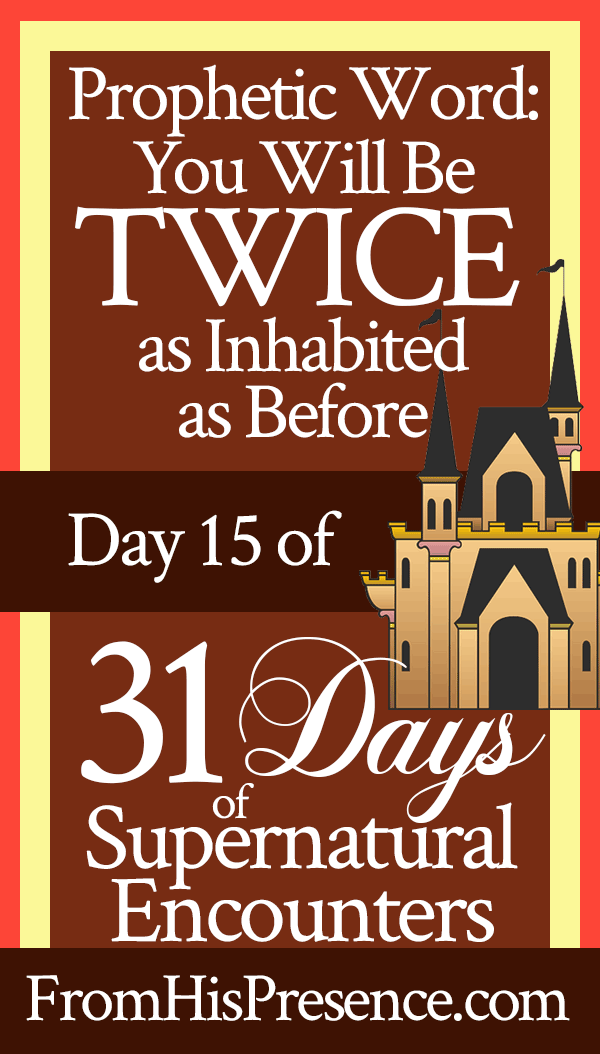 Read: Ezekiel 36:6-15
Know:
Ezekiel 36:11b says:
I will make you inhabited as in former times, and do better for you than at your beginnings."
And this is what I heard the Lord say to you:
"You have recently crossed over into new territory. It required faith for you to follow Me into this new place, and you have not been sure of the outcome.
But now I say to you:
For every measure of blessing that you experienced in your old season–blessings you had to abandon–I will now give to you double.
For every opportunity I gave you in the new season, I will now give to you twice as many as before.
For every bit of fruitfulness you had before, I will now make you twice as fruitful.
It is My desire that you keep My Word about this in your heart.
Pray it back to Me often. Instead of your former shame, I am giving you twofold recompense (Isaiah 61:7), but you have to remind Me of this often to give Me permission to work as powerfully in your life as I desire to work (Isaiah 62:6-7).
You used to be in an inhabited place–a place in which you were honored.
In this new place, you have not known what to expect. But I say to you today that I will make you twice as inhabited, twice as honored, twice as valued, and twice as blessed as you were before.
Remember this. Pray it often. Cling to My Word, and you will see Me move."
Hallelujah!
Pray this:
"Heavenly Father, in Jesus' name, thank You for Your Word. Thank You in advance for making me twice as inhabited, twice as blessed, and twice as fruitful as in former times.
Father, Your Word says that You will do better for me than at my beginnings. I believe You and receive Your Word. So please do it now, Father. Do better for me now than You ever have before, and I'll give You all the glory.
Thank You, Father. In Jesus' name, amen."
Listen:
Listen to Martha Munizzi and Israel Houghton sing "Your Latter Will Be Greater," and feel the power of this word of the Lord as they translate it into song!

Does this message speak to your heart today? If so, please leave a comment below. I'd love to hear from you!
Would you help me with my work of reaching people for Jesus as a domestic missionary? I need you; we are in this together!

This blog, and all of the Kingdom work we do in this community together, are made possible through your partnerships, donations, and product purchases. If you'd like to help, please check out the partnership details and products available for sale here. And, thank you in advance for helping make this blog and everything we do together for the Kingdom possible!