To The Soldier Who's Been Fighting A Long Time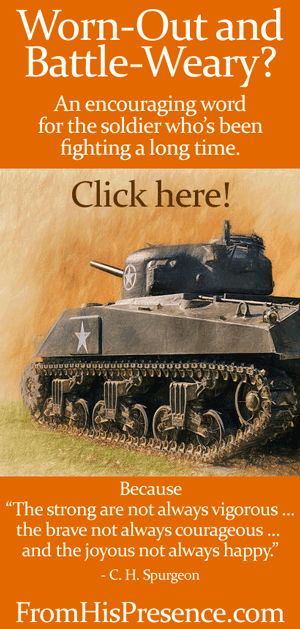 I feel like I have a word today for some soldiers who have been fighting a long time. I'm specifically talking to people who are fighting the good fight in God's Kingdom, but this could also pertain to actual soldiers in the military on the battlefield.
Either way, if that's you, I feel like the Lord would like to say these three things to you today:
1. "Trust Me."
I know things look bleak. I know it's hard. I know you feel tired. But GOD'S GOT THIS. He's been on the throne since eternity past and will remain on the throne for eternity future. He's big. He's huge. He's everywhere at once.
And He's got this.
I know it looks like people are in control … but they're not.
I know circumstances may seem dark … but they're not.
I know it feels like nobody cares except you, but Somebody DOES care. And that Somebody is Jesus Christ of Nazareth, age to age still the same. Jehovah, Yahweh, the great God of the universe. He is God, and He is your Father, and He cares. He loves you, and He knows, and He gets it, and He knows and He knows and He knows.
I can't say that enough. God knows.
He knows every tear you've cried. He sees the battle raging hot. He sees every circumstance, including all the ones you can't see.
And you know what He says about it? This:
"The Lord will perfect that which concerns me; Your mercy, O Lord, endures forever; do not forsake the works of Your hands" (Psalm 138:8).

and this:

"And we know that all things work together for good to those who love God, to those who are the called according to His purpose" (Romans 8:28).

and this:

"Let your character or moral disposition be free from love of money [including greed, avarice, lust, and craving for earthly possessions] and be satisfied with your present [circumstances and with what you have]; for He [God] Himself has said, I will not in any way fail you nor give you up nor leave you without support. [I will] not, [I will] not, [I will] not in any degree leave you helpless nor forsake nor let [you] down (relax My hold on you)! [Assuredly not!]" (Hebrews 13:5 AMP).
2. "Look up."
It's way too easy to keep our eyes on our circumstances, on people, or on our frustrations. But taking our eyes off Jesus is a proven way (thank you, apostle Peter) to sink into the waves of despair.
If you are going to get through this storm–which you are–you MUST look up.
So look up, precious one. Look up. Look to Jesus. Look to the One who loves you. Look to the One who bore your sins in His own body on the tree. Look to this One who didn't stop there, but who ever lives to make intercession for you.
Jesus is the only One who can get you through this. That's why Hebrews 12:1-2 tells us this:
"Therefore we also, since we are surrounded by so great a cloud of witnesses, let us lay aside every weight, and the sin which so easily ensnares us, and let us run with endurance the race that is set before us, looking unto Jesus, the author and finisher of our faith, who for the joy that was set before Him endured the cross, despising the shame, and has sat down at the right hand of the throne of God" (Hebrews 12:1-2).
Looking unto Jesus. Looking unto Jesus. Looking unto Jesus.
Beloved, we must keep our eyes on Jesus. I know you're hurting. I know. I get it. But Jesus is the only Solution. He is the Way, the Truth, and the Life. And only by looking at Him can we make our way through anything with victory.
Related: Get my mp3 teaching on Isaiah 53 to help you keep your eyes on Jesus. It's called "Behold the Lamb of God," and it contains 10 things Jesus purchased for you with His suffering.
3. "Praise Me."
God has been telling me to praise Him even when I don't feel like it. Praise is such a beautiful thing. It pulls our attention off our circumstances and places our focus on Jesus, where it belongs. Praise is like a magnet that draws us to Christ.
Did you get that? It's important:
Praise is like a magnet that draws us to Christ.
So beloved one, whatever you may be going through, begin right now to praise God:
Praise Him for His goodness, for His mercy, for His mighty works, for who He is.
Praise Him for everything He's done and everything He's going to do.
Praise Him just because He's worthy to be praised.
And as you do, you will change. God will continue to work out your circumstances in His time, but praise changes you right now. And the amount of change really corresponds to the amount of praise.
Little praise = little change.
Lots of praise = lots of change.
Whatever you need, God knows. He is fully aware, and He has it all under control.
Jesus said, in the Sermon on the Mount, that God even knows everything you need before you ask Him:
"Therefore do not worry, saying, 'What shall we eat?' or 'What shall we drink?' or 'What shall we wear?' For after all these things the Gentiles seek. For your heavenly Father knows that you need all these things.

But seek first the kingdom of God and His righteousness, and all these things shall be added to you. Therefore do not worry about tomorrow, for tomorrow will worry about its own things. Sufficient for the day is its own trouble" (Matthew 6:31-14).
So yes, we should still ask, but we should NOT worry … because Papa already knows. He knows all about it. And you can trust Him; so go ahead and praise Him now.
Praise Him in the middle of whatever you're going through.
Praise Him no matter what the circumstance.
Praise Him whether you feel like it or not.
And if you do, you will find yourself changing right along with the circumstances as He works everything out for your good.
Does this word encourage your heart today? If so, please leave a comment below. I'd love to hear from you!
Image courtesy of Randen Pederson on Flickr via Creative Commons license. Image has been cropped and graphics added.