2 Freaky Financial Testimonies!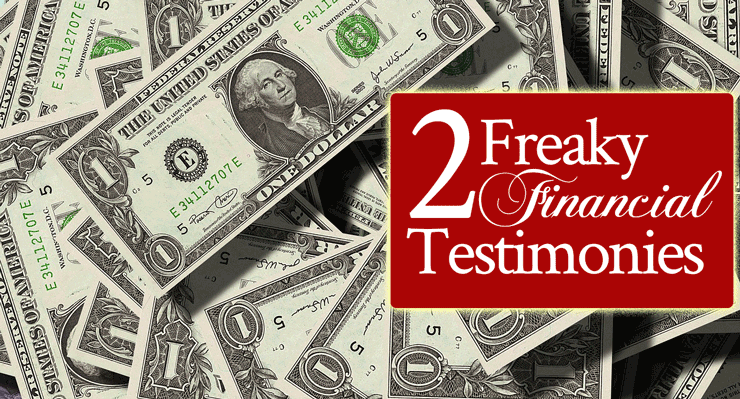 Hey, beloved,
One of the biggest needs I hear about from our community is for financial breakthrough, and I understand. This is pretty normal; after all, "money answers all things" according to the Bible and it's required for nearly every transaction on earth. Money is a pretty big deal.
Well, I believe God is a God of abundance.
That's what His Word says. And I received two testimonies within the last few days from our readers–testimonies that are FREAKING ME OUT. I mean, I'm stunned, in awe, talking to myself, shaking my head, smiling, cheesy-grinning, and praising God, all at the same time.
I asked both people for permission to share their testimonies with you, and both gave permission. I want you to hear about these stories because I want these testimonies to PROPHESY to you. The Bible says that the testimony of Jesus is the spirit of prophecy. In other words, when you hear and receive a testimony of Jesus and what He has done, it prophesies the same breakthrough into your life.
Are you ready? Here goes:
Testimony 1: From $100 a month to $20,000 a mon​th
(You sure you're ready? This will freak you out.) 🙂
Brother R. wrote in and said this:
"Hello, I wanted to send you a large donation because of how much your blog has helped me. Specifically the blog post about "Witty Inventions." I followed that blog post and put it into action, and God spoke to me. Gave me some very specific ideas for my online business, which led to be very lucrative. I went from making less than $100 a month to making over $20,000 a month in profit with my online business within a year. You should really write a book based on "witty inventions from God."
In a later email, Brother R told more of his story:
"Your blog post crossed my mind recently, and I just had to send something to show my appreciation. That blog post help change everything.
I just remember that, in 2017, I was an online affiliate marketer, and for years I struggled. After awhile, I came to the conclusion I had to be cursed. Reason being, every time things would start to go smoothly, something beyond my control would cause my startup affiliate marketing businesses through my social media accounts to collapse. I can't describe my frustration and even depression during those times. I'd gotten to the point in which I finally gave up.
Eventually, I thought, it's better for me to ask God for wisdom because what I'm doing isn't working out. I Googled "wisdom" to study up a little, than I stumbled upon the Scripture about "witty inventions." I Googled that term and I stumbled upon your blog post. LOL, let me say, I took your blog post LITERALLY. It was my only hope. Long story short, by waking up early every morning and asking God to "show me what to do," God revealed to me about the Law of Giving and I took it very seriously. Anything I had of value that I could give to others who needed it more, I did.
Months later in 2018, God in His own way started to reveal things to me. Two separate occasions, God would speak to me by revealing to me that I would discover an idea, simple and easy to put into action, and it will result in money coming to me as if I hit the lottery. No joke. And for some reason, I believed it.
Come September 2018, I got a notification from Facebook about being able to monetize videos with ads from my Creator Page. YouTube has had this feature for years, by now Facebook has joined the fray. I cannot describe how excited I got. I started right away. I begin uploading my videos and utilizing a special method I figured out to effectively reach a targeted demographic within Facebook groups — and the rest is history. I watched my video views and daily earnings rise significantly on a daily basis. As the days and weeks went by, I kept utilizing my special method and I kept making money as if I hit the lottery. 'Til this day, I'm still in awe.
Now I know for myself, God is real and His Word is true.
Thank you so much for that "Witty Inventions" blog post. I totally would be excited if you wrote a book on that subject matter. A book would be Golden."
Hallelujah! Glory be to GOD MOST HIGH!
Now. Are you ready for a second testimony? Check this out:
Testimony 2: God gave them a BANK

​Yup. You heard that right: a bank. (I told you these were freaky.) Read on:
From Sister E:
"Please know that a little one or two sentence word you put out late one night back in October or November or December of 2017 completely changed the trajectory of our life and business. I had been talking with my husband earlier in the day about how we so regretted not becoming Bitcoin miners back in 2012/2013 when we had the opportunity to do so– but I pooh-phooed it because I simply didn't understand, and actually foolishly talked my husband out of it.
Well obviously by late 2017, Bitcoin was skyrocketing in value, and I said to my husband that I so regretted that I talked him out of mining bitcoin back in 2012/2013. He agreed. Later that night, after our evening communion and prayers, we were laying in bed and my hubby drifted off to sleep while I was scrolling through Facebook. I read this little encouraging word you wrote saying essentially: "Remember that thing you wish you'd done a few years ago? Do it now – dip your foot in the water and the Lord will bless it."
I woke my husband up and read him the word, and that very night we decided to go into crypto-mining, and then banking. We started our own bank. It has been a long slog and we've been through many many delays and struggles, but God has blessed it. We are so thankful for how He used you to re-route us and give us our company.
Bless you!
My husband is sending an offering over now — we are sowing this seed believing for the continued blessing of our company.
It was the faith the Lord gave me through your writings – I was like "We are the righteousness of God in Christ Jesus – our God is a good good father – surely the Rockefellers and Rothschilds are not better fathers than my Papa in Heaven, so oh Lord give US a bank! Show us how …" and He did!​"
Sister E went on to describe how God has brought them through some of the events they have faced with their company.
Specifically, one night they had only $11.77 total net worth–but overnight, God sent them their largest customer and they woke up with over $1,000,000 (yes, that's over one million dollars) in their company! God is even providing them a house for their family that they prayed and believe for!
​​Can I get a witness? Glory be to GOD MOST HIGH!!!!

He is El Shaddai, the Great I Am, the First and the Last, the Answer to all our problems. He is our Provider, Nurturer, and our ABUNDANCE.
Beloved, notice what both testimonies have in common:
Both people STARTED A BUSINESS. Two very different businesses, but both people gave God something to work with! They were praying for financial breakthrough, and they started a business!
We have people in this community who have all different kinds of interests. One sister from Colorado has asked me to pray for her oil drilling company (and I do). We have real estate agents and stockbrokers and teachers and stay-at-home moms and lawn-mowing people and dog walkers. We have people who already are in business, and people who dream of launching their businesses, and people who have never even considered it.
But beloved, if you haven't already started, YOU need to start a business.
I mean, really. Please. God's Word says that you need to be an entrepreneur.
I would teach on how and where and why, but I already did. A few months ago, I taught a class called "The Entrepreneurship Mandate." It was a live webinar, and in that class I taught:
How and where God's Word says we should do business for ourselves as entrepreneurs;

I taught on what the Word says about what kind of businesses can be real vehicles to prosperity;

I taught on what kinds of businesses and jobs don't meet the requirements for bringing you true prosperity.

I taught on WHY God wants you to own your own business, and what the eternal purpose is for you to fulfill using a business.
This class was LIT.
I've never offered it again, but because of the testimonies I received above just in the last few days, I'm going to offer the class recordings by email.
The Entrepreneurship Mandate is a 2-hour video class and includes 13 pages of notes. (Everything is downloadable; no physical products are available.)
For today through Saturday only, I am going to offer The Entrepreneurship Mandate video class by email for only $49.
If you want this class:
Send the $49 class fee to us at https://www.paypal.me/jamierohrbaugh and include a note stating what it's for.
I will then email you the class materials within 24 hours to the email listed on your PayPal account. (If your PayPal email is wrong, then please email me separately so I'll know where to send the class materials.)
Beloved, I want to inspire you to start your own business.
And when you know what the Word says about starting a business–when you know that you are actually commanded by GOD to do so–then you get a whole lot of BOLDNESS to step out into your calling.
Sign up today and get this class while I'm offering it. And let the testimonies I shared above from Brother R and Sister E prophesy into your life whether you get the class or not, okay?
Love in Christ,
Jamie Rohrbaugh
FromHisPresence.com