Using Firstfruits to Consecrate Your New Season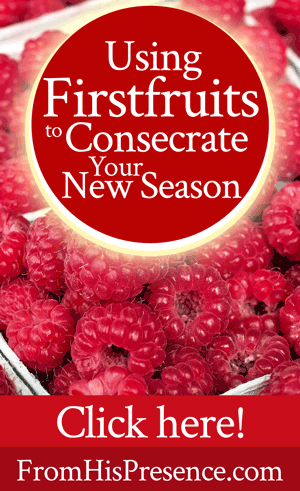 We hear a lot about giving firstfruits when it comes to money and financial increase. However, did you know that the principle of firstfruits is actually way bigger than that–and that it can help you prosper in your new season?
True story.
Whenever I'm entering a new thing, Holy Spirit always impresses upon me to dedicate the first part of that season to simply seeking Him.
When I obey, He always shows up with way more than I ever expected.
For example:
He's given me promises during those times of seeking–promises I thought I understood at the time, but later learned that I had NO IDEA how amazingly He was promising to bless me.
He'll purge me of anxieties, worries, and fears during those times, giving me His love, comfort, JOY, and peace instead.
Sometimes He'll tell me in advance what the new season will look like. Not always, but sometimes.
Regardless of what God has in mind, He always does something amazing when I consecrate the firstfruits to Him.
Related: Read my Heavenly Downloads for Your New Season series for huge, helpful tidbits about how to navigate your new season.
Here's why:
The principle of giving God the first part of everything runs throughout Scripture.
For example:
It applies to money in regards to the tithe–giving God the FIRST 10% of your increase–which a procedure born of faith, not the Law. [Abraham was the first tither (he tithed to Melchizedek), and Abraham was called a man of faith. The Law did not even exist when tithing began.]
It applies to money in a special firstfruits offering each year. (We'll talk more about that in April.)
It applies to priorities. Jesus said, in Matthew 6:33:
But seek first the kingdom of God and His righteousness, and all these things shall be added to you" (Matthew 6:33).
It applies to the measure and passion of your love for Him. Revelation 2:4 says:
Nevertheless I have this against you, that you have left your first love" (Revelation 2:4).
The principle of giving God the first also applies to time.
Holy Spirit convicted me long ago to seek Him first in my day, rather than playing my symphony first and tuning my instrument later. I can tell a huge, GIANT difference in both my level of intimacy with God, the flow and power of my day, and the level of blessing in my life if I give God the very first of my day.
This is why the principle of firstfruits also applies to seasonal changes.
When you give God the first and best of your new season, it's a special thing. Your coming aside to spend time with Him at the FIRST of the year; the FIRST of the week; the FIRST day of a new season … these things are a powerful way of dedicating your new thing/time/season/week/etc to God, giving your life to Him afresh, and asking Him to do what He wills with it.
So how does this apply to you?
Well, are you beginning something new right now? Can you feel yourself entering a new season? Are you starting a new endeavor, a new job, career, ministry, business, family, etc?
If so, I encourage you to set aside time right at the beginning–the first–to dedicate your new thing to the Lord.
Pray about everything you can think of. For example:
Offer yourself anew to Him.
Ask for His help, protection, guidance, and blessing.
Ask Him to tune your ear to hear Him: to give you eyes to see Him, ears to hear Him, and a nose to smell His fragrance.
Ask Him to make you more sensitive to the leading of His Spirit and more sensitive to His presence than you have ever been before.
Pour out your heart to God. Give Him your best and hold nothing back! That's the kind of prayer God can bless.
Are you starting something new? Are you willing to stop right now and give your first to the Lord? Please leave a comment below!
___
Would you help me with my work of reaching people for Jesus as a domestic missionary? I need you! This blog, and all of my mission work in person, are made possible through your partnerships, donations, and product purchases.
If you'd like to help me, please check out the partnership details and products available for sale here. And, thank you in advance for helping make this blog and everything we do together for the Kingdom possible!