Encouraging Word: You're Going To Bloom, Not Drown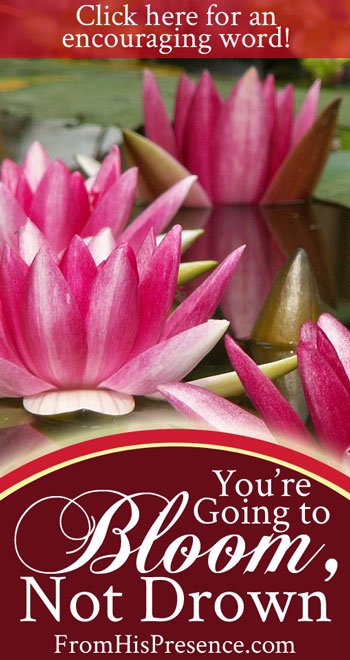 I lay on the carpet sobbing like a baby. I truly thought I was going to die.
My heart was broken. I had nothing left. Nothing. I was convinced it was finished, over, finit … and I was ready to walk away from nearly everything that mattered to me.
It was the darkest time I had experienced in many years, and I felt little hope.
Words fail me when I try to tell you how bad it was. I literally thought I was going to die. I thought my heart was going to physically explode in my chest from the pain.
I was done, and God knew it. He listened as I poured out my heart … and then He gently, lovingly, ever-so-patiently, told me it was okay to be done for that moment; that I could go rest; that I could allow myself some space from the pain and from the people who hurt me.
I needed the break. I left, and honestly I was glad to get away. I saw no hope except in the supernatural, miracle-working faithfulness and promises of Abba Father.
But God.
Within only a few days, after this dark night of the soul had been going on for months, He began to turn it–and I began to bloom, not drown.
He had been working all along, but I believe (like in Daniel 10), help had been delayed. But somehow, help from the heavenlies broke through, and things began to change.
And I didn't die after all. Instead, I bloomed.
Oh, things still weren't perfect. The dark waters still surrounded me; and on the outside, things looked, well, an awful lot the same.
Nevertheless, somehow, like the little bloom at the top of the picture above, beauty and honor and holy vindication came through the dark waters anyway. God worked that vindication for me of His own accord, and beauty came out of what looked like a hopeless situation.
Papa had other plans, you see.
What the enemy meant for evil, PAPA meant for good. He allowed a Goliath to rise up against me for one reason and one reason only:
GOD WAS READY FOR ME TO WIN.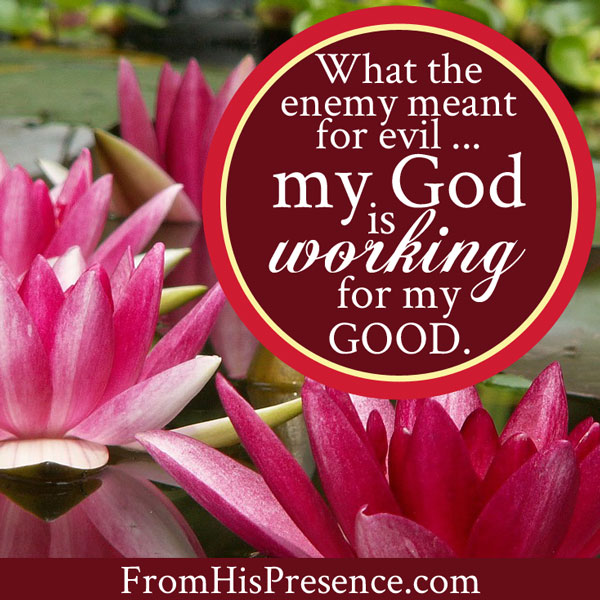 And if the enemy has risen up against you right now, I can tell you that God has allowed it for one reason and one reason only:
He's ready for you to win too.
God didn't cause the thing that's attacking you. And honestly, even though people might be involved, even people didn't cause it. Ephesians 6:12 tells us:
For we do not wrestle against flesh and blood, but against principalities, against powers, against the rulers of the darkness of this age, against spiritual hosts of wickedness in the heavenly places."
The enemies that attacked you are not flesh and blood. They are principalities, powers, and rulers of darkness–in other words, demons. This is good news, because it tells you that your enemy isn't a person.
Yes, that's right. Even if a person has treated you horribly or done something awful to you, THEY ARE NOT YOUR ENEMY. Your enemies consist of the devil and all his forces.

But God is greater than the enemy, and no weapon formed against you can prosper.
One of my favorite passages of Scripture is Psalm 27:1-3:
The Lord is my light and my salvation; whom shall I fear? The Lord is the strength of my life; of whom shall I be afraid?

When the wicked came against me to eat up my flesh, my enemies and foes, they stumbled and fell.

Though an army may encamp against me, my heart shall not fear; though war may rise against me, in this I will be confident."
Did you get that? "When the wicked came against me to eat up my flesh, my enemies and foes, they stumbled and fell." Does that sound familiar? How about from these Scriptures:
The Lord will cause your enemies who rise against you to be defeated before your face; they shall come out against you one way and flee before you seven ways" (Deuteronomy 28:7).

Or …

"No weapon formed against you shall prosper, and every tongue which rises against you in judgment you shall condemn. This is the heritage of the servants of the Lord, and their righteousness is from Me," says the Lord" (Isaiah 54:17).

Or …

"Do not fret because of evildoers, nor be envious of the workers of iniquity. For they shall soon be cut down like the grass, and wither as the green herb" (Psalm 37:1-2).

Or …

"Commit your way to the Lord, trust also in Him, and He shall bring it to pass. He shall bring forth your righteousness as the light, and your justice as the noonday" (Psalm 37:5-6).
I could share pages and pages of Scriptures talking about the blessings that God promises to heap upon the righteous when the enemy attacks them. I won't, but if you want more, go read all of Psalm 37 and all of Psalm 119 as well. Suffice it to say, David was in trouble when he wrote those … but he didn't stay in trouble. GOD delivered him and vindicated him big-time.
Related: This blog post is from one of the points I taught on during my recent 21 Kisses workshop about God's merciful kiss on your life! Click the image above to check out that word of hope on my Gumroad store!
And no matter what you're going through right now, if you'll seek the Lord and walk uprightly, God will deliver you big-time too.
No weapon formed against you shall prosper. The enemy may come against you to eat up your flesh, but he'll stumble and fall. And just when you think you're going to drown, you're going to bloom instead.
Did you hear that, beloved?
You're not going to drown. You're going to bloom instead.
God is ready to kick some enemy butt, and He's ready to take you to a higher level. And in order to do that, He needs a fight for you to win.
Enter the enemy.
Sometimes God allows the enemy to come against you, but it's only for one reason–so you can beat him. God always wants the enemy to experience the crushing defeat Jesus purchased with His life, death, and resurrection. So when the enemy comes against you, it's God's delight to demonstrate the power of Jesus' sacrifice and thoroughly annihilate your enemy THROUGH YOU.
Yes, He uses you to do it. That way, not only can He kick some enemy hind end, but He gets to promote you too… because you always have to win a battle to go to the next level.
So what are you going through today, beloved? What kind of enemy are you fighting?
Is it the enemy of financial woe?
The enemy of division trying to cause problems in your marriage?
The enemy of fear or hatred trying to steal something beautiful from your life?
No matter what it is, the enemy's going down and, if you'll walk in white during this time and wait on God, you're going up. I know the dark waters might be pressing against you. I know you might see no hope. But, beloved:
You're not going to die. You're not going to drown. You're going to bloom instead.
Selah.
Does this word encourage your heart today? If so, please leave a comment below. I'd love to hear from you!