Azusa Now Impartation #2: The Lord Wants to Give You a Baptism of REST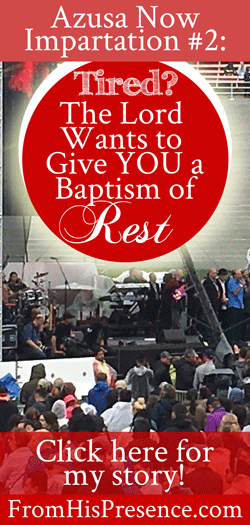 When I was at Azusa Now last weekend, I was TIRED.
I mean bone-deep, soul-level, mind-numbing tired. The kind of tired that makes you want to curl up in a ball and cry, but you're too numb to cry. The kind of tired that makes you want to say "no" to everything, including eating, and hide in bed under the covers and sleep for about two years.
The tiredness came from years of a too-rigorous schedule, plus a tremendous amount of stress from various things that week, plus a three-hour time zone change with an extremely late-night flight out, practically no sleep in two days, and more. I was just tired.
You know what I mean? Anybody else ever been there?
I was really excited about the day, though, and I was there with some of my dearest friends on the planet. It was awesome just being together, and being at an event at that magnitude made it even better. And all day, we worshipped and praised and it was great.
But there were a few moments, I'll admit it, when we were all corporately pressing into God, and I worshipped not so much because I was feeling it, but because we were supposed to, you know?
(Probably no one other than me has ever felt like that, I know. But I'll just keep on.) 😉
And there's nothing wrong with choosing rather than feeling. Choosing God is actually 100% right, all the time. We HAVE to choose to worship when we don't feel like it. We have to choose to praise when we don't feel like it. Some of the biggest breakthroughs in my life have come during worship, when I chose to worship God because it's the right thing to do… even though I didn't feel like it. And if we put our feelings over our choices, we are worshipping the idol of feelings.
Related: I used to be the worst about worshipping my feelings. Read how I used to worship my feelings here, and how God brought me out of that here, in How to Stop Lifting Up Your Soul to Idols.
But feelings are nice too, if they are godly ones. God meant for all of our mind, will, and emotions to be filled with Him.
And I was too tired in some moments to feel very much. (Not all moments; just some moments.)
But at one point, I was taking a break out in the courtyard area, and I heard the sounds of one of my favorite songs drifting out of the stadium: Your praise will ever be on my lips, ever be on my lips, Your praise will ever be on my lips, ever be on my lips!
And I leaned my face against a block wall and cried like a baby.
That song is the cry of my heart. I love Him so much, and by His grace I will choose to love Him and praise Him the rest of my days. And as I was leaning against that wall and whispering those words to Him, just between Him and me, He touched me so powerfully. All of a sudden, it was like the lid of "numb" came off my soul and I could  just pour out my weakness and emotions and need to Him through my tears. They were healing tears and I felt better immediately.
After a few minutes, I went back inside the stadium and found my seat. Everyone was worshipping and it was great, and I stood up to worship just like everyone else.
But the Holy Spirit said something very unexpected to me. He said:
"Sit down."
Right away, I thought, "Why, Lord? I want to give You my best. You're worthy of standing up for."
But He said three words to me: "Baptism of rest."
I had never heard that phrase before, but I was all for it … whatever it was. So I sat down while 100,000 people worshipped around me.
And you know what? At that moment, in that time, the condition I was in, I actually found it easier to worship with my whole heart while sitting down than I did while standing up. Because I had been so tired that I had to force myself to stand up, and all the energy of my heart was being poured into keeping me upright on two feet.
But when I sat down, I was suddenly able to pour all the energy of my heart into focusing on my Father.
And suddenly, sitting there hearing 100,000 people around me singing "Yours is the Kingdom, Yours is the power, Yours is the glory, forever amen," I was undone.
I started crying again, but again it wasn't bad crying. I was crying because Papa was holding me. It was like He pulled me into His arms and tucked me tight into His chest and hid me under His robe. I felt Him. And I felt Him healing my soul and body in all those numb, tired places that I had been keeping going strictly with adrenaline.
I cried and cried and just rested there. I sensed His presence and affection so strongly, and the rest He was giving me was a deep, liberating rest.
He poured out a baptism of rest. And it changed me.
(Note: This is not a treatise on how we should worship sitting down. Actually, I usually worship more deeply standing up. But this was something special and unique that was about me receiving from Papa, not me pouring out to Papa.)
The next day, I was still in His rest. The day after, same thing. Today, I'm still resting. I feel so much more peaceful.
And it's not like rest was a new concept to me. I've studied rest for years, and I have learned to rest in God, and about the difference between hustle and striving. (Read my blog series entitled Rest in God, Reach Your Destiny here for more about that.)
But this wasn't that. This was something totally new. This baptism of rest was not where I rested in God, but rather where HE touched me with a deeper kind of rest than I had ever known before. It was like He took a supernatural rest and did heart, soul, spirit, and total-body surgery and placed His rest inside me at the deepest level.
It was an impartation of rest. A baptism of rest. I went in one way, and came out another.
And I believe He wants to release this same baptism of rest to you today too.
At the prayer meeting I lead at my church this last Monday, the Holy Spirit brought us to a place at the end where I could feel Him sitting down with that rest. So I asked everyone to please sit down and receive His rest.
And as soon as we did, it was like the Holy Spirit laid a thick, sweet blanket of peace over the whole room. It was heavy. He poured out His rest on us, and you could feel the difference.
So this baptism of rest is on His heart right now. He sees you right where you are. He knows how tired and overwhelmed you have been. He sees how you want to cry but can't; how you want to hide from the world, and how you'd give anything just for some mental space with no pressure, no job, no responsibilities.
But right now, He can pour out His rest on you and it will bring you the soul peace you desire.
I'm going to pray for you now:
Father God, in Jesus' name, I ask You to touch every person who is reading this article. I ask You to pour out Your baptism of rest right now. I pray that, as they have read my testimony, the story of what You did for me would produce faith in them for the same thing and more. 

Father God, baptize every reader in rest today. Fill them with Your Holy Spirit, and give them peace at every level. Thank You, Father. In Jesus' name, amen.
Does this message speak to you today? Can you identify; do you need a baptism of rest? If so, please leave a comment below. I'd love to hear from you!