How To Stop Lifting Up Your Soul to Idols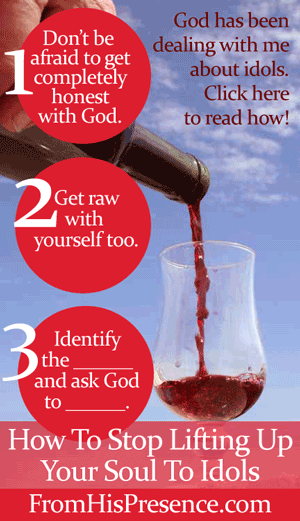 Yesterday, I posted about how the Lord has shown me that I have been lifting up my soul–my mind, will, and emotions–to idols. I've been trying to find emotional fulfillment in things other than the Lord.
I never even realized this until the last two weeks, but I'm so grateful that He's dealing with me about this.
One of the things I love the most about the Holy Spirit is that He never convicts us of sin only to leave us in it. Whenever God convicts us of sin, He is ready and able to deliver us from it. He convicts first, then shows the way of escape immediately afterward. That's why His conviction brings hope. God never condemns us (Romans 8:1); He just wants to bring us into freedom in Him.
So when God showed me that I was looking for emotional fulfillment in idols–e.g. the idol of Good News–He showed me how to stop doing that right away.
Here's what God has shown me about how to stop lifting up your soul to idols:
…based on my own rather embarrassing, very personal and transparent story. (But you won't hold it against me, will you?) 😉
1. Don't be afraid to get completely honest with God.
He's not going to be shocked, no matter what we tell Him. Psalm 103:14 says:
For He knows our frame; He remembers that we are dust."
God made us. He knows everything about us. He's not in a tizzy when we come to Him with our frailty and imperfections. He's on our side.
It's comforting to me to know that I need God desperately, but He likes us needy because it makes us totally dependent on Him. So go ahead and bare your soul. Be transparent. It's the only way to get the awful load that you've been carrying off your chest.
Related: When You Fall, God Is Mindful That You Are But Dust
2. Get raw with yourself too.
Being raw means we bare our souls about the real issue at hand–even if it's ugly. Being raw means we are honest with ourselves about even the worst things.
It doesn't mean we get into introspection–evaluating ourselves all the time. (That would be discouraging…) Introspection is like a daily haircut; it cuts off God's purposes in our lives. Stay away from introspection.
But getting raw DOES mean we're willing to be honest with ourselves so we can face the issues and submit to the Holy Spirit's work in CHANGING those issues.
3. Identify the real issue and ask God to fill that need.
Here's what happened to me:
When God first started dealing with me about this, I was going for a walk. I was feeling pretty discouraged, and I was using my walking time to pray about the issues I was so upset over. And all of a sudden this thought came to mind: "Lord, I would be happy right now if I got some good news."
Whoa horsey!!!!
As soon as I thought that, I saw the idol of Good News immediately. I had never seen it before. But you can see the problem too, I'm sure:
If I can be happy only if I get good news, then I'm looking to Good News for emotional fulfillment, instead of receiving that fulfillment directly from God. I have set the idol of Good News up in God's place.
I got convicted, so I had to get raw. I admitted to God:
"Lord, I need to believe that You are working in this situation. I've been looking to Good News to show me that You are working, instead of just believing You in faith.

Father, please forgive me and help my faith and hope to rest in You, whether I get good news or not."
My real issue was doubt. And when I admitted to that real issue, my attitude immediately began to turn.
I began to feel faith in God and His Word again, instead of faith in the idol of Good News.
Here's an even better example:
My love language is words of affirmation. I'm a words girl. God made me that way, and there's nothing wrong with that…. unless I set up Words of Affirmation as an idol, and refuse to be happy unless I get the words I want to hear.
So during the same prayer walk mentioned above, I was praying about a situation where I felt like someone should have said something kind to me and they hadn't. God had already started showing me that I was lifting up my soul to idols, so I said:
"Lord, I need to hear words of affirmation. You made me that way. Please forgive me for looking to others for the words I need. Help me to receive all the affirmation I need directly from You."
You know what? As soon as I said that, I heard the voice of the Holy Spirit like a freight train, saying to me: "I'm SO PROUD of you!"
My spirit-man just crumpled. THAT was exactly what I needed to hear. And even though I hadn't realized it at first, I needed to hear it from the Lord, not from men.
I'm so thankful in this situation that God did not allow me to hear the words of affirmation from men that I so wanted to hear. If He had, then I would have been satisfied, and I would have kept the idol of Words of Affirmation in place.
Keeping me hungry was actually His way of bringing me freedom.
So don't be afraid to be completely honest with God; He knows all about you anyway. And the issue is real whether you admit it or not, so you might as well admit it. When we identify the real need, God can then fill it. He is ready and eager to do so just as soon as you ask.
Doing these three things has made a huge difference in my life in just the last two weeks. God is bringing me healing in some areas where I was wounded. He is replacing my unhealthy habits of depending on men with the healthy habit of receiving my fulfillment directly from Him.
And He is meeting the real needs, bringing me an amazing peace and satisfaction that I've never felt before.
Can you identify with this process? Does this post speak to your heart too? If so, please leave a comment below. I'd love to hear about your story.