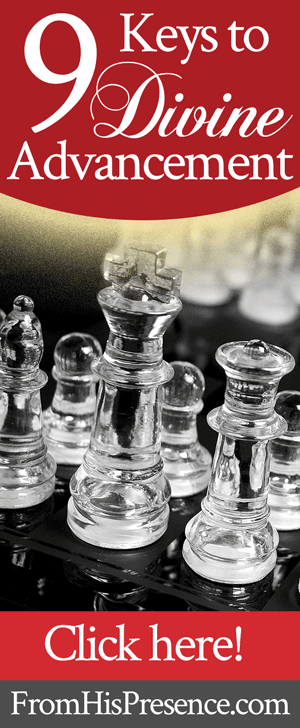 Are you trying to move forward without a mentor? If so, you are missing out on a tremendous blessing that the Lord would love to give you!
When you want to move forward in the Kingdom, you can learn what you need to know several ways:
By learning the hard way – simply by trial and error. You know … the school of hard knocks.
By trying to learn everything you need to know from scratch, by yourself. But this takes a long time, and it doesn't exempt you from errors. OR …
By getting a mentor to help you navigate the next level.
Different people learn best different ways. But … that doesn't mean all methods are equal.
Some people learn best through trial and error. They specialize in the school of hard knocks. That doesn't mean trial and error is the best thing for them; it simply means that where they are in life, and with the level of character they have (even if their character isn't developed very much at all), they aren't able to listen to others, use godly wisdom, or plan/research well.
In other words, they often only learn best through trial and error because they aren't mature enough to receive teaching from other methods.
Other people prefer to just jump in and learn from scratch by themselves. Again, learning from scratch is not the best way; it wastes time. But, if people who refuse to learn any other way, that's up to them.
The third option is both the hardest and the easiest.
The third option is finding a mentor to help you. Getting a mentor is the hardest path to the next level because it requires humility on our part. It requires us to acknowledge that:
We don't know everything;
We need other people;
Someone else knows something we don't; and
Someone else has gotten to a place we haven't gotten to yet (and we can't be jealous of them for it).
Getting a mentor is also difficult because it requires us to actually follow someone else's instructions. This can really grate against the flesh if the flesh is the ruling power in our lives!
But getting a mentor is also the easiest path to advancement because:
Your mentor has been where you want to go, and they know the way.
Your mentor knows what doesn't work and can help you steer clear of pitfalls.
Your mentor has a bigger perspective than you have. Your perspective is clouded by your emotions, but your mentor can see things clearly because of his or her outside perspective.
In some cases, your mentor may have access to people or opportunities that you don't have – but, depending on the type of mentoring relationship you have with them, they may be willing and able to help you.
So if you want to go on with God, I strongly encourage you to find a mentor this year.
Regardless of which area of life you want to improve, a mentor can help you. For example:
Finding a mentor at work can help you prepare for that promotion, get additional experience, and identify the weak spots in your resume.
Finding a mentor for your marriage can help you navigate the tough waters of spousal disagreements, daily decisions, and more.
Finding a mentor for your spiritual life can help you strengthen your weak spots, learn to walk closer with God, find spiritual healing, and give you the prayer support and encouragement you need.
No matter how you want to grow, you can find a mentor to help you.
Related: 9 Keys to Divine Advancement: Prophetic Word
Mentoring is God's way … because it's His original plan.
When He created the world, He made man and woman to be a family. He told them to be fruitful and multiply. With those words, He mandated them to have children–children whom they would raise, teach, disciple, and mentor. He called it fathering and mothering.
It's always been God's plan for fathers and mothers to raise up sons and daughters; and for those sons and daughters to eventually become fathers and mothers who raise up sons and daughters themselves.
So, another phrase that means the same thing as "mentoring" is fathering and mothering.
And God has always set the lonely in families. It's His desire for you to have a spiritual father/mother; to be raised up in the nurture and admonition of the Lord.
But to receive all that He has for you, you have to find a mentor.
If you're not sure how to find a mentor, I wrote a 3-part blog series that can help.
Click here to read How to Find a Spiritual Father. The 3 articles in that series can help you prayerfully identify the person that you would like to mentor you … and it will show you how to approach them and ask for mentoring.
So do you have a mentor? And if not, are you ready to get one?
You will advance further, faster, and longer if you will find yourself a mentor. So pray about it, and find someone with whom you can be divinely aligned. Somebody with whom you share heart, vision, and DNA. You'll never regret it if you do.
Is Holy Spirit speaking to you about getting a mentor? If so, please leave a comment below. I'd love to hear from you!