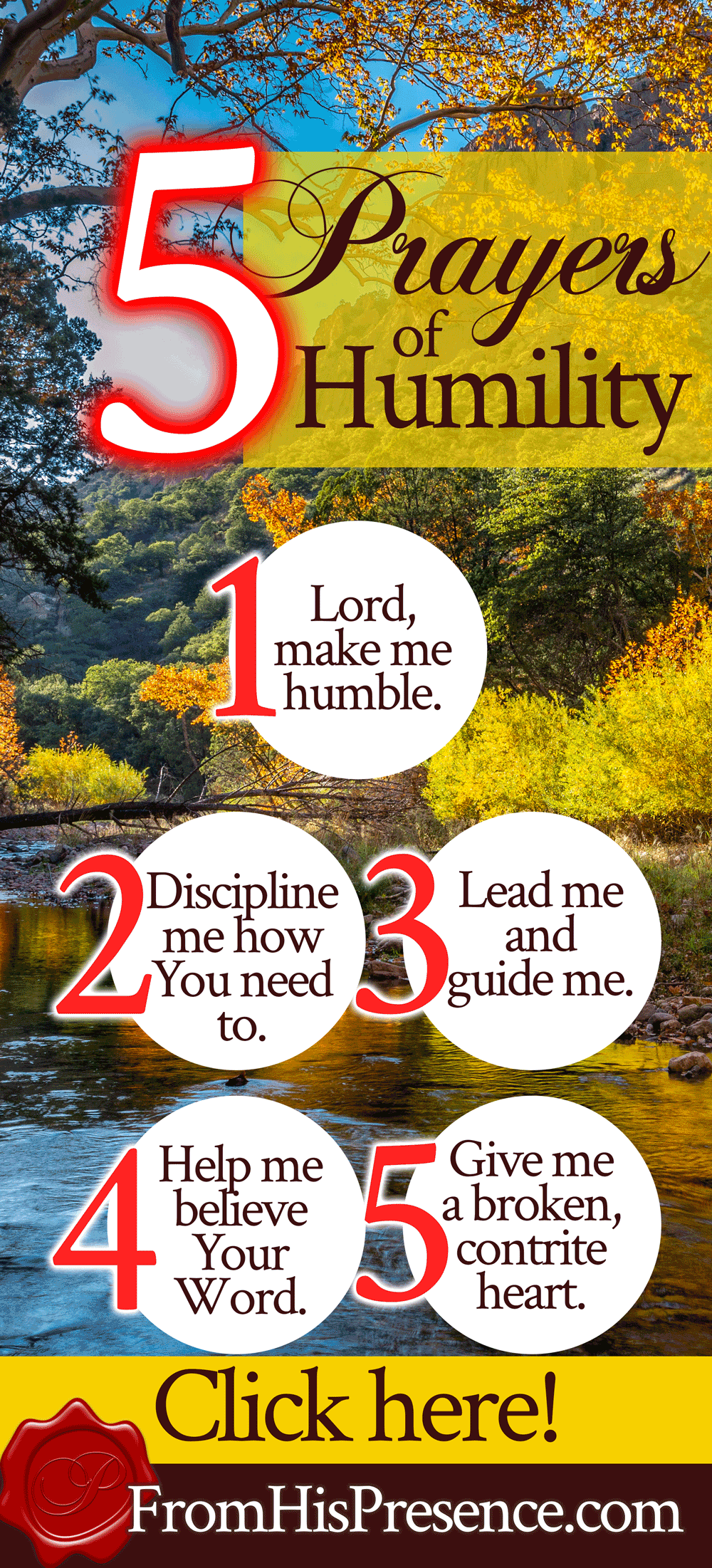 Do you want God to bless you? Do you need more of His grace in your life? If so, then these five simple prayers of humility are going to help you today. If you will memorize and pray these simple, one-sentence prayers on an ongoing basis, the Lord Jesus Christ will pour out His grace on you … and His grace will transform your life.
Why is humility so important?
The Bible says that God resists the proud, but gives grace to the humble. It also says that Jesus was humble, and we are supposed to be like Jesus.
What does "God resists the proud" mean?
"Resisting the proud" means He can't help you much, can't bless you, and can't draw you very close to Him if you:
insist on trying to do everything in your own fleshly power;
persist in trying to do things your own way, instead of His way; and
refuse to acknowledge your total dependence on Him.
Think about it this way:
God is a good, good Father. And just like an earthly parent, God doesn't teach His children–that's you and me–that we should do bad things. So, He can't affirm our bad behavior with His blessings.
Instead, He has to let us experience the consequences of our bad decisions … in the hopes that we will listen to His conviction and correction and change.
This is why God resists the proud. But, He also gives grace to the humble.
What does it mean that He "gives grace to the humble"?
If we are humble–meaning we listen to Him and submit to His will, making Him truly the de facto Lord of our lives–then He will give us His grace. God's grace is His supernatural power that:
sustains us;
holds us up;
keeps us going;
turns hard things into easy things;
helps us handle difficult situations with dignity and aplomb;
preserves our minds; and so much more.
God resists the proud, but He gives grace to the humble.
Read what the Word of the Lord says in the book of James, below:
"Where do wars and fights come from among you? Do they not come from your desires for pleasure that war in your members?

You lust and do not have. You murder and covet and cannot obtain. You fight and war. Yet you do not have because you do not ask. You ask and do not receive, because you ask amiss, that you may spend it on your pleasures.

Adulterers and adulteresses! Do you not know that friendship with the world is enmity with God? Whoever therefore wants to be a friend of the world makes himself an enemy of God. Or do you think that the Scripture says in vain, 'The Spirit who dwells in us yearns jealously'?

But He gives more grace. Therefore He says:

'God resists the proud, but gives grace to the humble'" (James 4:6-7 NKJV).
And also, we should carefully consider 1 Peter 5:5-7, which says:
"Likewise you younger people, submit yourselves to your elders. Yes, all of you be submissive to one another, and be clothed with humility, for

'God resists the proud, but gives grace to the humble.'

Therefore humble yourselves under the mighty hand of God, that He may exalt you in due time, casting all your care upon Him, for He cares for you" (1 Peter 5:5-7 NKJV).
God's grace will exalt you and promote you.
If each of us humbles ourselves under the mighty hand of God, then He will exalt us in due time. Throughout the journey, you will still have cares and trials. However, we are supposed to cast those cares upon the Lord in prayer as they come our way each day. And when it is His time, He will promote you into the next level of blessing He has for you.
This is just one of the reasons we should be humble: because humility produces blessing and grace in our lives.
But we are also supposed to be humble because we're supposed to be like Jesus … and Jesus is humble.
Jesus, the Son of God, very God of very God, the Darling of Heaven, equal with the Father and His Holy Spirit, was willing to suffer the indignity of coming to earth as a human baby to live and die for our sins. He was willing to take on the form of a man in order to save you and me.
As it says in Philippians 2:5-11:
"Let this mind be in you which was also in Christ Jesus, who, being in the form of God, did not consider it robbery to be equal with God, but made Himself of no reputation, taking the form of a bondservant, and coming in the likeness of men. 

And being found in appearance as a man, He humbled Himself and became obedient to the point of death, even the death of the cross. 

Therefore God also has highly exalted Him and given Him the name which is above every name, that at the name of Jesus every knee should bow, of those in heaven, and of those on earth, and of those under the earth, and that every tongue should confess that Jesus Christ is Lord, to the glory of God the Father" (Philippians 2:5-11 NKJV).
And we are commanded to "Let this mind be in you which was also in Christ Jesus."
We are to be humble, just like Jesus was humble. We are to serve God and our fellow man, rather than insist on being served. We are to love others and pour ourselves out for God and man, humbling ourselves under God's mighty hand every day.
Becoming Christlike is reason enough to seek out humility. But, God is good and gracious. And as we seek to become Christlike in this area of humility, He has promised to:
bestow His grace on us;
reward us by lifting us up and promoting us throughout the process; and
draw us closer to Himself, instead of resisting us.
Friend, are you ready to beseech God to make you humble today?
If so, pray these five simple, one-sentence prayers of humility. I encourage you to memorize all five of these one-line prayers and pray them back to God daily.
Here we go:
Prayer 1: "Lord, make me humble."
Humility before God is of vital importance–but, as with anything, we can't become humble without God's help! We cannot do anything at all without the Lord's help, actually. Remember what Jesus said in John 15:5:
"I am the vine, you are the branches. He who abides in Me, and I in him, bears much fruit; for without Me you can do nothing" (John 15:5 NKJV).
So if we need anything from God–even if we need heart change–the first thing we should always do is ask God to create that change in our heart. If you will ask Him for His help, God's Holy Spirit who lives in you will mold you and shape you, changing your heart day by day.
Want to be closer to God? Get this book!
7 Prayers to Pray Over Your Character
If you want to be more like Jesus, get the book and pray these 7 prayers every week! You can use it as a rotating prayer plan. Memorize the key points of the prayers and cry out to the Lord daily! He will transform you as you pray, and you will draw ever closer to Jesus.
God makes us all a precious promise in the book of Ezekiel about His ability to change our hearts. Read what He promises you here:
"'Then I will sprinkle clean water on you, and you shall be clean; I will cleanse you from all your filthiness and from all your idols.

I will give you a new heart and put a new spirit within you; I will take the heart of stone out of your flesh and give you a heart of flesh. I will put My Spirit within you and cause you to walk in My statutes, and you will keep My judgments and do them.

Then you shall dwell in the land that I gave to your fathers; you shall be My people, and I will be your God. I will deliver you from all your uncleannesses. I will call for the grain and multiply it, and bring no famine upon you.

And I will multiply the fruit of your trees and the increase of your fields, so that you need never again bear the reproach of famine among the nations. Then you will remember your evil ways and your deeds that were not good; and you will loathe yourselves in your own sight, for your iniquities and your abominations.

Not for your sake do I do this,' says the Lord God, 'let it be known to you. Be ashamed and confounded for your own ways, O house of Israel!'" (Ezekiel 36:25-32 NKJV, emphasis mine).
God will give you a new heart and a new spirit if you will ask Him to do so.
I ask Him for this almost daily. (I wish I asked every single day, but sometimes I forget.) But every time I ask Him, I feel Him drawing me a little bit closer to Himself. That new heart and new spirit is necessary in order to be truly intimate with Jesus, for Psalm 24 says:
"Who may ascend into the hill of the Lord?
Or who may stand in His holy place?
He who has clean hands and a pure heart,
Who has not lifted up his soul to an idol,
Nor sworn deceitfully.
He shall receive blessing from the Lord,
And righteousness from the God of his salvation" (Psalm 24:3-5 NKJV).
So ask the Lord for His help in becoming humble. Ask Him to actually make you humble. If you will pray this, you will find Him giving you a new heart and a new spirit and making you humble like Jesus.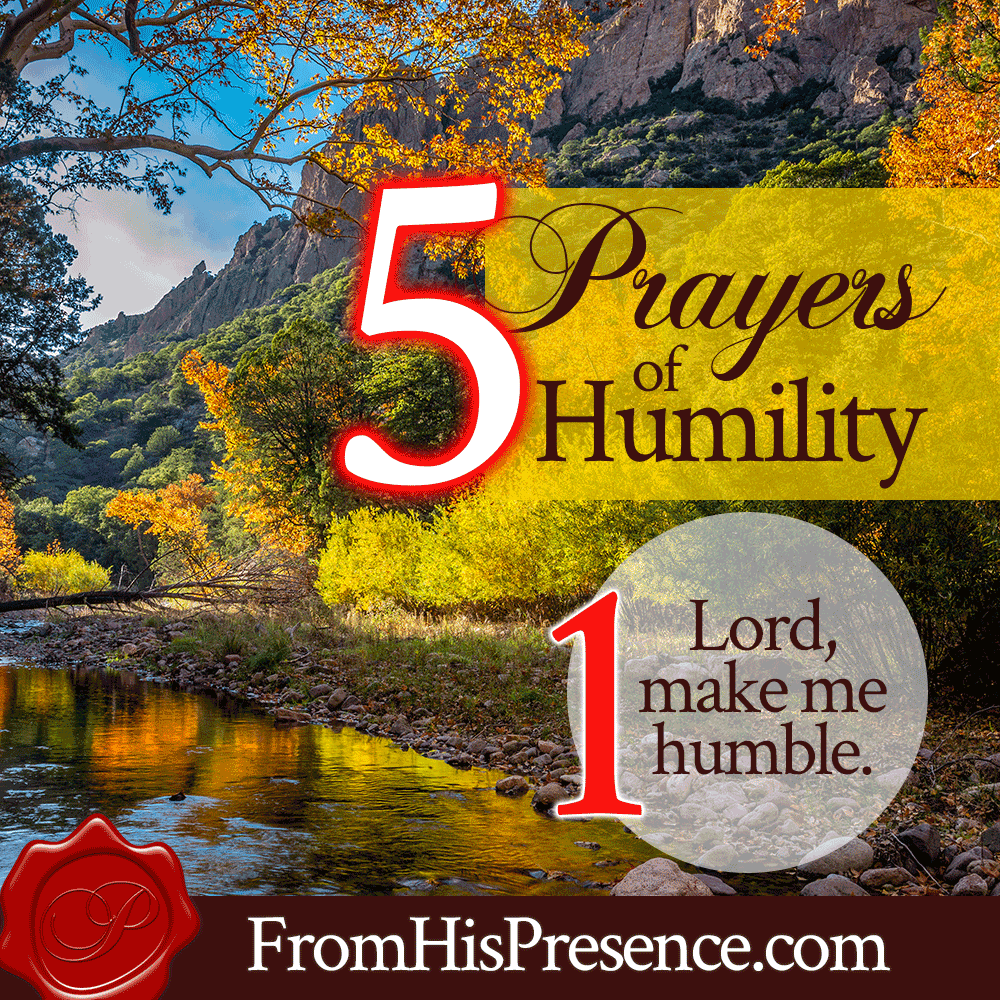 Prayer 2: "Discipline me however You need to."
God's correction is a sign of God's love. Hebrews 12:3-11 says this:
"For consider Him who endured such hostility from sinners against Himself, lest you become weary and discouraged in your souls. You have not yet resisted to bloodshed, striving against sin.

And you have forgotten the exhortation which speaks to you as to sons:

'My son, do not despise the chastening of the Lord,
Nor be discouraged when you are rebuked by Him;
For whom the Lord loves He chastens,
And scourges every son whom He receives.'

If you endure chastening, God deals with you as with sons; for what son is there whom a father does not chasten? But if you are without chastening, of which all have become partakers, then you are illegitimate and not sons.

Furthermore, we have had human fathers who corrected us, and we paid them respect. Shall we not much more readily be in subjection to the Father of spirits and live? For they indeed for a few days chastened us as seemed best to them, but He for our profit, that we may be partakers of His holiness.

Now no chastening seems to be joyful for the present, but painful; nevertheless, afterward it yields the peaceable fruit of righteousness to those who have been trained by it" (Hebrews 12:3-11 NKJV).
Friend, you correct your children because you love them. And God corrects us because He loves us, too.
So if His hand of discipline is only a sign of love, shouldn't we yearn for His discipline? Shouldn't we look for His shepherd's staff on our right hand and on the left, showing us don't go that way and do go this way? Don't we want to feel the gentle tug of His guiding hand, pulling us the way He wants us to go?
As He promised us in Psalm 32:8:
"I will instruct you and teach you in the way you should go; I will guide you with My eye. Do not be like the horse or like the mule, which have no understanding, which must be harnessed with bit and bridle, else they will not come near you" (Psalm 32:8-9 NKJV).
Of course we should.
Therefore, if you want to be truly humble before the Lord, go ahead and ask Him for His discipline.
His discipline will only make us better. Additionally, our lives will be easier if we proactively ask for His correction and discipline … instead of going our own way and receiving unexpected (and unwanted) consequences.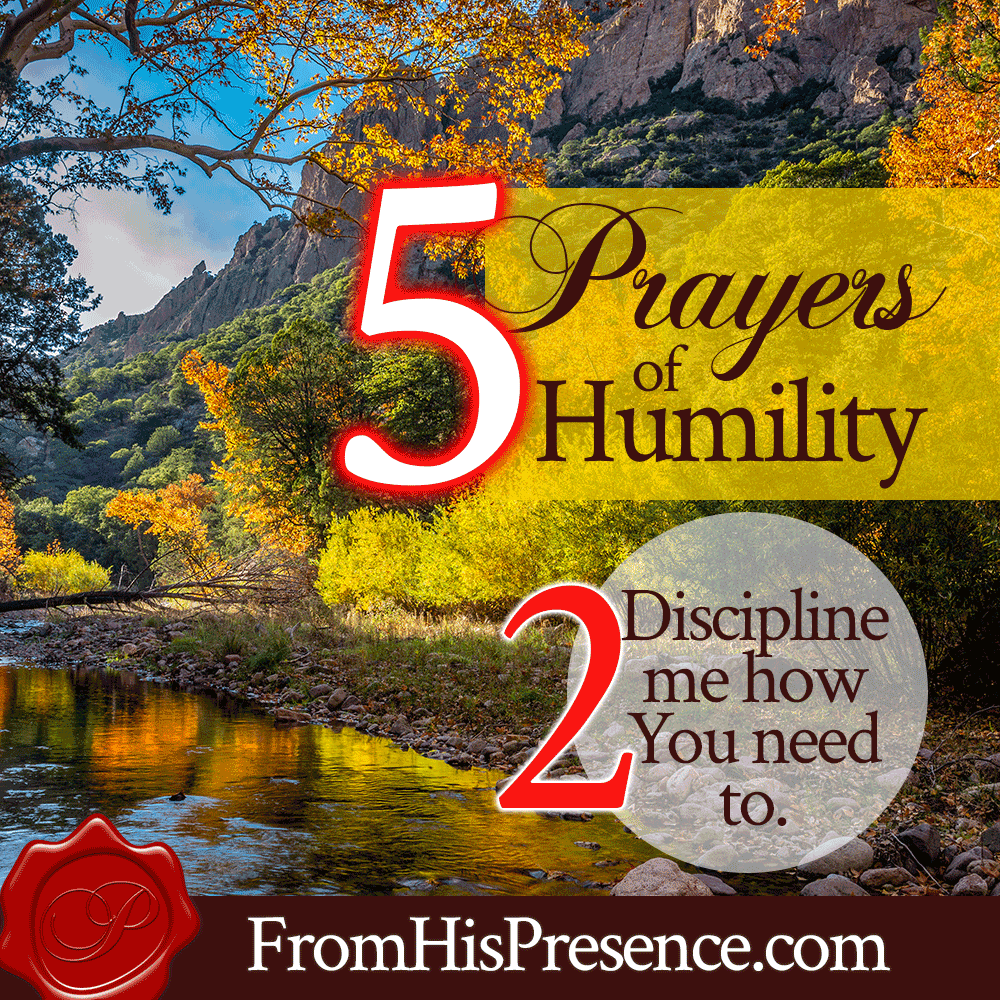 Prayer 3: "Lead me and guide me."
If you ask the Lord to lead you and guide you, you are demonstrating your dependence on Him. You are acknowledging that:
"A man's heart plans his way, but the Lord directs his steps" (Proverbs 16:9 NKJV).
And you are showing Him that you aren't arrogant and know-it-all. You are acknowledging that He sees things from a far superior perspective than you do; that He knows more than you know; and that only He can lead you to His safe harbor.
This is a very humble thing to do, and God will reward you for it.
As it says in Psalm 107:28-30:
"Then they cry out to the Lord in their trouble, and He brings them out of their distresses. He calms the storm, so that its waves are still. Then they are glad because they are quiet; so He guides them to their desired haven" (Psalm 107:28-30).
When you are humble enough to let God guide you, He will bring you to your desired haven. He will keep you safe through the storm, actually calming that storm for you so that its waves are still.
So go ahead! What are you waiting for? Simply bow your head right now, just as you are, and petition the Father in Jesus' name to lead you and guide you. He will hear your prayer, and He will help you navigate your life–and His plans for you–as only He can.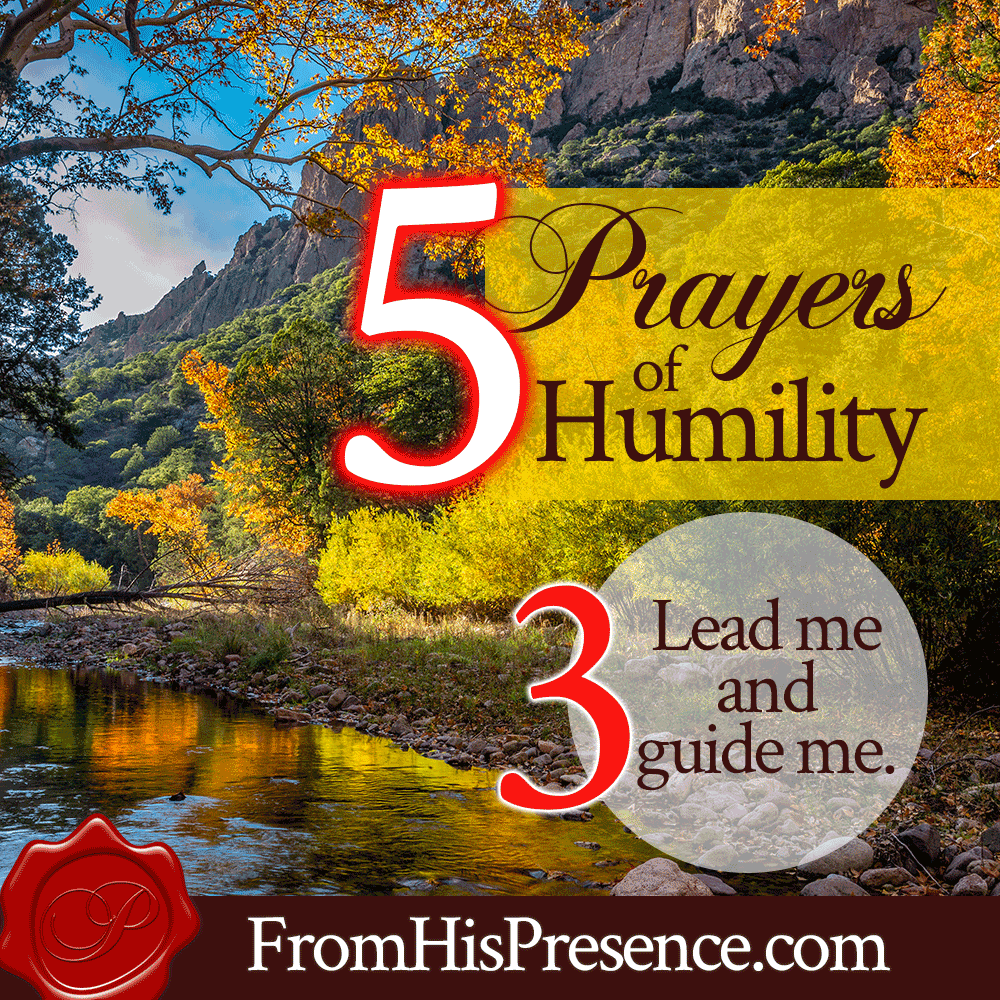 Prayer 4: "Lord, help me believe Your Word."
The Bible is God's inerrant, infallible Word to mankind. The Bible is actually Jesus in written form, as we learn here in the Gospel of John, chapter 1:
"In the beginning was the Word, and the Word was with God, and the Word was God" (John 1:1 NKJV).
And then, John 1:14 tells us more:
"And the Word became flesh and dwelt among us, and we beheld His glory, the glory as of the only begotten of the Father, full of grace and truth" (John 1:14 NKJV).
Friend, the moment I realized that Jesus is the Word of God, and the Word of God is Jesus–that somehow, Jesus is the Man-form of the Word and the Word is the written form of Him–I was struck with awe. And the more I meditate on that fact, the closer I draw to Jesus … for "man shall not live by bread alone; but man lives by every word that proceeds from the mouth of the Lord" (Deuteronomy 8:3b).
Jesus is the Word, and the Word is Jesus.
Learn more about God's Word by exploring our How to Know the Bible is True series!
Think about that for awhile; it will really mess with you, and it will bring you to worship at the feet of Christ.
But what does "the Word become flesh" have to do with humility?
The Bible is inerrant and infallible. Yet, it says many things that our fleshly logic might not like. It says things that convict us; things through which God seeks to change our hearts. It says many things that sinful culture hates. And strangest of all, it says many good things that our pride does not want to accept.
Yes, you read that right: It takes humility to believe the good things God says.
I can't even tell you how many, many times someone has told me they are willing to listen to all the correction God wants to send them–those words that tell us when we do wrong. But, those people have sat right in front of me and told me practically in the same breath that they were not willing to believe any of the good things the Lord says about them.
For example:
They were willing to believe that sin is ugly, but not that they could be forgiven of their sins in Christ Jesus.
They were willing to believe they needed to be more Christlike, but were not willing to believe that they ARE the righteousness of God in Christ.
They were willing to believe God wanted to discipline them, but not that He also wanted to reward them.
Friend, if you won't accept everything God says about you–both good and bad–then you are prideful.
And your pride stinks.
If you won't accept all the things God says–even the things which counteract your bad self-esteem–then you are prideful. Your pride is offensive to God, and it's causing Him to put "resistors" on your life. He's having to discipline you to deal with the pride, all because you won't humble yourself and believe the good words He says.
However, if you truly desire to humble yourself under God's mighty hand, you will have to believe everything He says, even when it's good.
And if you will do that …
You will find yourself being transformed by the renewing of your mind, that you may prove what is God's good and acceptable and perfect will for your life. (See Romans 12:1-2.)
You will find yourself receiving God's love deeply into your heart, where that love will heal everything that's broken in your life.
You will begin to see yourself the way God sees you. Your self-esteem will be healed and you will stop maligning and cursing God's work of art (which is YOU!).
Friend, if you want to be humble, you have to believe everything God says.
read the series
What To Do With Depression: Table of Contents
But, if you will do that, you will begin receiving LIFE into your body, soul, and spirit in a whole new way. You will begin actually experiencing the abundant life that Jesus died to give you. Why? Because, as Jesus told us in John 6:63:
"It is the Spirit who gives life; the flesh profits nothing. The words that I speak to you are spirit, and they are life" (John 6:63 NKJV).
And though the grass may wither and the flower fade, the Word of our God stands forever:
"The grass withers, the flower fades, but the word of our God stands forever" (Isaiah 40:8 NKJV).
So humble yourself under God's mighty hand today. Start believing everything He says, taken in context of course, whether it makes you feel good or whether it convicts you. As it says in James 1:21:
"Therefore lay aside all filthiness and overflow of wickedness, and receive with meekness the implanted word, which is able to save your souls" (James 1:21 NKJV).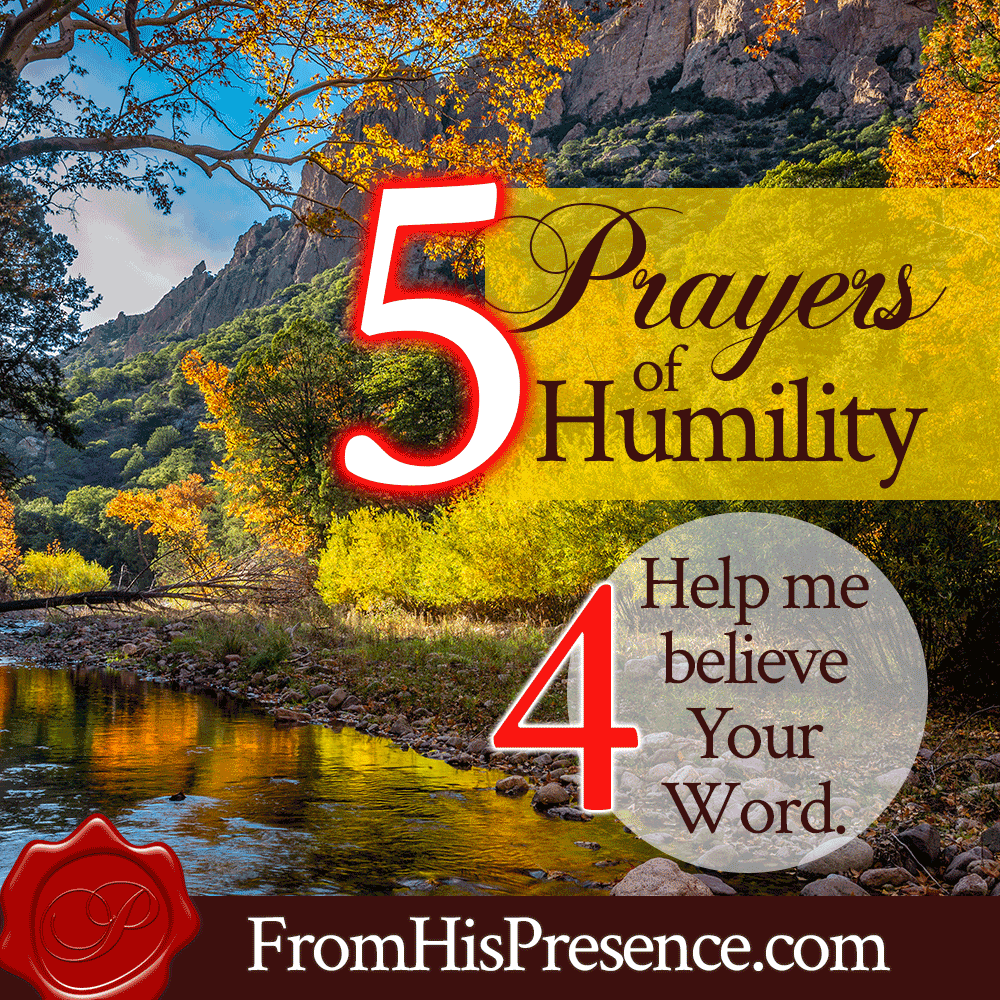 Prayer 5: "Lord, please give me a broken and contrite heart that You will not despise."
Psalm 51:16-17 says this:
"For You do not desire sacrifice, or else I would give it;
You do not delight in burnt offering.
The sacrifices of God are a broken spirit,
A broken and a contrite heart—
These, O God, You will not despise" (Psalm 51:16-17 NKJV).
Psalm 51 is my favorite Psalm to read if I know I have sinned against God.
Obviously, I don't ever want to sin; but sometimes I sin anyway. And since I always ask God to keep me on a short leash, then His conviction sets in immediately when I sin against Him. (I'm glad for that, too.)
Sometimes, I have a truly repentant heart, so I simply repent right away and get things right with God. Those are the easy days, for He forgives as soon as we confess our sins. As we learn in 1 John 1:9:
"If we confess our sins, He is faithful and just to forgive us our sins and to cleanse us from all unrighteousness" (1 John 1:9 NKJV).
However, some days I'm really, really mad … and I don't feel like repenting at all.
Can you identify? Hey, nobody likes to be there, but it likely happens to all of us. On those really bad days:
Maybe your spouse ticked you off so bad …
Or maybe someone hurt you, you're crying uncontrollably, and you're reacting by saying or doing things you shouldn't …
Or maybe you made a terrible decision that has grieved God's Holy Spirit, and you know it, but you did it on purpose and you know it was wrong …
On those really bad days, sometimes we all need help repenting. Maybe even a lot of help. 🙂
If you have given your heart to Jesus, God's Holy Spirit lives inside you. And He is always there to help you, shepherd you, and bear you up forever. This is a basic human need for which all hearts cry:
"Save Your people, and bless Your inheritance; shepherd them also, and bear them up forever" (Psalm 28:9 NKJV).
And Holy Spirit is good at convicting us when we do wrong! As Jesus promised us in John 16:5-15:
"But now I go away to Him who sent Me, and none of you asks Me, 'Where are You going?' But because I have said these things to you, sorrow has filled your heart.

Nevertheless I tell you the truth. It is to your advantage that I go away; for if I do not go away, the Helper will not come to you; but if I depart, I will send Him to you. 

And when He has come, He will convict the world of sin, and of righteousness, and of judgment: of sin, because they do not believe in Me; of righteousness, because I go to My Father and you see Me no more; of judgment, because the ruler of this world is judged.

I still have many things to say to you, but you cannot bear them now. However, when He, the Spirit of truth, has come, He will guide you into all truth; for He will not speak on His own authority, but whatever He hears He will speak; and He will tell you things to come.

He will glorify Me, for He will take of what is Mine and declare it to you. All things that the Father has are Mine. Therefore I said that He will take of Mine and declare it to you" (John 16:5-15 NKJV).
On those days when we don't want to repent, we can ask God to give us a broken and contrite heart.
Everything you see was created by the spoken word.
So if you have nothing except the ability to speak, you can still create anything you want. You can be like God and speak those things that are not as if they already were (Romans 4:17)!
To help you, Jamie wrote a book of hundreds of Biblical confessions for you—especially in the area of your finances. It called Speak Life Volume 1: Chart Your Course With Your Words, and it's our most popular book ever! Get your copy today and begin speaking LIFE over those things that concern you!
When we pray that simple prayer, God the Holy Spirit will go to work in our hearts instantly. And it may take a few minutes as He calms us down and helps us to see things clearly (meaning, see things from His perspective), but He will help us. After not too long a time, true repentance will set in as God breaks our heart for what breaks His.
But since God's acceptable offering is broken and contrite heart every day, we can pray this prayer even on days we aren't angry and in sin.
Asking God to give you a continually broken and contrite heart is a good thing! And it doesn't mean that you'll walk around sad all the time; that's not what "broken and contrite heart" means.
Here's what a broken and contrite heart does mean:
Having a broken and contrite heart will help you repent quickly if you do sin.
It will actually help you refrain from sinning also, because you'll love what God loves and hate what He hates.
But additionally, having a broken and contrite heart will make you pliable and moldable before the Lord.
Having a broken and contrite heart means your heart will always be tender before God.
It doesn't mean that you'll sit around and be depressed, dying of what we label a broken heart. Instead, it means you will be in a continual state of lovesickness toward Jesus. You will constantly acknowledge your dependence on Him.
And in that place of lovesickness toward Jesus, you will find yourself so close to Him that actually you will be filled with joy unspeakable and full of glory.
As it says in 1 Peter 1:6-9:
"In this you greatly rejoice, though now for a little while, if need be, you have been grieved by various trials, 

that the genuineness of your faith, being much more precious than gold that perishes, though it is tested by fire, may be found to praise, honor, and glory at the revelation of Jesus Christ, whom having not seen you love. 

Though now you do not see Him, yet believing, you rejoice with joy inexpressible and full of glory, receiving the end of your faith—the salvation of your souls" (1 Peter 1:6-9 NKJV, emphasis mine).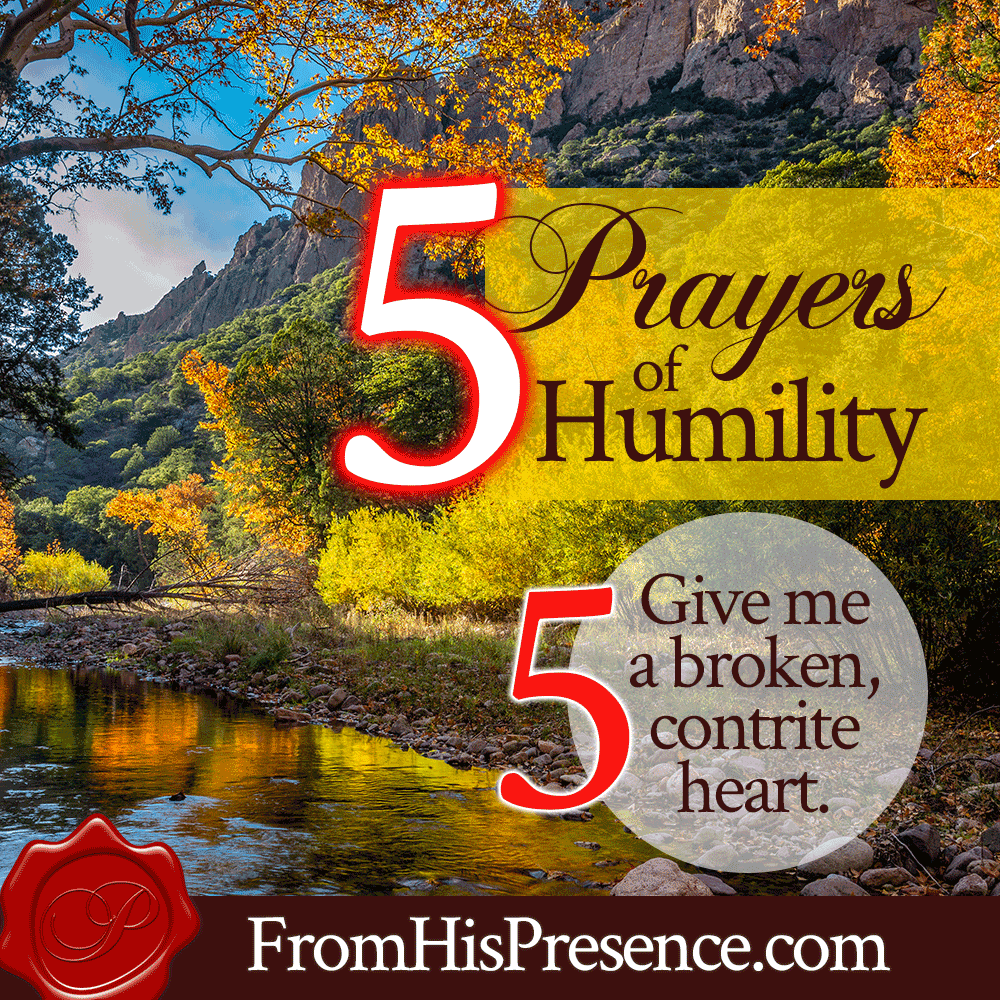 Friend, God will give you the good gift of a broken and contrite heart if you will ask Him.
We need Him to give us a new heart–a broken and contrite heart–because, without Him, we only have a wicked heart. As it says in Jeremiah 17:9:
"The heart is deceitful above all things, and desperately wicked; who can know it?" (Jeremiah 17:9 NKJV).
But God's mercies are new every day. You will never regret having a humble heart before the Lord. And even though we need His help even to have a right heart before Him, His grace is sufficient for us. His strength is made perfect in our weakness.
As the Lord spoke directly to the apostle Paul–and to all of us–in 2 Corinthians 12:9:
"And He said to me, 'My grace is sufficient for you, for My strength is made perfect in weakness.' Therefore most gladly I will rather boast in my infirmities, that the power of Christ may rest upon me" (2 Corinthians 12:9 NKJV).
Beloved, humility will get you everywhere in the Kingdom.
Humility doesn't mean to think badly of yourself, but it does mean to submit to God and learn to think like He thinks. Being humble means we obey God in all things, being willing to serve Him and others with everything we've got.
God resists the proud, but gives grace to the humble–and trust me, we all want and need more of His grace!
So let's review these five prayers for humility one more time.
The five prayers are:
"Lord, make me humble."
"Discipline me how You need to."
"Lead me and guide me."
"Help me believe Your Word."
"Give me a broken, contrite heart."
And friend, these five prayers will change your life. Will you start praying them today? Leave a comment below!