If You've Been Dishonored, Honor Is Coming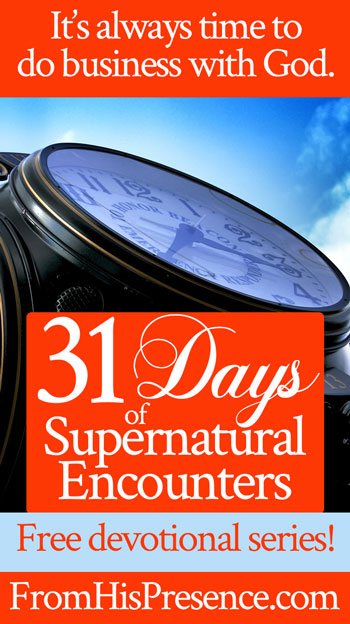 Beloved Presence seeker, have you been dishonored, shamed, or cast aside? If so, the Lord gave me an encouraging word for you today.
For Day 24 of our 31 days of supernatural encounters (series index here):
Read: Isaiah 62:3-4
You shall also be a crown of glory in the hand of the Lord, and a royal diadem in the hand of your God.

You shall no longer be termed Forsaken, nor shall your land any more be termed Desolate; but you shall be called Hephzibah, and your land Beulah; for the Lord delights in you, and your land shall be married" (Isaiah 62:3-4).
Know:
I heard the Lord tell me He wants to talk today to those who have been shamed, dishonored, disregarded, and cast aside.
Some of you–maybe many of you–have been severely shamed, especially over the past couple of years. Through no fault of your own, you have endured circumstances that have made people look down on you, exclude you, and repudiate you.
You have felt like no end was near. But, I tell you today, the end of your shame is coming.
This is what I heard the Lord say for you today:
"You need to believe Me for honor. Disinheritance is not your portion. HONOR is your portion.
You truly are a crown of glory in My hand, a crown that I have made for My Son Jesus. And I always take good care of My crowns.
You are one of the crown jewels of the Kingdom.
On earth, your kings and queens treasure their crown jewels. They lock them up and put guards around them. They display them under dazzling lights and lay them out on the highest-quality velvet that will not scratch the tender gold.
Beloved, YOU are My crown jewels. I am preparing a place for you where you will rest in the softest of environments. I am making a place for you where you will be bathed in the gentlest of lights, positioned just perfectly to highlight every facet of your beauty.
I have made you and formed you for My purposes, and I have stationed guards all around you.
Believe it or not, My glory IS your rear-guard. I am encamped all about you to deliver you. I am your front-guard, your rear-guard, your side-guard, your above-guard and your beneath-guard. Underneath you are My everlasting arms.
And precious son, dear daughter, honor is coming. Hear Me shout it: HONOR IS COMING. It has been so long that you cannot feel faith, but you are already aware that faith is not a feeling. It is a choice. And I do see your faith, for you have chosen to believe Me and My Word regardless of your feelings.
Beloved, thank you.
Thank You for believing in Me so that I can work in your life. I love to work with gold, and you are the finest of gold. You are the purest of gold, and in you I can see My reflection.
You shall no more be termed "forsaken." You shall no longer be called "desolate." My delight is in you, and both you and everything about you shall be honored, kept, guarded, and displayed in all MY glory, for I cherish you."
Thank You, Father.
Pray this:
"Heavenly Father, thank You for this word. I receive it, and I love You. Thank You that I am Your crown jewel. Thank You for redeeming my life from hurt, shame, reproach, and dishonor.
Father God, I lift Your Word back up to You. I pray that You would bring me the favor and glory you have promised me.
I decree in accordance with Your Word that no longer shall I be called "forsaken," and no longer shall I be desolate. But I thank You that I am Your delight instead, and I carry Your glory and walk in Your favor, grace, and supernatural blessing.
Thank You, Father. In Jesus' name, amen."
Listen:
Listen to Pastor Tommy Bates, who is both one of my favorite preachers + one of my favorite singers on the PLANET, sing Psalm 3. This song will fix anything that ails you. It's the Word of God!
(By the way, this song is from Pastor Bates' CD called "Have You Got It Like the Bible Says," if you want to pick up the CD over on his website.)
Does this word encourage your heart today? If so, please leave a comment below. I'd love to hear from you!
Would you help me with my work of reaching people for Jesus as a domestic missionary? I need you; we are in this together!

This blog, and all of the Kingdom work we do in this community together, are made possible through your partnerships, donations, and product purchases. If you'd like to help, please check out the partnership details and products available for sale here. And, thank you in advance for helping make this blog and everything we do together for the Kingdom possible!