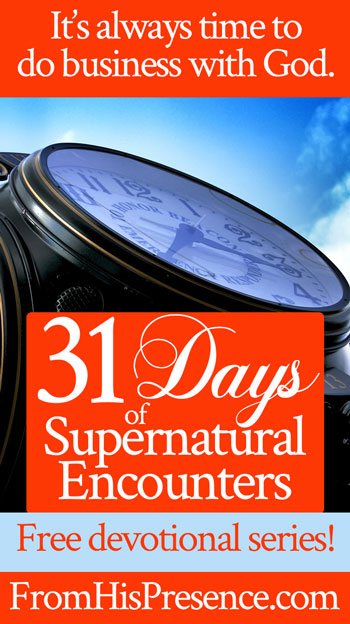 Beloved Presence seeker, today–Day 25 of our 31 days of supernatural encounters (series index here)--we are simply crying out for more–more of God.
Read: Psalm 84
Know:
When was the last time you cried out in agony to God for nothing more than more of Him?
Yes, I know we have access to all of Him already in Christ. That is very true.
But it is also true that, upon finding Him, we continue to seek Him–and, having sought Him, we continue to find Him.
There is always more of our Father to know.
And the most powerful, most intimate encounters I have ever had with the Lord have been nothing more than this: me, alone with God–or even in church, but focused in on Him so much that I didn't think about other people–simply crying out:
"Father, I need You. Jesus, I need You. Holy Spirit, I need You.
Please. I'm desperate for You. I'm desperate for more. I have to know You more. I want to be closer to You. I must be closer to You. 
I will die if I don't have more of You, Lord."
I truly believe there is no greater prayer than that. No greater prayer than total surrender. No greater prayer than raw, absolute, desperate love for Him.
After all, there is nothing closer to Father's heart than to be closer to YOU.
We love Him because He first loved us (1 John 4:19). So what prayer could possibly agree with His will more than simply crying out for more of Him? For more of His face? For more closeness, more intimacy, closer relationship with Him?
So today, I implore you:
Would you sit down with God and simply cry out for more of Him?
Would you tell Him that you are desperate for Him?
And if you're not desperate, would you ask Him to make you that way?
Would you tell Him that He is your life, your breath, your strength–and that your heart and flesh will fail without Him? That He is your chief Love, your Desire, the object of your affection?
And would you ask Him–with faith–to give you more? To draw you closer to Himself? And to help you know Him more?
Just for more of Him?
There's nothing greater than simply crying out for more of Father.
There is nothing more real, nothing more raw, and nothing more powerful. I know of no greater way to encounter God personally than simply to cry out to Him for more … more of Him.
Will you do it?
Pray this:
"Heavenly Father, I need You. I love You. Father, please have all of me for Yourself. Please help me to know You more. Draw me closer to Yourself. Fill me with Your Spirit.
Oh God, I'm desperate for You. I give You permission to remove everything from my life that keeps us from being closer. Help me, Lord. Please. I just want to be closer to You. Fill me and take me wholly for Yourself, Lord.
Thank You, Father. In Jesus' name, amen."
Listen:
Listen to Eddie James sing the most powerful version of "Let It Rain" that I have ever heard. As you listen, make this your heart's cry and entreat our Father to rain down more of Himself into your life!
Does this word encourage your heart today? If so, please leave a comment below. I'd love to hear from you!
Would you help me with my work of reaching people for Jesus as a domestic missionary? I need you; we are in this together!

This blog, and all of the Kingdom work we do in this community together, are made possible through your partnerships, donations, and product purchases. If you'd like to help, please check out the partnership details and products available for sale here. And, thank you in advance for helping make this blog and everything we do together for the Kingdom possible!
The Toolkit itself is huge. And in addition to that, you'll get an email when new content is posted, as well as exclusive prophetic words, teaching material, and more for free when you confirm!