Letters to Singles: Get Ready, Part 2
Dear single friend who desires to be married,
Yesterday, we talked about the first steps in the process of believing God for a husband or wife. I assigned you homework, too. Did you do the homework? I hope so, because today you're going to need it.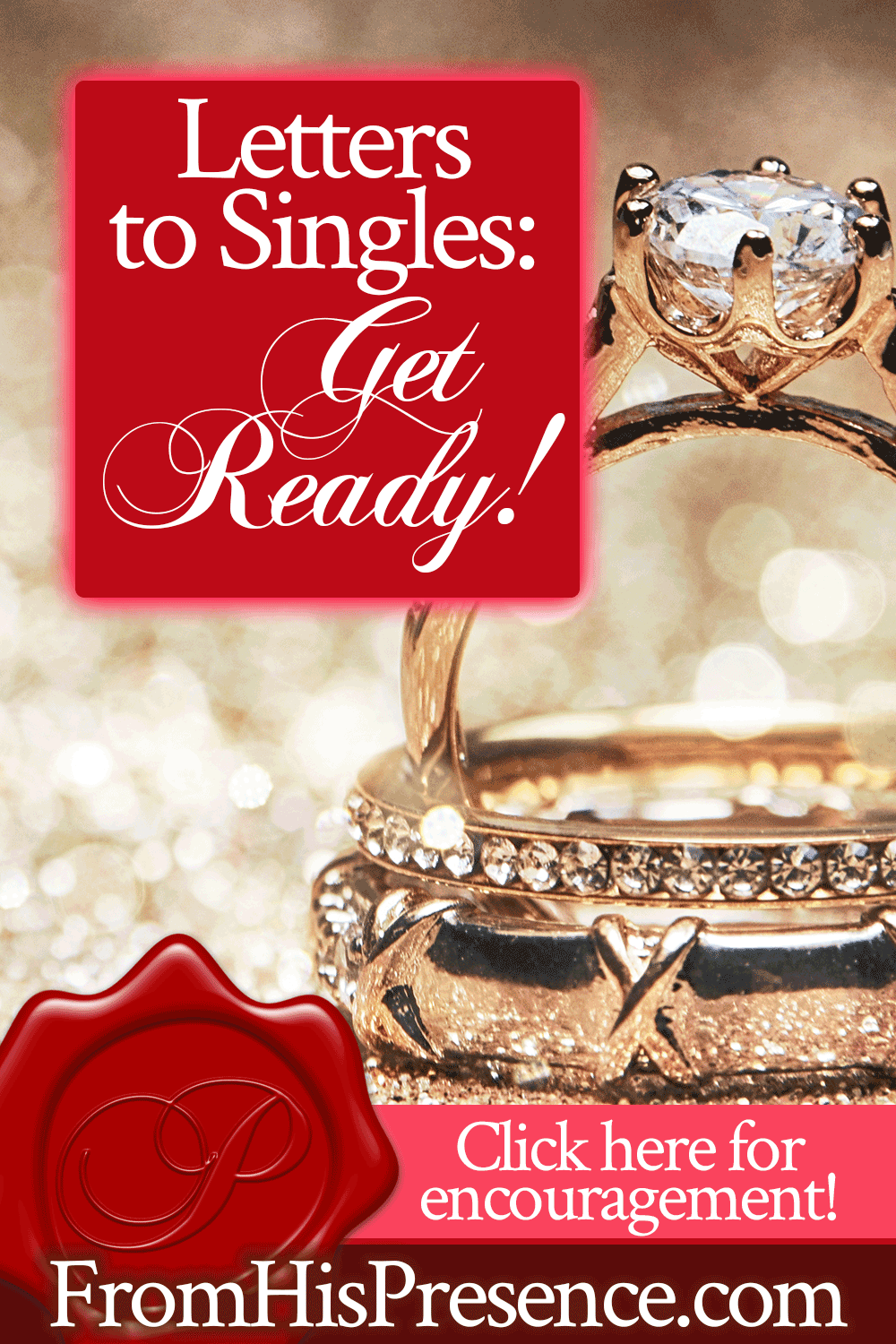 In the third part of yesterday's homework, I asked you to make a list. Today, we're going to continue the process of getting ready …
Because it's time to get ready for your spouse!
Remember, you received your divinely-appointed husband or wife when you prayed. So now, it's time to get ready to see your answer manifest in your life!
The next step I want you to take, and the first part of today's homework, is this:
1. Closely examine your list of character traits and personality traits that you desire in a spouse.
Then ask yourself:
What does this person like?
For example, if you wrote down that you want a spouse who is faithful to you (and I hope you did!), then if you look at that person's traits, you can know for sure that they will also desire a spouse who's faithful, who dresses modestly, who doesn't flirt too much, sleep around, or use people.
If you wrote down that you desire a spouse who has a good job and makes good money (and I hope you did!), you can also assume that they will probably "click" or get along best with a person who is steady, works hard, and is optimizing their income as best they can.
If you desire a spouse who is organized and proactive, then you can rightly assume they will probably value someone who budgets, sets goals, cleans the house, and plans ahead.
You get the picture. 🙂 (Hang on now; you're going to be okay!) <3
2. So then the question to ask yourself becomes, "Am I a person that my dream spouse would be attracted to?"
This is the second part of today's homework, and this is very important!
When I began believing God for a husband, I made a list of over 80 qualities and characteristics that I wanted in my spouse! And then I spent years preparing for marriage to that person, even though I had no idea what his name would be or what he would look like.
I just knew God wanted me to be a certain kind of person, and I knew God and I both wanted him to be a certain kind of person; so I worked hard to be that person that God wanted me to be, knowing that it would also make me a better wife.
There is always grace and mercy. You don't have to be perfect; the other person isn't going to be perfect either.
Even on your best days, both you and your future spouse will still wake up with stinky breath; your clothes will get dirty; you will occasionally do things you wish you hadn't done.
However, it's still vitally important to prepare your character now.
Remember who you are in Christ. Don't get into condemnation because of your past. But work on the person you are now, making every effort to become the person the Lord Jesus Christ has called you and created you to be.
This is important to understand:
If you want a spouse that's faithful, but you're sleeping around, that faithful potential spouse is not going to be attracted to you when they meet you.
If you want a spouse who is good with money, but you never saw a budget a day in your life, that is going to be extremely un-attractive to said potential spouse!
If you want someone who's good-looking and fit, but you never brush your teeth, cut your hair, shave your beard, or dress nicely, you won't catch the eye of that good-looking, fit person when you meet them!
Beloved, you've got to realize that character matters.
And character is the first thing that can and will make or break both a dating relationship and a marriage. So before you even try to meet your potential spouse, you've got to work on your character:
Become the man or woman of God's Word that Father desires you to be!
Become a person of prayer and fasting!
Become a person of praise and worship!
Get all negativity out of your life! Nobody likes to hang out with a Debbie Downer or Donald Downer! Get a positive attitude; read every book by Norman Vincent Peale on the planet if you need help with this! Become positive and happy!
Become a person who trusts God! Marriage is hard enough just because two people are involved. If one of them is always looking at the circumstances or trusting feelings instead of trusting God, that will make things even more challenging. Become a person who decides to believe God's Word, no matter what!
Ladies, do you want to marry a man who knows he is the prophet, priest, and king of your home–and acts like it? A man who is faithful to God? That man will be in church every week, so you had better become faithful to attend church too!
You see what I mean. 🙂
If you want to get married to the person the Lord has for you, you have to become marriage material for that type of person.
I know you may already think you are, and you may be! Hurrah if you are! However, I urge you to take a careful look at your own life and character and see right now what you need to work on to become more like God wants you to be. 🙂
3. The third piece of homework I have for you today is this:
Take a look at your physical appearance.
A serious look.
I don't want you to get all down on yourself when you look in the mirror. But I do want you to ask yourself this:
Are you doing the best you can with what you have?
For example:
Maybe you have some extra curves. So what? But are you doing the best you can with what you have, wearing clothes with patterns and elongating lines that make you look as pretty or handsome as possible?
Are you wearing stylish outfits? You can look "in style" for not a lot of money. And if in doubt, go classic; classic never gets old. But don't look dowdy or dumpy! Do you need some new clothes?
Does your hair have a lot of gray in it? Do you need a haircut and color?
Men, take a look at that handsome mug. Very few women like to see a beard on their man. If you want to up your odds of making a great first impression, shave your face. If you keep a beard, you're lowering your chances of making a good first impression with all the women in the world who hate beards. If you must have a beard, grow it after you're married. 🙂
Women, are you dressing modestly?
I'll confess one of my pet peeves here: I hate it when people show a selfie on social media, and I can't figure out if it's a picture of the woman or of their cleavage.
Let's be honest here: Ladies, you want a man who wants you for your character–not because your goods are on sale. Men are born to hunt. Make it easy for them to pursue you by giving them something to pursue, something they have to hunt for, something they have to chase, something that takes some work.
You can absolutely look your best while keeping your secrets still a mystery. Give a man something to aim for on that wedding night that he doesn't get to see every day! #HadToSayIt #Truth
So homework #3 today is this: Go get one outfit that absolutely makes you shine:
One outfit that's in style.
One outfit that has flattering colors and lines.
One outfit that shows you as the amazing workmanship of God that you are.
Make sure this outfit doesn't make you look strange. Make sure it's not "in-your-face"; this outfit is not your time to prove a point about what an "individual" you are or how rebellious you can be.
Make this outfit something that makes you look amazing in anyone's estimation. Something classicly beautiful or handsome or tailored or chic. Something amazing.
It doesn't have to be expensive. But, it does have to fit you well:
Not too tight;
Not too loose;
Not too revealing;
Not too baggy;
Not a billboard for somebody's brand.
Just beautiful. Or handsome … the way God made you to be.
That's your homework. Three parts:
Figure out what your future spouse likes, based on what you know about them from your list.
Figure out what you and God need to work on together in your own life.
Get one outfit that makes you absolutely shine.
Challenge accepted? Leave a comment below if so! Then, check back this week for the next in our series of Letters to Singles! I am praying for you today!