Letters to Singles: Get Ready, Part 1 (Prayer for THE ONE)
Dear single friend who desires to get married, it's time to get ready.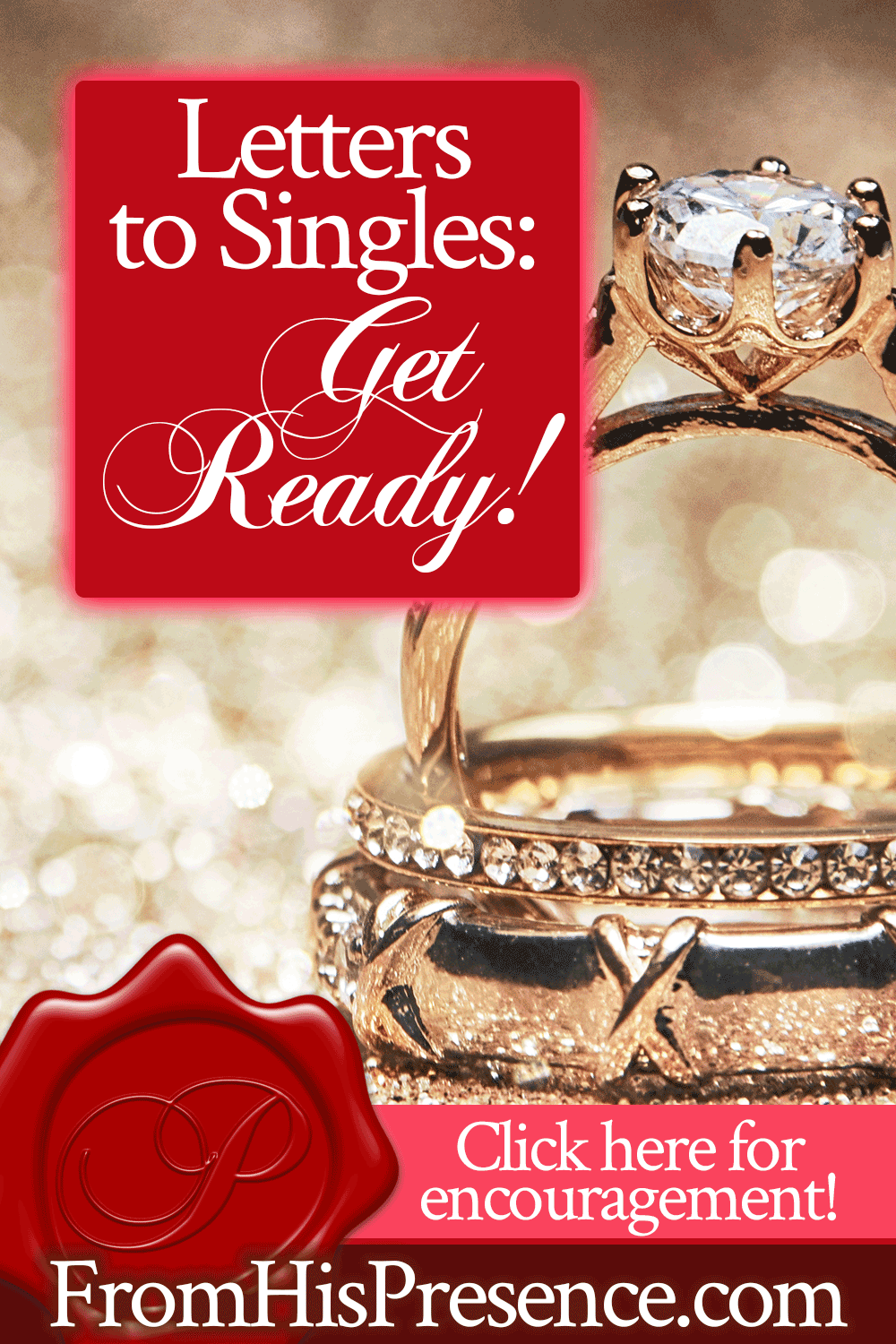 I'm serious. You've been praying and believing God. You desire to marry the spouse that God has divinely ordained for you before the foundation of the world.
Well, if you prayed in faith, then it's time to get ready because the Word of God says you received the answer the moment that you prayed.
Related: Read Part 2 of this Letter to Singles here.
Mark 11:22-24 says this:
"So Jesus answered and said to them, 'Have faith in God. For assuredly, I say to you, whoever says to this mountain, 'Be removed and be cast into the sea,' and does not doubt in his heart, but believes that those things he says will be done, he will have whatever he says.

Therefore I say to you, whatever things you ask when you pray, believe that you receive them, and you will have them'" (Mark 11:22-24 NKJV).
Jesus said you receive what you ask for the moment you pray for it.
Literally, the original word for "receive" (in the phrase "believe that you receive them") means "take." In other words, when you pray–in the moment that you pray–you have to believe that you are TAKING the answer with your prayer … and you will have the things you asked God for.
That divinely-created spouse became yours the moment you asked God to send him or her to you.
So what's the holdup? Why hasn't that spouse appeared to you yet, and when will they manifest?
I don't know. But I do know that it's time to get ready.
I have some homework for you today if you're single and you desire to get married.
Related: Encouragement for Singles Who Desire To Be Married

Here's your homework:
1. Forget about every idea in your head that "So-and-so" is "the one" for you.
That's right. I said "forget it." It might end up coming back full-circle, but it's time to leave that to God.
Here's the thing:
In your heart, you want THE ONE that GOD has for you, and God knows exactly who that is–but you do not. I've been there and I understand, but on the other side of it, let me re-emphasize:
Only God knows who THE ONE is.
This doesn't mean that men shouldn't pursue a person they're interested in. They should–but both men and women have to guard their hearts on this and adopt a "wait-and-see-what-God-does-with-this" attitude.
Every time I've ever seen a person get into saying "God, make So-and-so like me or marry me," it ends disastrously.
Related: If Your Dating Relationship Isn't Working Out
Every time I have seen it, without fail, it has ended in divorce or affairs or misery or abuse. I don't want that for you, and neither does God.
So from this day forward, I urge you to SEPARATE your concept of "THE ONE" from the identity of every person you know.
This doesn't mean that, men, you shouldn't pursue the lady you think may be the one.
You should pursue her and see! But that's the key: pursue her and see. Wait to see what God does as you pursue her.
And ladies, if a guy pursues you, that's great. (By the way: Don't pursue the guy. Men are born to hunt, and you don't want a guy who won't pursue you.)
But even if a wonderful man pursues you, adopt that same "wait-and-see-what-God-does-with-this" attitude. Watch and walk in wisdom, humbly depending on God every step of the way even as you walk in a relationship.
But make it two separate matters of prayer.
In other words, from this day on, start praying for THE ONE and talking to God about THE ONE as if they were an individual you have never met before in your life:
An individual you love very much.
An individual to whom you are loyal.
An individual who exists in the world somewhere right now, who is about to cross your path at any moment.
Even though you have never met THE ONE, know that they are out there somewhere and they are yours. Start praying that way and thinking of them that way, but with the idea in your head that you do not yet know who this person is.
At the same time, if you're interested in any particular person that you have already met, then talk to God about that person as that person. Not as if they are THE ONE.
And if you're interested in someone, pray like this:
"Father, You know the feelings I have toward this person. If they are The One, then please build this relationship to whatever You want it to be. But if they are not the one You have for me, then please take away these feelings I have and guard my heart. Help me to guard my heart. Deliver me from this person if they aren't THE ONE."
Praying for THE ONE and praying about So-and-so are two totally separate matters of prayer.
And you have to keep it that way in order to protect your heart during this process.
By treating "THE ONE" and "So-and-so" as two SEPARATE matters of prayer, you allow GOD to work and bring you into His very best. By releasing your feelings about any particular individual to the Lord, you allow HIM to either:
Change your heart and keep you from sharing your heart and soul with a person who is wrong for you; or
Slowly bring your picture of So-and-so to overlay His picture of THE ONE, showing you that the two are one and the same.
But you know what? ONLY God can do that. Only God knows who is best for you.
It doesn't matter if you've been living with a guy or girl for 5 years and you want to get married. They still may not be God's best will for you.
It doesn't matter if you have fifteen kids with a person. They still may not be God's best will for you.
It doesn't matter if a person looks all holy on the outside or not. They still might not be God's best for you.
Only God looks at the inside and sees the heart.
Only God knows you and His plans for your life, and only God knows who would be the best person for you to marry.
So it's time to cast down your idols and sacred cows. If you have it in your heart that So-and-so is "the one" for you, it's time to lay that down today and give your thoughts about that person to the Lord.
That's the first part of your homework.
2. The second part of your homework is to sanctify yourself unto the Lord.
To sanctify yourself means to set yourself apart. It means you're releasing all your earthly ideas of who you want and when you want them, and instead of those fleshly ideas you are committing yourself to God and allowing HIM to match you up with HIS BEST for you.
God is an amazing matchmaker. If you'll release your thoughts, feelings, and expectations to Him, He will do amazing things for you.
All you have to do is know that:
God's Word promises you a spouse if you want one; and
You received the spouse God has for you the moment you prayed and asked Him to bring you that person.
But as far as the selection of the actual person, you have to tread very carefully and see what God does, okay? "Commit your way to the Lord, trust also in Him, and He shall bring it to pass" (Psalm 37:5).
If you need help praying in this area, pray a prayer for THE ONE along these lines:
"Dear Heavenly Father, I come to You in Jesus' name.
Abba Father, thank You for loving me and caring for me. Thank You for seeing all the desires of my heart.
Father God, the heart of man is deceitful and none can know it except You. I see things I think I want, but I have to admit that I really am not capable of knowing exactly who and what is best for me. Only You are, so I need You to help me and bring me into Your highest and best plans for my life.
Abba Father God, I release my expectations to You right now.
For any prayers I have prayed demanding or expecting You to bring a certain person to me as my spouse, I repent. I'm sorry, Lord, and I confess that as sin. Please forgive my presumption and my sin. Cover me and wash me with the blood of Jesus. Make me clean and fill me with Your Holy Spirit. Thank You, Abba Father.
Father God, I need wisdom and wisdom comes only from You.
I need help, and help comes only from You. I need direction, and true counsel comes only from You. So Father, I ask right now that You would bring me into contact with the spouse You have for me–the spouse whom You have divinely ordained for me from before the foundation of the world.
While I wait, Father, please help me to separate myself unto You. I commit myself to You right now:
I commit to live in purity. Please keep me on a short leash, Father, and discipline me in this as much as You need to. Keep me from sinning against You.
I commit to live in humility. I will not assume that any particular person is THE ONE until You have made it clear by bringing us to the marriage altar and we both say our vows on the day of our wedding. I ask that You would continually lead me, guide me, and direct me, and bring me to the right spouse while delivering me from every distraction, attraction, and person that is not the one You have for me.
I commit to guarding my heart. Father, please help me to remember that the spouse You have for me is out there somewhere. I don't want to give my heart away to the wrong person or people, only to be broken and less-than-whole when I do finally meet my spouse. Lord, please help me to guard my heart. I pray that I would not awaken love until it pleases You, Father, and that I would keep my eyes on You at all times.
Father, thank You for forgiving me for every presumption. Please deliver me speedily OUT of every situation and relationship that is not Your will for me.
Please help me to compare everything about my life to Your Word and cling only to You, obeying Your Word without fail in every situation. Make a way for me in every way, and help me to move forward in faith, purity, holiness, and wholeness.
Father, I know You will bring me the spouse You have for me.
I ask You to be my Heavenly Matchmaker, Father, and I thank You for hearing and answering my prayer. Please help me to pursue You ardently right now as my first and highest priority.
Help my future spouse to also seek You with all their strength and love. Keep and preserve us both unto Yourself, and I know that the closer we get to You, the closer You will also bring us to each other.
I commit to wait on You, Father. Thank You. In Jesus' name, amen."
And the third part of your homework is this:
3. Make a list of the character traits and life traits you desire in a spouse.
List the personality traits, the habits, and most importantly the CHARACTER you desire your spouse to have. Write them all down, as many as you can think of. Remember that character and relationship with God matter most.
Then check back with the next installment of Letters to Singles for your next homework assignment. It's time to prepare, beloved. God has a spouse for you, and He is answering your prayer.
Did this word speak to you today? Will you do the 3 homework assignments I have assigned you? If so, leave a comment below!