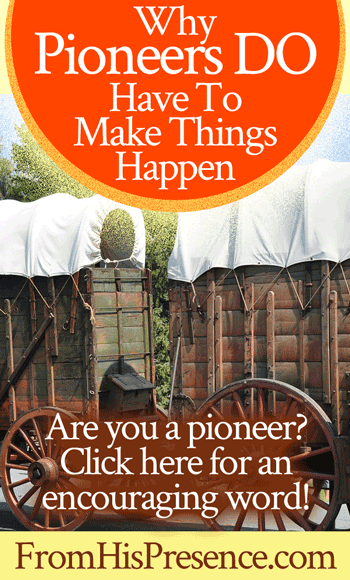 I've seen and heard a lot of posts on social media lately that say things like, "Don't force things to happen!" "Don't try to make things happen!" "If God is in it, doors will just open and you don't have to try!"
That is true for many people. However, it is NOT true for everyone; and it's very important to know when it is true–and when it's not–in case YOU are one of the ones for whom it is NOT true.
There are two major categories of job descriptions in the Body of Christ, and two major groups of people in any move of God. The first group is made up of pioneers. The second group is made up of settlers.
Here are some key factoids about pioneers and settlers, and the way they work together:
– Pioneers are not more important than settlers, and settlers are not more important than pioneers. Both have to exist, and both have to work together in order for the Kingdom to advance over time.
– There are a LOT more settlers than there are pioneers. Think about our American history: there were only a few people like Jim Bridger, Lewis & Clark, and Sacagawea who opened the West to European settlers. However, over 400,000 people traveled the Oregon Trail to settle the territory the earlier pioneers had opened.
– Pioneers DO, in fact, have to fight for the territory they gain.
In the Kingdom, pioneers are built for war. They live by a holy mandate; a fire that burns in their bones to take new territory for the King, come what may. They survive by fasting and prayer. They learn how to win in the prayer closet, which does make things easier for them; but they still have to slay wild beasts, fight tremendous battles, and sometimes persevere through hell in order to open up paths where no man has trodden before.
– Settlers, on the other hand, are more likely to be men and women of peace. Things do come easier for them, and they don't have the drive to take new territory that pioneers have. SETTLERS want to occupy the territory and make it great, and these folks are EXTREMELY necessary in the Kingdom. Without them, the new territory taken by the pioneers would be lost.
– Settlers often don't have to make things happen. Although they may occasionally fight, they don't have to fight as hard. Their ease of life was purchased for them by the warfare waged by pioneers.
– Being a pioneer can be discouraging if you don't understand what you're about.
If you, as a pioneer, try to fit in, blend in, or compare yourself with others, you'll come out depressed every time. If God made you a pioneer, you have to understand the breadth of the pioneer call in order to beat the depression and discouragement that will come against you.
These are just a few reasons why I think it's untrue to say, "If God is in something, you don't have to fight for it or make it happen." For some people, that statement will certainly be true. For ALL people, there will be a holy flow if God is in something. That's what the anointing is.
However, remember that Jesus is a Man of War. He DOES, in fact, anoint some people for war–to take new territory for His Kingdom. And obtaining victory in war always requires intentionality and aggression.
"And from the days of John the Baptist until now the kingdom of heaven suffers violence, and the violent take it by force" – Jesus Christ, Matthew 11:12.
***
If you'd like to read more about pioneering, you can check out my blog series about the ministry of the pioneer, here.
I also strongly recommend Ray Hughes' 3-part audio teaching on the pioneer path.