Mary's Song: My Soul Magnifies the Lord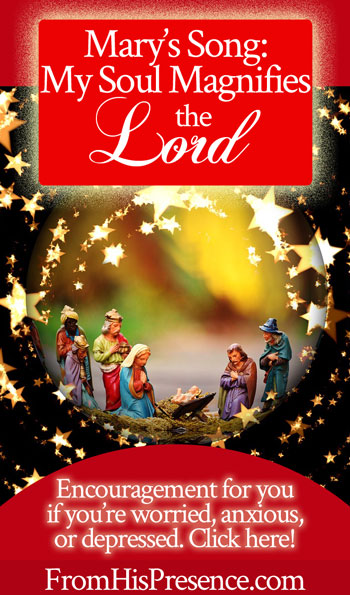 Dear Presence seeker,
Have you been worried about many things recently? Has your joy been obscured by the cares and troubles of this world? Do you just want to get your joy back?
If so, God's precious Word has a solution for you today … a help in your time of need.
First, please know that God understands that you feel low sometimes.
It doesn't mean we should feel low, but Papa knows that we do anyway. It simply means that we are still growing, and that we have not arrived yet.
Related: Are You Depressed or Anxious? Here's God's Cure
So what's the key to getting out of the low place? I'll share from my personal story.
I have not yet perfected this; I'm still growing in it, just like you are.
I'm still learning to say, "My soul magnifies the Lord." I'm sure I will always be learning this! But over the years, throughout the worst trials I've been through …
… like serious depression …
… like night-and-day-tears …
… like self-pity that ate me for lunch day in and day out …
… like being betrayed by friends and loved ones …
… like health challenges … financial struggles …
… and more and more and more; too many hard things to mention …
I have learned that every time I get depressed or worried about my circumstances, it is because I am not looking at Jesus.
Related: Introspection Is Like a Daily Haircut
When Mary visited her cousin Elizabeth, she walked in the house and Elizabeth broke out into prophecy. Why? Because Jesus was there (inside Mary's womb), and Jesus always inspires prophecy.
When Elizabeth was done speaking, Mary spoke a personal song. She may have sung it; who knows. But the first thing she said was recorded in Luke 1:46:
And Mary said: 'My soul magnifies the Lord'"
Mary said this despite the fact that she was pregnant outside of wedlock. She said this despite the fact that her reputation was ruined. She said this despite the gossip, the busybodies, and all the other things she had already endured and would endure.
She said this because it was first on her heart. Mary was a godly woman, and she knew that–come what may–she HAD to look at the Lord first.
And she had to look at Him BIGGER.
That's what it means to "magnify" anything, after all: to look at it bigger.
"Magnifying" anything means to blow it up in your field of vision so that it becomes very large–large enough to see.
That's why we're told in Scripture to magnify the Lord. We need to do so all the time, but we especially need to magnify Him when we're dealing with something difficult.
Why? Because, if we operate in our flesh, difficult circumstances tend to obscure everything around us. Including the Lord.
But if we walk in the Spirit, we will magnify Jesus–we will look at Him bigger–and, in fact, we will look at Him so largely that we cannot see everything else.
Because if the hard thing we're facing obscures everything else itself, then we must make Jesus bigger in our vision than even that. And that means that Jesus will be the only thing we will see.
I can't even describe how many times magnifying the Lord has gotten me through the hardest times.
So many times, I've gone to the Lord weeping and broken, only to pick up my Bible and read His words. And every time I did so, focusing on Him through His Word helped me to look at Him bigger … and He made everything okay again in my heart and mind.
Sometimes the feeling of being okay only lasted a few hours, and I'd have to go back to Him and look at Him some more in order to be okay again.
And again and again and again.
But no matter what, every time I have magnified the Lord over my circumstances, He has helped me, calmed me, comforted me, encouraged me, given me peace, and given me strength to go on.
He's even given me my joy back.
Every time.
Isn't that why Colossians 3:1-3 says:
If then you were raised with Christ, seek those things which are above, where Christ is, sitting at the right hand of God.

Set your mind on things above, not on things on the earth. For you died, and your life is hidden with Christ in God.
Beloved, no matter what you're going through today, please. Magnify the Lord.
Look at Jesus bigger. Look at your loving Father God bigger. Look at precious Holy Spirit. Set your mind on things above, where Christ is.
If you will do this, you will find peace.
Does this message speak to your heart today? If so, please leave a comment below. And let's all get to magnifying Jesus together!
Would you help me with my work of reaching people for Jesus as a domestic missionary? I need you; we are in this together!

This blog, and all of the Kingdom work we do in this community together, are made possible through your partnerships, donations, and product purchases. If you'd like to help, please check out the partnership details and products available for sale here. And, thank you in advance for helping make this blog and everything we do together for the Kingdom possible!