Provision at the Feet of Jesus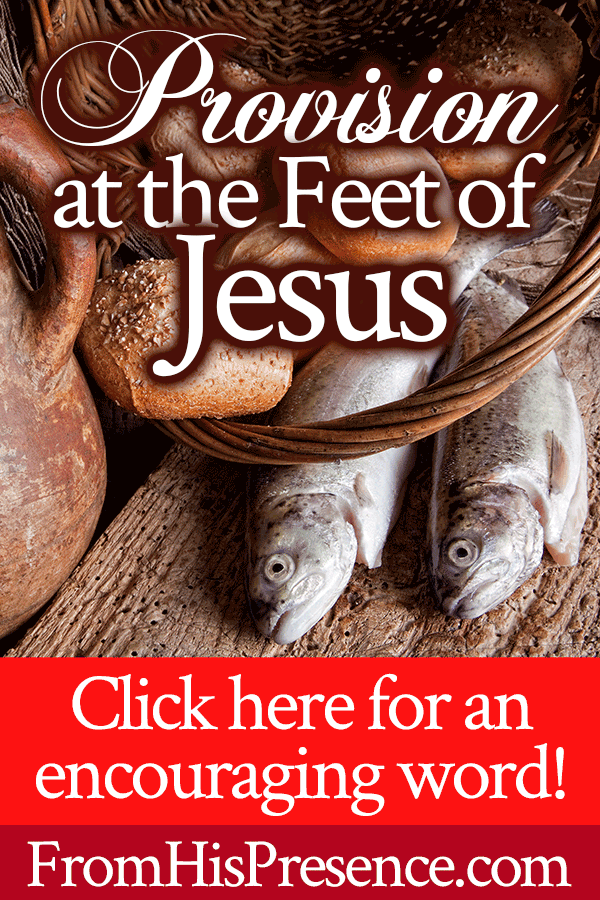 Are you in a beautiful place today–but you don't see the provision you need yet, even though things around you look good? If so, I want to encourage you today.
This morning, Holy Spirit led me to John chapter 6, verses 1-14. Almost immediately, I began to weep. Let's read this passage together, and then I'll tell you why it impacted me so–and the timely message I believe is in it for you today.
John 6:1-14 says:
After these things Jesus went over the Sea of Galilee, which is the Sea of Tiberias. Then a great multitude followed Him, because they saw His signs which He performed on those who were diseased.

And Jesus went up on the mountain, and there He sat with His disciples. Now the Passover, a feast of the Jews, was near. Then Jesus lifted up His eyes, and seeing a great multitude coming toward Him, He said to Philip, "Where shall we buy bread, that these may eat?" But this He said to test him, for He Himself knew what He would do.

Philip answered Him, "Two hundred denarii worth of bread is not sufficient for them, that every one of them may have a little."

One of His disciples, Andrew, Simon Peter's brother, said to Him, "There is a lad here who has five barley loaves and two small fish, but what are they among so many?"

Then Jesus said, "Make the people sit down." Now there was much grass in the place. So the men sat down, in number about five thousand.

And Jesus took the loaves, and when He had given thanks He distributed them to the disciples, and the disciples to those sitting down; and likewise of the fish, as much as they wanted.

So when they were filled, He said to His disciples, "Gather up the fragments that remain, so that nothing is lost." Therefore they gathered them up, and filled twelve baskets with the fragments of the five barley loaves which were left over by those who had eaten.

Then those men, when they had seen the sign that Jesus did, said, "This is truly the Prophet who is to come into the world" (John 6:1-14).
This passage brought me to tears almost immediately as I began to study it.
Awhile back, I wrote an important blog post on this passage about The Abundance Formula–because God's abundance, such as is manifested here in the feeding of the 5,000, is absolutely replicable. We can all experience this level of provision in our lives, and in The Abundance Formula, I showed you how.
But that's not what brought me to tears.
The thing that moved me this morning was this part of John 6:10: "Then Jesus said, 'Make the people sit down.' Now there was much grass in the place."
Why on earth is this little, tiny phrase important to you and me today?
Picture this:
You're in that crowd of thousands and thousands of people. It's a beautiful day, and you've been basking in the teaching of Jesus–which you've been able to actually hear because of this amphitheater effect. Jesus asks you to sit down, and you do. There's a lot of grass in the place, so you're sitting in a nice, soft, grassy seat. You're in a beautiful hillside cove. It's a beautiful, sunny day.
But you're hungry, and there's no provision …
… yet …
… all you have is Jesus.
And yet, you're in exactly the right place.
Why? Because even though you're hungry, and even though you may be tired from an entire day of standing up listening to the Teacher, and even though you have no idea how you're going to eat to quench your hunger, you have the one and only thing you need: the presence of the Savior.
Jesus is there, with you. And He is actually Provision Incarnate. He is Bread for your meal–the Bread of Life. His words are weightier than any meaty sandwich. His truth is more powerful than the strongest carb overload. You're hungry, and you don't see any provision yet–
–but you're sitting at the feet of the Savior.
And that's really all you need.
Suddenly, provision comes. Suddenly, bread and fish appear out of thin air.
Five loaves and two small fish become enough food for 5,000 men PLUS all the women and children gathered there too. And when the disciples pick up the remnants, even the crumbs and crusts of only the bread that no one wanted take up twelve baskets.
That's not even counting any fish bones, leftover fish fillets, or anything fishy at all. Bread alone: 12 baskets of leftovers.
In a split second, Jesus provides more than enough.
Your belly is full, but you suddenly don't care about your belly anymore. You stand in awe of this One, this Savior, Jesus, the King of the Universe. Jesus knew your needs and asked you to sit down and rest. You obeyed; and His provision overwhelmed you, meeting all your needs.
But to get there, you had to pass through the experience of being in a beautiful place with zero solutions in sight.
Are you in a beautiful place today–but you need solutions, really, really badly?
For example:
Maybe you've launched the banking business of your dreams, but you need deposits to come into your startup bank.
Maybe you just moved into a new house, glory to God!–but then your spouse lost their job, and now you need provision to stay in it.
Maybe you've stepped out as a mechanical contractor, and you know the sky is the limit–but the contracts you were counting on fell through, and you don't know what to do.
Being in a beautiful place doesn't mean we'll never have needs.
To me, this ministry is a beautiful place. There's nothing I'd rather do vocationally than to encourage you, pray for you, write for you, equip you, and love you. Of course, my one-on-one time with God comes first. Of course, my family comes before ministry. But when it comes to work, this ministry is what I'm called to do.
But we still rely on God to provide every month. Sometimes our coffers are full, and sometimes they are emptier. No matter what, however, God always provides.
Nevertheless, to receive His abundant provision, we nearly always have to go through that spot where things look great but no provision is in sight.
And just like those people on the hills of that grassy cove 2,000 years ago, our solution is found in sitting at the feet of the Savior.
No matter what your need is today, your need can be met if you will sit at the feet of the Savior. Jesus said to seek first His Kingdom and His righteousness, and all these things will be added to you. All we have to do is seek Him and sit at His feet. When we do, He will give us everything we need.
There is provision at the feet of Jesus.
Everything you need is at the feet of Jesus. Our challenge simply must be to come to Him, gaze at Him, listen to Him, and receive from Him. Our challenge is to seek Him first–to tell Him how holy He is; how wonderful; and to adore Him with all of our hearts.
What do you need from Jesus today?
Whether you need:
Comfort;
Provision;
Renewal;
Guidance;
Wisdom;
Hope;
… or anything else, let's sit at the feet of Jesus together. Again, there is provision at the feet of Jesus. He's worthy to have us seek Him first, and to have us rest in the beautiful place He orchestrated for us. Then, as we rest and obey Him, listening to His powerful voice, He will provide all our needs.
Is Holy Spirit speaking to your heart through this word today? If so, please leave a comment below and let me know! And, I am praying for you.
By the way, I began worshipping this morning to this song–"Lift Up Holy Hands" by the late Bishop Norman Wagner and it went along with this lesson powerfully. Please give it a listen, and worship the Lord with me! He is holy and worthy!