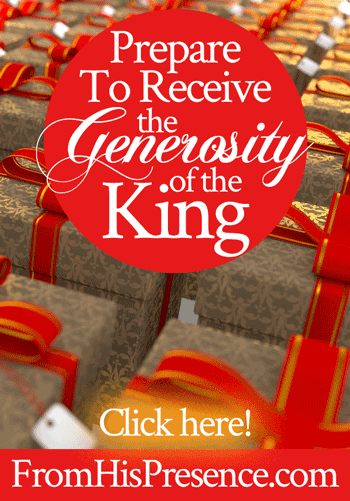 Beloveds, the Lord gave me another prophetic word out of the book of Esther today, and it's wrecking me. I've been seeing the manifestation of this word already in unprecedented ways for about the last three days, and it's freaking me out. The word? Prepare to receive the generosity of the King!
Specifically, the Lord showed me these three things for you today:
1. You have been assaulting the throne of God with your prayers, night and day.
You may have thought that the Father did not hear you, but in reality He heard every word. You thought He was not answering; but in reality, He was simply waiting for His own timing.
His thoughts are not our thoughts, nor are His ways our ways. But, He does have your ultimate best in mind, and He will eventually show you why He waited to answer your prayer.
Now, however, you have stirred Him so much that He is waiting no longer to answer.
[Read more…] about Prepare to Receive the Generosity of the King